Roger Federer: Viktor Troicki has no excuse over drugs test
By Piers Newbery
BBC Sport
Last updated on .From the section Tennis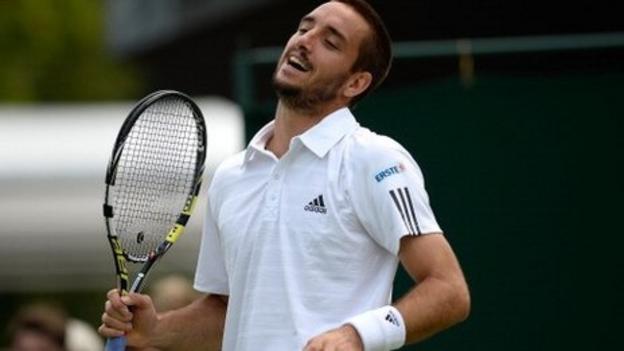 Roger Federer says there is no excuse for refusing to take a drugs test and repeated his call for more testing.
His compatriot Novak Djokovic said the sanction was a "total injustice" and blamed the "negligence" of the doping control officer (DCO).
Federer said: "I do believe that when you are requested for a sample, you have to give the sample."
Troicki, who did not give a sample because he said he felt unwell, claimed the DCO told him he would be able to return the following day to take the test, something the officer denies.
He did give a blood sample 24 hours after the initial request and it showed no irregularities.
"It doesn't matter how bad you feel," added Federer. "I'm sorry. The test the next day for me is not a test any more because what could have happened overnight?
"It's just very important to give the sample when you're requested to give it because there you are in front of them and there is no way to escape any more.
"That's where we just need to be extremely firm, I believe."
Asked about the same subject on Wednesday, world number one Rafael Nadal said: "We can like or not bad rules, but we have rules.
"I am very sorry for Viktor because I believe 100% in him. Probably the doctor made the mistake. But [Troicki] knows he has to pass the doping."
Andy Murray, the world number four, is thought to have been referring to the case on Wednesday evening on Twitter when he wrote: "Read and respect the rules and everything is very simple."
Djokovic made a passionate defence of Troicki on Tuesday, saying his long-time friend was not without fault but that the whole case meant he no longer trusted the anti-doping system.
Federer remains confident in the process, but reiterated the concern he raised at last year's ATP World Tour Finals about the volume of testing in tennis.
"Overall I trust the system," said the Swiss, 32. "They're all very professional. I just think it's very important they treat us like normal human beings, not criminals."
He added: "There needs to be more testing done. I know the budgets can be small sometimes. I just feel like I used to get tested more.
"Last year, when I was on the run - Dubai, Rotterdam, Indian Wells, when I won the three - and the year before that, I didn't get tested in one of those three events that I won.
"For me, that's not OK. You just show up and test a guy that's winning everything. That's sometimes what I struggle with."