Tim Henman backs British tennis player funding cut
By Piers Newbery
BBC Sport
Last updated on .From the section Tennis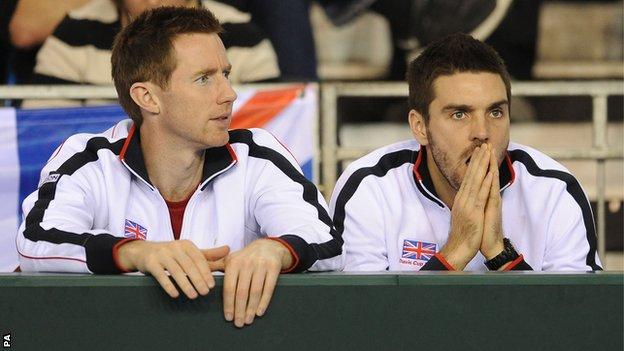 GB tennis will benefit from a tough new funding regime for players, says former British number one Tim Henman.
The Lawn Tennis Association will only fund singles players between the ages of 17 and 24 from 2014, and will cut funding for doubles.
Players will also face ranking targets that are "a lot tougher" and aimed at "raising the bar".
"I think it's good. It's important they set the standards and send the correct messages," said Henman.
"I think a lot of the time there's too much emphasis on the LTA - it isn't about the LTA.
"It's the players who have got to take responsibility and look at themselves, not just have this sense of entitlement.
"Think what happens in Serbia or Argentina - they don't get much funding and they produce the players."
The total allocation for funding senior players will drop from £770,000 this year to £503,000 next year.
A new system will require players to repay 20% of their annual prize money up to the value of the support they receive, while adjusted rankings targets will demand, for example, that a male player aged 17 hits objectives previously set for 19-year-olds.
"The players have got to step up and produce the goods if they want the funding," added Henman.
"We're very lucky in this country. We've got fantastic facilities, we've got the best tournament in the world, but the players have got to take advantage of it and not just expect donations."
Wimbledon champion Andy Murray left the UK at the age of 15 to train at the Sanchez-Casal Academy in Spain, something the LTA maintain they are open to if it suits the individual.
"I would use them," said Henman. "It doesn't matter where they learn their trade, as long as they learn it properly. Andy did that and they have a good track record in other places.
"If it's a good environment, then I'd be happy with that. Having said that, I learnt my trade in this country. There's no magic secret, just a lot of hard work needed."
Britain has six players in the ATP doubles top 100, among them Colin Fleming, Dominic Inglot and Jonny Marray, all of whom received funding in 2013.
"It was great while it lasted and I think we're all grateful, but it's not the end of the world," said Inglot, ranked 28th in the world.
"The LTA had to make some cuts. It's really useful to be helped by the LTA but it's not their role just to give us money.
"They're still helping with regards to [head doubles coach] Louis Cayer, helping him travel to more tournaments. I think we should be thankful for that."