Novak Djokovic and Tomas Berdych mask Davis Cup dilemma

By Russell Fuller
BBC tennis correspondent
Last updated on .From the section Tennis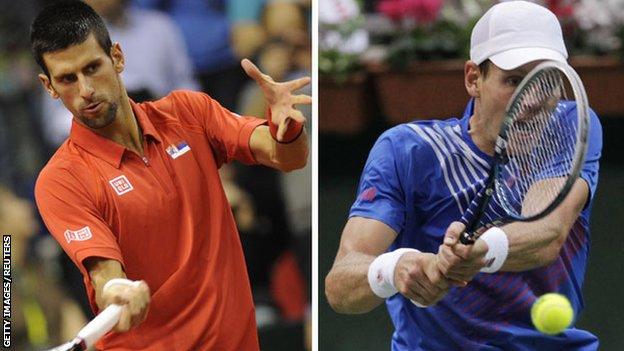 With Novak Djokovic and Tomas Berdych both in Belgrade for this week's Davis Cup final, the organisers are in no mood to oversee significant reform of the competition.
And yet the debate as to whether the demands of the ATP Tour force top players to skip some ties is set to continue.
Djokovic has been very committed to Serbia's cause but, like Rafael Nadal and Andy Murray, didn't play a single match in the competition last year. Roger Federer has always chosen his matches carefully: the very best believe that playing a full Davis Cup schedule is incompatible with the demands of adding to their Grand Slam tally.
Murray suggested to BBC Sport in September, when he made his return to the Great Britain side for the successful World Group play-off against Croatia, that the competition should be made "mandatory" to boost its position in the calendar.
Others argue that an annual competition spread throughout the season is no longer viable, but Francesco Ricci Bitti - head of the International Tennis Federation (ITF), which organises the Davis Cup - says widespread reform is not on the agenda.
"We do our best to improve and to listen, but what we are not prepared to breach is our principles: home and away ties, nomination [choice of players] by the country, and the yearly competition," he said at September's draw for the 2014 competition.
"People talk about [playing every] two years, but it's a very naive idea. The tennis calendar is an annual calendar, so if you change one year, you have to adjust again."
The ITF did attempt to play the whole of the World Group of the women's Fed Cup competition in one week at the start of the last decade. But that's not an experience Ricci Bitti wishes to repeat.
He said: "We had a very negative experience in the Fed Cup. If the home country is not in, or loses in the first round, then the interest goes down - not only in that country, but everywhere in the world, so we have to think very, very, very carefully."
Many team captains believe change is essential to preserve the integrity of an event which dates back to 1900. But even though the ITF is determined to preserve the current structure, Ricci Bitti did tell BBC Sport it is actively considering reducing some matches to the best of three sets.
"I would not exclude it," he said. "Look at the evolution of the game.
"This, honestly, is under consideration by us - perhaps not for the final or for the semi-final, but it could happen one day. If you consider the demands of tennis on the player, this is one of the things that is under consideration."