Roger Federer recruits Stefan Edberg to his coaching team
Last updated on .From the section Tennis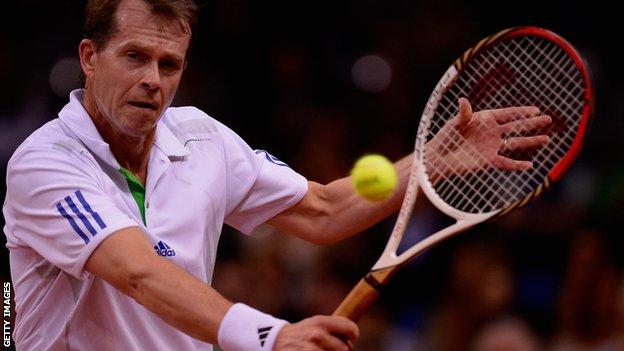 Six-time Grand Slam winner Stefan Edberg has joined Roger Federer's coaching team ahead of next month's Australian Open in Melbourne.
The Swede was Wimbledon men's singles champion in 1988 and 1990, and reached number one in the world rankings.
The last of 32-year-old Swiss Federer's 17 Grand Slam titles was his 2012 Wimbledon triumph over Andy Murray.
"Stefan was my childhood hero, and I am really looking forward to spending time with, and learning from, him," he said.
"I'm really excited to be part of Roger's team and I hope together we can bring out his best tennis," said 47-year-old Edberg.
The former Davis Cup winner will begin working with Federer ahead of 2014's first major, which begins on 13 January.
World number two Novak Djokovic recently appointed Boris Becker, who faced Edberg in three consecutive Wimbledon finals, as his head coach.
Wimbledon champion Andy Murray began working with Ivan Lendl, who Edberg replaced as world number one in 1990, late in 2011 and went on to claim his first Grand Slam title at the US Open in the following year.