Australian Open 2014: Andy Murray relaxed and pain free

By Russell Fuller
BBC tennis correspondent
Last updated on .From the section Tennis151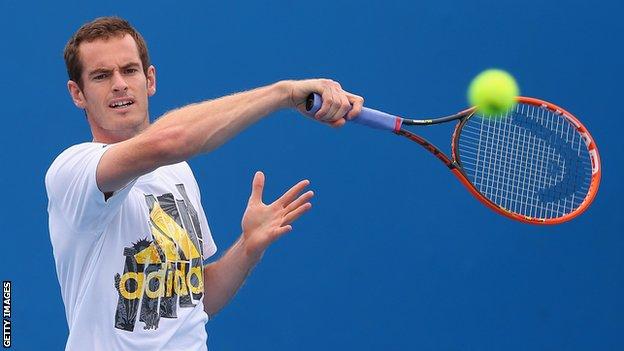 At the start of an Australian Open which he does not expect to win, there is still a glow of self-confidence about Andy Murray.
He looks and talks like a man who is comfortable in his own skin, and with much to look forward to now that he is playing without pain for the first time in years.
A springtime clay court tour of Europe may yet be the ultimate test of his renovated back, but the signs are that the surgery he had in September has been something of a triumph for the Wimbledon champion.
And if he fails to reach a fourth Australian Open final in five years, or even make much impact in the second week, then so be it. Match sharpness takes time to build, and the benefits of an extended and gruelling winter training block in Miami will not truly be felt until a little later in the year.
Many great champions have a period where injury or illness denies them their best form. Rafael Nadal's left knee has often failed to offer him the support he needs, and Novak Djokovic - who had to wait three years for his second Grand Slam title - was dogged by asthma and allergies which only cleared up after he switched to a gluten and dairy-free diet.
Murray certainly has not written off the Australian Open and says that expectations can change during a Grand Slam. But he has played only two tour-level matches since September's Davis Cup tie in Croatia and one of those was in Doha against a Qatari wildcard ranked outside the world's top 2,000.
His back is not aching, but the rest of his body is and he says the pressure of playing in front of large crowds at Grand Slam level will tire him out even more. He believes aspects of his game have deteriorated in the absence of competitive action.
"Decision making - understanding how to play certain stages and certain points in the match [is one]," he told BBC Sport.
"Movement and anticipation can also take a bit of time to get used to again, and then here we are going to be playing in 40 degree heat so you can't prepare for that. It doesn't matter who you are - it's going to be horrible."
Four days of 40 degree heat are forecast from Tuesday and the connections of the world's elite will be doing all they can to make sure their player is not asked to play in the full glare of the afternoon sun.
A favourable early draw should allow Murray to clock up some miles in the first week, at which point life would get significantly tougher. He could run into last week's Auckland winner John Isner in the fourth round, Roger Federer or Jo-Wilfried Tsonga in the quarter-finals and then the world number one Nadal in the last four.
If Murray's back stays strong, then he has little to lose here in Melbourne. He is already a Wimbledon,US Open and Olympic champion and could be very hard to live with on the quicker surfaces of Wimbledon and Flushing Meadows later in the year.
For a man not renowned for his box of animated expressions, he has been in almost boisterous mood this week. He was very chatty before the BBC camera started rolling, and gave Heather Watson a big fist pump to celebrate her qualification as she sat in the interviewee's chair.
He confessed that his partner Kim has not received as many bunches of flowers as she perhaps deserves, and admitted that - in the early days of their relationship - he was trying to impress Ivan Lendl in the way you would a new girlfriend.
The Wimbledon champion is ready to return to the fray, knowing he could not have worked harder to get himself in the best physical shape possible for the first Grand Slam of the year.