Australian Open 2014: Nadal & Federer into second round
Last updated on .From the section Tennis
Former champions Rafael Nadal and Roger Federer enjoyed safe passages to round two of the Australian Open.
Nadal's potentially tricky test against Bernard Tomic ended when Tomic retired a set down, while Federer swept James Duckworth aside in straight sets.
Jo-Wilfried Tsonga and Juan Martin Del Potro also made the second round, but 13th seed John Isner went out.
On a day when temperatures reached 42C, Maria Sharapova, Victoria Azarenka and Caroline Wozniacki also went through.
Rod Laver Arena
Azarenka (Blr) [2] beat Larsson (Swe) 7-6 6-2
Azarenka's quest to become the first woman since Martina Hingis (1997-99) to win three consecutive Australian Open titles began slowly as she struggled against world number 91 Larsson.
Larsson twice served for the first set but, after squandering opportunities at 5-4 and then 6-5, the Swede was punished as the second seed stepped up a level, winning the tie-break before breaking in the third game of the second set to assume complete control.
"It was a tough first set," said Azarenka. "The first match can often be tricky and the weather was not helping. It was important to win that first set and I really found my rhythm in the second set."
Federer (Swi) [6] beat Duckworth (Aus) 6-4 6-4 6-2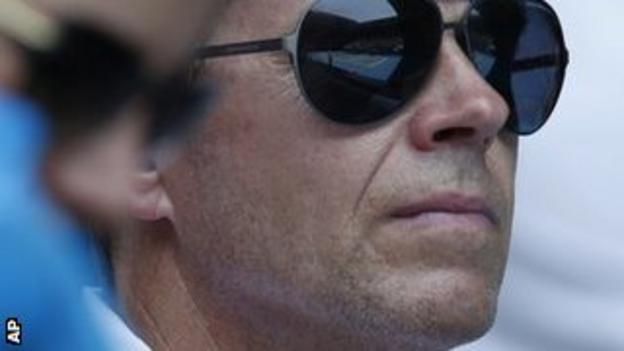 Federer, chasing a fifth Australian Open title, broke Duckworth once in each of the first two sets to take the sting out of any challenge from the 21-year-old, before easing through the third set despite the heat.
It was the sixth seed's first competitive match since six-time Grand Slam champion Stefan Edberg joined his coaching set-up.
"It's great fun to be playing in front of him and it's been a dream come true for me," Federer said. "I used to watch his matches and get inspired to play this great game, so to have him in my corner through the year and this tournament is very special and I can't be thankful enough."
Seppi (Ita) [24] beat Hewitt (Aus) 7-6 (7-4) 6-3 5-7 5-7 7-5
Lleyton Hewitt arrived for his 15th Australian Open with high hopes after beating Federer to win the warm-up tournament in Brisbane.
The 32-year-old did manage to equal Andre Agassi's Open era record of 41 career five-set matches, but it was only in defeat.
"Every Grand Slam loss is tough," said the former world number one. "There's no easy ones you know, obviously if you come close to winning. Even though it's a first -round match, it's still frustrating."
Nadal (Spa) [1] beat Tomic (Aus) 6-4 ret
Nadal had been handed a tough draw against Australian Tomic, the world number 57 who was once as high as 27.
However, after taking the first set 6-4, Nadal was granted a path to the second round when Tomic retired to boos from some sections of the crowd.
"I felt really sorry for Bernard," said Nadal, who retired from his 2011 Australian Open quarter-final against David Ferrer. "I was in that situation a few years ago and I know how tough is to take that decision."
Tomic, who reached the fourth round two years ago, said: "This opportunity I had to play against Rafa was huge for me. Unfortunately, I couldn't compete. It was very difficult for me to say sorry to the crowd."
Sharapova (Rus) [3] beat Mattek-Sands (US) 6-3 6-4
Sharapova was playing her first Grand Slam match since Wimbledon, having missed the US Open with shoulder problems that brought an early end to her season.
The Russian led 4-0 but Mattek-Sands, who as usual stood out from the crowd with her purple hair and knee-length black socks, scrapped all the way to the finish.
Hisense Arena
Wozniacki (Den) [10] beat Dominguez Lino (Spa) 6-0 6-2
Wozniacki wasted no time in making it through to round two, a relief for the Dane given the soaring temperatures. "Geez, it feels hot out there," she said. "It feels like I was sweating in a sauna.
"It's really tough. I was just trying to take the ice towel as much as I could and try not to think about the heat, like I was in Alaska or something."
Tsonga (Fra) [10] beat Volandri (Ita) 7-5 6-3 6-3
Radwanska (Pol) [5] beat Putintseva (Kaz) 6-0 5-7 6-2
Murray (GB) [4] beat Soeda (Jpn) 6-1 6-1 6-3
Margaret Court Arena
Halep (Rom) [11] beat Piter (Pol) 6-0 6-1
Cibulkova (Svk) [20] beat Schiavone (Ita) 6-3 6-4
Jankovic (Ser) [8] beat Doi (Jpn) 6-1 6-2
Del Potro (Arg) [5] beat Williams (US) 6-7 (1-7) 6-3 6-4 6-4
Monfils (Fra) [25] beat Harrison (US) 6-4 6-4 6-4
Court Six
Klizan (Svk) beat Isner (US) [13] 6-2 7-6 (8-6) ret
Isner, a potential future opponent for Andy Murray, retired injured from his match against Martin Klizan.
The American hurt his right ankle at the Hopman Cup exhibition event at the beginning of the year but won a tournament in Auckland, New Zealand, last week. However, he withdrew at 30-0 down in the third after losing the first two sets.
Feeling the heat

"I put the bottle down on the court and it started melting a little bit underneath, the plastic, so you knew it was warm." Caroline Wozniacki
"I didn't have a towel on my chair at the start of the match and I burnt my behind and hamstrings. The cushion was so hot I had to put a towel over it otherwise it would have been impossible." Jelena Jankovic
"It's pretty hot. When I went out on the court I was curious what the temperature was because, even though it was windy, the wind was hot wind. I said 'just don't blow' because it makes it even hotter. 'Just stop.' Victoria Azarenka
"Because of the heat, the material of the shoes becomes not really hard. I don't know how to say it in English, but it's not good for our shoes when it's hot like this." Jo-Wilfried Tsonga
The marathon men
If playing Grand Slam tennis in 40 degree heat was bad enough, imagine doing so for four hours and 32 minutes.
That's what 18th seed Gilles Simon had to do to get past Germany's Daniel Brand 6-7 (4-7) 6-4 3-6 6-3 16-14.
The final set alone lasted 115 minutes - Andy Murray needed only 12 more minutes to win his match in straight sets.
And finally...
Australian Marinko Matosevic criticised coach Mark Woodforde for not showing enough support in his defeat over Kei Nishikori.
"I wanted my coach to vocally support me, but he wouldn't," said Matosevic. "Some players need verbal support; others don't. I'm a player that needs it, likes it, wants it. If my coach is just going to sit there and clap, I expect more."
But Woodforde, a 17-time Grand Slam doubles champion and pundit with BBC 5 live sports extra, responded by saying: "It's really amateurish and unprofessional."