Australian Open 2014: Maria Sharapova wins amid extreme heat
Last updated on .From the section Tennis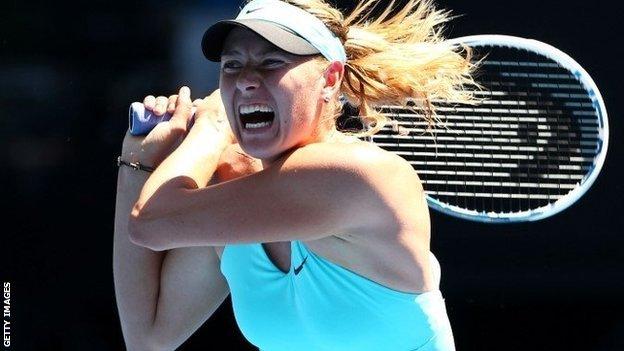 Maria Sharapova survived a scare to reach the Australian Open third round as the temperature exceeded 40C for the third consecutive day in Melbourne.
Defending champion Victoria Azarenka beat Barbora Zahlavova Strycova 6-2 6-4, while top men's seed Rafael Nadal and Roger Federer won in straight sets.
But Roberto Bautista shocked fifth seed Juan Martin Del Potro in five sets.
The match lasted three hours and 35 minutes, finishing at 01:20 local time with the Spaniard winning 4-6 6-3 5-7 6-4 7-5.
Del Potro, who won last week's Sydney International warm-up tournament, sent down 28 aces and had 18 fewer unforced errors than his Spanish opponent but his tally of 53 winners was 19 adrift of Bautista.
"It's tough when someone plays at a very high level for four hours, tough to beat the opponent," said Argentina's top-ranked player.
"I was close. But at every moment that I had a chance, he played an unbelievable shot."
In the men's doubles, Briton Jamie Murray and Australian John Peers progressed to the second round - although Murray was later treated for heatstroke.
Rod Laver Arena
Sharapova (Rus) [3] beat Knapp (Ita) 6-3 4-6 10-8
Third seed Sharapova was tested to the limit in a match which lasted three hours and 28 minutes in temperatures that reached 42.4C.
The deciding set alone - played in the hottest part of the day to that point - took one hour and 55 minutes.
After failing to capitalise on match points at 5-4, the Russian eventually broke to lead 9-8 having been two points from defeat a game earlier.
"There is no way of getting around the fact that the conditions were extremely difficult, and have been for the last few days," said the Russian, who will meet France's Alize Cornet in round three.
"It's a tough call. The question I have is no-one really knows what the limit is - not the players or the trainers when you ask them if the roof will be closed.
"No-one actually knows what that number is in comparison to humidity or the actual heat. I asked the trainer the other day what it takes for the roof to be closed or matches to be stopped, and she said: 'We have no control over this.'"

Wozniacki (Den) [10] beat McHale (US) 6-0 1-6 6-2
Nadal (Spa) [1] beat Kokkinakis (Aus) 6-2 6-4 6-2
World number one Rafael Nadal held off the challenge of Australian teenager Thanasi Kokkinakis to move into round three with a straight-sets victory.
Kokkinakis, the lowest-ranked player in the tournament at 570, produced an impressive performance but paid the price of being broken early in each set.
Nadal had to save three break points in the second set before setting up a match against France's number 25 seed Gael Monfils, who beat Jack Sock of the United States 7-6 (7-2) 7-5 6-2.
"He has fantastic potential with a great serve and forehand, all the ingredients to be a fantastic player and I wish him all the best," said the Spaniard of Kokkinakis.
"I played a great first set, a few mistakes in the second set, but then I finished well, changing the direction of points with my forehand."

Azarenka (Blr) [2] beat Z-Strycova (Cze) 6-1 6-4
Defending champion Victoria Azarenka came through a tough second set against Barbora Zahlavova Strycova to move into the third round.
The Belarusian, who won the title in 2012 and 2013, moved 3-1 up in the second set after strolling through the first but was broken twice as her Czech opponent levelled at 4-4.
However, Azarenka broke again and then served out for the match.
"The second set was really competitive. She was defending so well but I feel I was playing pretty good and I'm glad I could close it out in two sets," Azarenka said.
Murray (GB) [4] beat Millot (Fra) 6-2 6-2 7-5
British number one Andy Murray cruised through the opening two sets but almost came unstuck in the third.
But from 5-1 down, he won 23 consecutive points and six games to ease into round three, where he will play Spain's Feliciano Lopez on Saturday.
Hisense Arena
Svitolina (Ukr) beat Rogowska (Aus) 6-4 7-5
Tsonga (Fra) [10] beat Bellucci (Brz) 7-6 (8-6) 6-4 6-4
A Radwanska (Pol) [5] beat Govortsova (Blr) 6-0 7-5
Federer (Swi) [6] beat Kavcic (Slo) 6-2 6-1 7-6 (7-4)
Roger Federer, who won the last of his four Australian Open titles in 2010, raced through the first two sets against Blaz Kavcic but had to battle back from 3-0 down in a third-set tie-break to go through.
The 32-year-old Swiss belted 17 winners to take the opening set in 26 minutes and won 13 of the final 16 points of the second set to clinch that in 28 minutes.
The third set was a closer affair with Kavcic twice holding serve to stay in the match and force a tie-break. The Slovenian then won the first three points but Federer responded magnificently to reach the the third round where he will play with Spain's Fernando Verdasco or Teymuraz Gabashvili of Russia.

Margaret Court Arena
Cornet (Fra) [25] beat Giorgi (Ita) 6-3 4-6 6-4
Stephens (US) [13] beat Tomljanovic (Cro) 3-6 6-2 7-5
Monfils (Fra) [25] beat Sock (US) 7-6 (7-2) 7-5 6-2
Paire (Fra) [27] beat Kyrgios (Aus) 6-7 (5-7) 6-7 (5-7) 6-4 6-2 6-2
Australian teenager Nick Kyrgios, 18, took the first two sets off number 27 seed Benoit Paire to delight a partisan crowd that stayed until 01:40 local time to watch the conclusion of the match.
However, he tired and was hit by cramp in the closing stages as the Frenchman booked his place in the third round of the Australian Open for the first time.
Britwatch
Fifteenth seeds Jamie Murray and Peers beat Australian pair Matt Reid and Luke Saville in straight sets but required tie-breaks in both to win 7-6 (7-4) 7-6 (8-6).
In the second round they will play Murray's former partner, American Eric Butorac, and South African Raven Kaasen, who put paid to the comeback of Pat Rafter alongside Lleyton Hewitt in round one.
Hottest quotes of the day
"There will be some players who complain about the heat and no-one is saying it's terribly comfortable to play out there in these conditions but from a medical perspective we know that man is well adapted to exercising in the heat. If you take us back a few thousand years we evolved on the high plains of Africa chasing antelope for eight hours under these conditions." Australia Open chief medical officer Dr Tim Wood, speaking to BBC Radio 5 live.
"I couldn't focus on my returns, I couldn't see the ball, it was just like one step leading to another. Towards the middle of the second set I started feeling more and more dizzy. The time was going so fast and I needed more time between the points. I started feeling really hot on the top of my head and at one point I completely lost it." Varvara Lepchenko describes how it feels to play tennis in 40C heat.
"I think in the third set for the women and the fifth set for the men, if you know that there is no tie-breaker, officials can't just rely on 'maybe the set will go fast and the set will be over and we will be off court', because we have no tie-breaker in that last set." Maria Sharapova wants changes after battling in the heat for three hours and 28 minutes against Karin Knapp.
"If I want to know, the referee's office is right there and I go ask them. But I didn't do that. That's why it's up to me to go find out." Roger Federer is less concerned than Sharapova about how communication between officials and players.
"It was nice. It's not really different to Rod Laver Arena really. Dimensions feel the same, the crowds were really nice, great atmosphere. I was happy playing there." More from four-time champion Federer on playing on Hisense Arena after a run of 63 successive matches on Rod Laver, stretching back to 2004.
"I went really further than my limits. It was really hot, that's why I'm so emotional." Sharapova's next opponent, Alize Cornet of France, who sobbed on court after beating Italy's Camila Giorgi.
"He had a tough match two days ago, and me, I just played one match and that's it. It makes the difference. And I'm maybe physically pretty good. It's an option." A smiling Jo-Wilfried Tsonga enjoys a surprisingly comfortable day against Thomaz Bellucci - albeit under a roof for two sets.
"I prepare myself to play a tennis match, drinking the things that I have to drink before the match start and try to be ready for the really hard conditions out there." Rafael Nadal keeps it simple.
"For me, everything was fine. I played under the closed roof so lightning couldn't hit me. I didn't feel the heat. I didn't get sunburned. I was in the perfect conditions." An ever-so-slightly smug defending champion Victoria Azarenka after beating Barbora Zahlavova Strycova 6-1 6-4.