Roger Federer, Rafael Nadal and Victoria Azarenka advance
Last updated on .From the section Tennis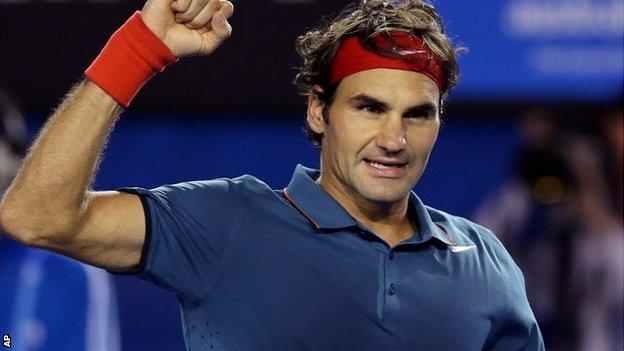 Roger Federer produced a magnificent display to beat Jo-Wilfried Tsonga in straight sets at the Australian Open.
The 17-time Grand Slam champion beat the Frenchman 6-3 7-5 6-4 to set up a quarter-final with Andy Murray.
Rafael Nadal overcame a nasty blister and being called for time violations to beat Japan's 16th seed Kei Nishikori 7-6 (7-3) 7-5 7-6 (7-3).
Victoria Azarenka remains on course for a third straight Australian Open title after she beat Sloane Stephens 6-3 6-2.
The Belarusian's title hopes were boosted by third seed Maria Sharapova's surprise defeat by Dominika Cibulkova, 24 hours after Serena Williams was knocked out.
Jelena Jankovic, the eighth seed, is also out after losing to Simona Halep.
Rod Laver Arena
Nadal (Spa) [1] beat Nishikori (Jpn) [16] 7-6 (7-3) 7-5 7-6 (7-3)
Rafael Nadal, who needed treatment for a blister on his racquet hand, was angered when he was called for a second time violation by chair umpire Eva Asderaki at deuce while 4-4 at a critical time in the third set.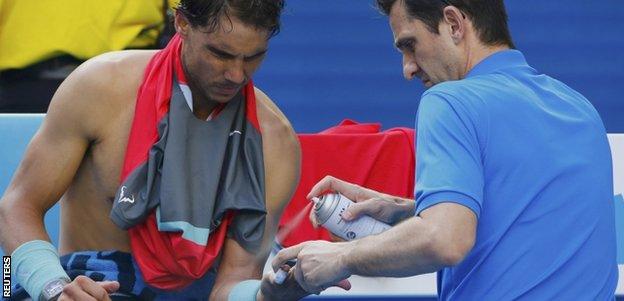 The Spaniard did not dispute the 20-second rule in between points at Grand Slams, but took issue with the chair umpire's handling of it.
"I don't want to change the rule. I accept that sometimes I was slow. I respect that," he said. "The negative thing in my opinion is not the warning, but the timing of it. You can choose another moment to do it, not that one.
"She didn't advise me before the second warning that I was still going slow. It's a normal thing for the referee to help the player a little bit, and say, 'Rafa, you are going too slowly'."
Federer (Swi) [6] beat Tsonga (Fra) [10] 6-3 7-5 6-4
Four-time champion Federer was always in command and marched to an impressive victory in one hour and 52 minutes.
The Swiss star broke Tsonga's service three times, and only had one break point against his own serve. He won 88% of his first-serve points and hit more than twice the number of winners (43) than errors (21), in a clinical performance.
Federer also won 34 of the 41 net points, illustrating his plan to take the game to Tsonga.
"I thought I played really well and clearly. Against Jo-Wilfried you have to bring your best game because he dictates play and I thought I did well dictating a lot of the plays," Federer said.
"Jo makes you play an aggressive game because if you don't he'll come and it's tough to pass him.
"My tactics worked well and we spoke about it before the match. I don't go unprepared into matches like I used to."
Azarenka (Blr) [2] beat Stephens (US) [13] 6-3 6-2
This was a rematch of the 2013 semi-final, which ended with ill-feeling between the two players. On that occasion, Azarenka took a controversial medical timeout and was booed before going on to win, with Stephens saying recently that their relationship is "non-existent" following the incident.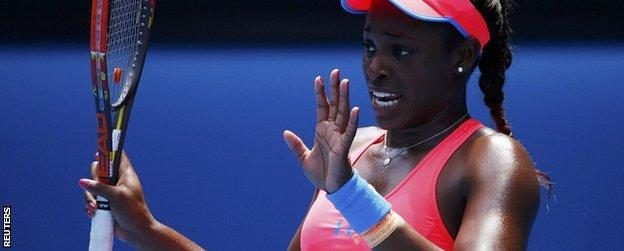 There were signs of tension again this time, particularly when a Stephens shot in the first set struck Azarenka at the net. The American tried to apologise, but the Belarusian walked away without acknowledging her opponent.
Seconds later, Stephens had to take evasive action to avoid being hit by an Azarenka forehand.
That only seemed to motivate the number two seed, who clinched the first set before continuing her momentum in the second, breaking Stephens in the opening game without dropping a point, a dominance she maintained.
Asked afterwards if she had ever been involved in "a pegging war in a professional match", Stephens said: "I have never hit anyone in a match, so I wouldn't say pegging war.
"I thought she was going to move and she didn't. I don't know what was happening, but didn't think that would ever happen."
Radwanska (Pol) [5] v Muguruza (Spa)
Fifth seed Agnieszka Radwanska set up a quarter-final tie against defending champion Azarenka with an untroubled 6-1 6-3 victory over Spaniard Garbine Muguruza.
The Pole needed just one hour and 17 minutes to progress in a match where her opponent hit 23 winners but made 44 unforced errors.
Cibulkova (Svk) [20] beat Sharapova (Rus) [3] 3-6 6-4 6-1
Hisense Arena
Halep (Rom) [11] beat Jankovic (Ser) [8] 6-4 2-6 6-0
Halep has picked up where she left off in 2013, when she became the first woman since Steffi Graf in 1986 to win her first six WTA titles in the same year.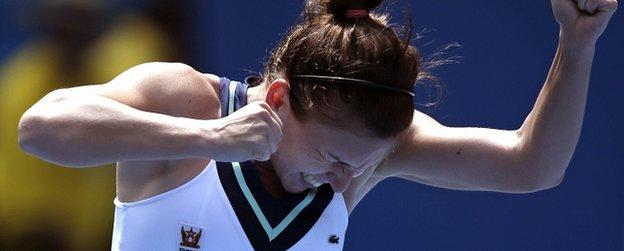 "The first round here I had a lot of pressure because it's a Grand Slam and it's a different tournament," said the 22-year-old, who is into her first Grand Slam quarter-final. "I won tournaments last year, but smaller - much smaller - than this one."
Murray (GB) [4] beat Robert (Fra) 6-1 6-2 6-7 (6-8) 6-2
Margaret Court Arena
Dimitrov (Bul) [22] beat Bautista-Agut (Spa) 6-3 3-6 6-2 6-4
"I feel great, a bit tired, but we all know how Roberto is performing," said Grigor Dimitrov after he reached a Grand Slam quarter-final for the first time.
"That was a great run for him and he gave me hell out here. The last two times I lost against him, so I knew what to expect. It doesn't matter who I play next, just hopefully we can have a good battle."
Brit Watch
Dom Inglot and American Abigail Spears were knocked out of the mixed doubles by fifth seeds Bruno Soares and Anabel Medina Garrigues. They put up a good show but were beaten 6-7 (5-7) 7-5 10-8 in the second round.
Colin Fleming and Anastasia Rodionova, his Australian partner, struggled against sixth seeds Sania Mirza and Horia Tecau, and ended up losing 6-2 6-2.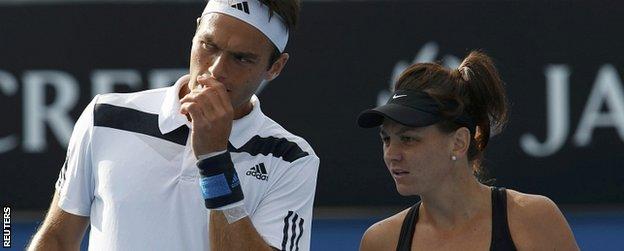 Ross Hutchins and Australia's Casey Dellacqua lost in the first round 6-4 6-4 to fourth seeds Andrea Hlavackova and Max Mirnyi.
There was significant news elsewhere as top seeds Bob and Mike Bryan were knocked out of the men's doubles by American Eric Burotac and Raven Klaasen of South Africa. They go on to face Inglot and Treat Huey of the Philippines in the last eight on Tuesday.
Quotes of the day
"I've had better days and worse days on my backhand, like yourself." Roger Federer takes out on-court interviewer Jim Courier after seeing off Jo-Wilfried Tsonga.
"A lot of guys sort of hold it by the throat and kind of throw it face down. That's how you would throw it if you didn't want to break the racquet. Whereas if you just kind of go flat with the frame, or if you just hit the frame like that, the racquet's gone straightaway." Andy Murray gives his guide to racquet smashing.
"The standing ovation, this is a good surprise." Stephane Robert enjoys his moment in the limelight after taking a set off Murray.
"I never bring a second pair of shoes on the court, I have them in the locker room. I've never broken my shoes on the court. I didn't break my shoes, I broke my lace, something that's never happened in the past for me." Rafael Nadal explains that he left the court because his shoe laces broke. Definitely not his shoes.

"It had better be bigger than Caro's." Victoria Azarenka puts the pressure on boyfriend Redfoo to deliver an engagement ring to rival Caroline Wozniacki's.
"I used to serve and volley against Sampras in 2001 at Wimbledon. That was like 13 years ago, man. It's not like I've been standing way back in the court like some clay-courter. I've always tried to come in." Roger Federer says his attacking strategy against Jo-Wilfried Tsonga is not just down to new coach Stefan Edberg.
"I was getting a little bit angry about that. I kept asking myself, 'why is she doing that?' I thought it was on purpose." Dominika Cibulkova had her suspicions about Maria Sharapova's struggles with the ball toss.
"I hope he stays as long as possible. I'm not sure what my travelling schedule is at the moment." Sharapova is asked if she will stick around to watch boyfriend Grigor Dimitrov, who is into the quarter-finals.