Roger Federer claims best tennis still ahead of him
Last updated on .From the section Tennis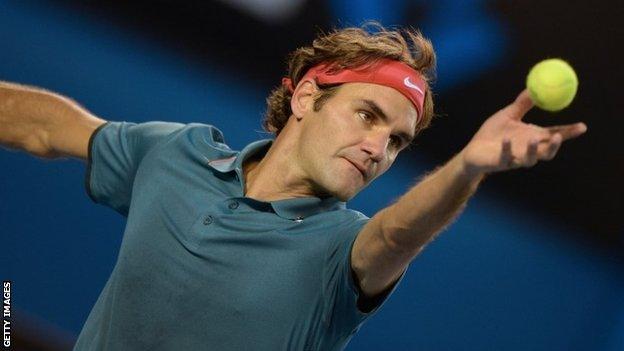 Former world number one Roger Federer says his best tennis this year is still to come after losing his Australian Open semi-final to Rafael Nadal.
Federer said: "This is a very good start to the season - I played some really good tennis.
"I still feel my best tennis is only ahead of me right now - hopefully by April I'm going to be 100% again."
Federer's defeat by Nadal was his 23rd in 33 encounters between the pair and he will drop to eighth in the world rankings when they are released on Monday.
He will also be overtaken by fellow Swiss Stanislas Wawrinka as the country's number one player - the first time he has not been Switzerland's top player since 2001.
Wawrinka, who reached his first Grand Slam final by defeating Tomas Berdych, will face Nadal on Sunday and Federer added: "I wish I could have won tonight and given an all-Swiss final. That's something I'll regret for a long time."
However, Federer is taking heart from his more attacking performance in Melbourne, where he beat Andy Murray and Jo-Wilfried Tsonga, after a back injury hampered him for much of 2013 and led to him winning only one title - his lowest haul in a year since 2001.
"What I like to do is I like to take it to the guy, I like to be in command," he said. "That's what I was able to do now the last couple of weeks, so that's very encouraging.
"That's why I'm not too disappointed tonight because I feel it's been a good start.
"I've come from far back. I didn't have surgery like Murray had or like Rafa, being out seven months.
"But I played with something that has been going on for a while. This is a step in the right direction, and that's the way I want to go. I have a belief this could be a very good year for me again."
Federer complained to the umpire about Nadal's grunting during the match, but added afterwards that while he found it distracting at times, it had not affected the result.
"It is not distracting when he does it every point," he said. "But it goes in phases. One point he does and he doesn't. That's just what I was complaining about.
"It had no impact on the outcome of the match."
When Nadal was asked whether he knew he was putting Federer off with his grunting, the Spaniard said: "I really didn't know that.
"When I am playing, when I am hitting the ball during the point, the last thing that I am thinking is trying to bother the opponent.
"The only thing that I am focusing is try to hit my ball well. That's it."