Pete Sampras stunned by 'incredible' Rafael Nadal
By Piers Newbery
BBC Sport at Melbourne Park
Last updated on .From the section Tennis
Pete Sampras described Rafael Nadal as "incredible" after watching the world number one live for the first time at the Australian Open.
"I think he's incredible," Sampras told BBC Sport. "I saw him play live for the first time on Friday night and the movement he has is incredible.
"He's able to adjust his shots on the run. I've never seen anything like it."
Sampras, 42, ended his career in 2002 with a record 14 major singles titles, only for Roger Federer to surpass him and amass 17 in his career to date.
And Nadal is widely expect to draw level with the American on Sunday when he takes on Federer's fellow Swiss Wawrinka, playing in his first major final.
Sampras arrived in Melbourne on Friday in time to see the Spaniard beat Federer in straight sets in the semi-finals.
"To see him play - he hits a very heavy ball, serves pretty well, he does everything," said the seven-time Wimbledon champion, who will present the trophy to the winner on Sunday, 20 years on from the first of his two Australian victories.
"He's mentally tough - he has the whole package."
And Sampras is in little doubt that Nadal, who will go for a ninth French Open title in June, has many more Grand Slam titles in him.
"He's not looking at 14, he's looking beyond," said Sampras.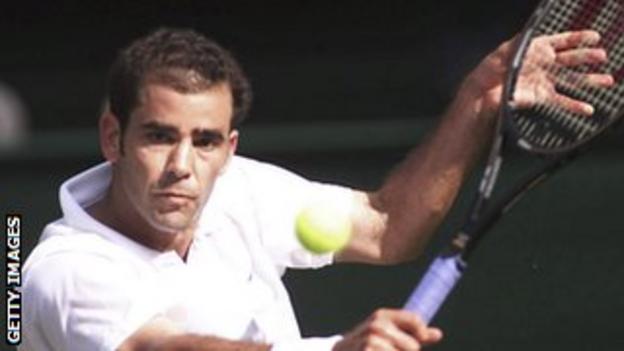 "Realistically, he could very well get 17, 18 majors when it's all said and done. He's a credit to the sport. I'm a fan."
Wawrinka beat three-time defending champion Novak Djokovic in the quarter-finals, but he has not taken a set off Nadal in 12 previous meetings.
"Stan's very talented, he hits the ball well, but I'm just not sure he has the firepower from the back court," said Sampras.
"He's going to be dealing with Rafa, he's going to be dealing with his nerves - first major [final], he's going to be nervous, so he needs to settle down and work his way into the match.
"But he's up against a tough guy, I think it's just a touch match-up for him.
"If he's able to come in a little bit, put a little bit of pressure on Rafa, flatten out his ball, maybe - but I just think Rafa's playing too well."