Stanislas Wawrinka is the 'real deal' says Pete Sampras
Last updated on .From the section Tennis
Stanislas Wawrinka beat an injury-hit Rafael Nadal to win the first Grand Slam of his career in the Australian Open final in Melbourne on Sunday.
The Swiss, 28, won the opening set and was a break up in the second when Nadal took an injury timeout.
Wawrinka grew frustrated and lost his concentration as the Spaniard returned to court to win the third set.
But the 28-year-old regained his composure to become only the second Swiss man to win a Grand Slam singles title after 17-time champion Roger Federer.
BBC Sport speaks to the experts to assess the new world number three's performance in Melbourne - and his prospects of consolidating his position in the rankings.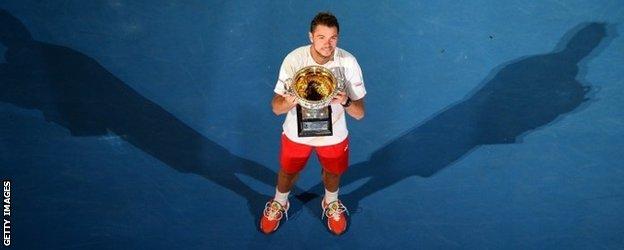 Pete Sampras, 14-time Grand Slam champion
"Wawrinka was moving well, wasn't nervous and was pretty relaxed. He had a great rhythm and was hitting his backhand so smoothly.
"He was outplaying Nadal and was up a set and a break when the back issue came up. It was an uncomfortable moment for the Spaniard and I thought he would stop but he continued to play.
"This will hopefully be the beginning for Wawrinka. The win over Novak Djokovic in the quarter-finals was a big moment. He got through it, he's now a Grand Slam champion and is on his way.
"I think the right person won. He played great. He's got a big serve, moves well and has a good touch at the net - he's the real deal.
"I'm not sure he's quite up there with Nadal or Djokovic yet as they have been winning majors for years, but now he is over the hurdle of winning a Grand Slam, if he keeps it up, he'll be up in that category and deservedly so."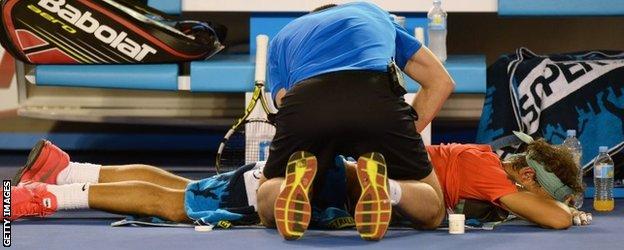 Pat Cash, 1987 Wimbledon champion
"Nadal could have easily walked off court because of the injury, but he didn't and it added to the match. I was impressed at how Wawrinka had the mental capacity to finish off match.
"For a while it looked like he was getting nervous and tired because he was missing easy shots and screaming at his team. It can be hard to beat an injured player, especially an injured Nadal. To beat Nadal at 60% is not easy. It was a fantastic gutsy effort from both of them.
"Wawrinka's coach Magnus Norman has done a fantastic job in toughening him up. He has has got the game and has been working hard but Norman has got him fitter and got him believing he can beat these top players.
"When he played Djokovic here last year and narrowly lost, he realised he was so close. So he went to Norman to get that little bit fitter and the belief started coming. It's great to see someone as talented as Wawrinka, who is also a really nice guy, do well."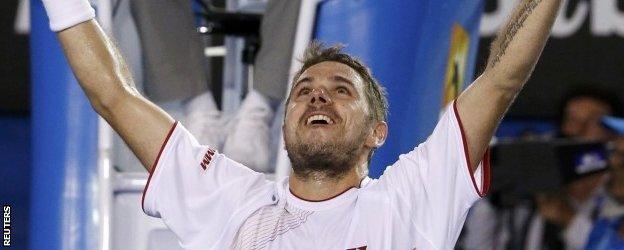 Andrew Castle, former British number one
"I found it intriguing that Wawrinka came out, having never won a single set in 12 matches against Nadal, and played so well in the first set of his first Grand Slam final. I hope people remember he outplayed Nadal in that set.
"There is plenty more to come from Nadal. It's difficult to feel sorry for him. He's a class guy and very generous.
"Even in the moment of victory, Wawrinka showed how much respect everyone has for Nadal by not jumping up and down in celebration.
"When a man has achieved as much as he has, we should be careful about calling this anything other than a disappointment.
"What would be a tragedy is if he was taken out of the game too early because of injury. There have been so many times over the course of his career where he has been halted by injury. We have to hope it's not serious."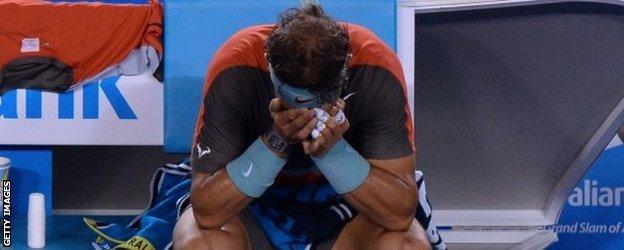 John Lloyd, former British number one
"I don't think the injury had anything to do with the early part of the match. Nadal was simply getting demolished.
"Wawrinka was just outplaying him. It was class - I've never seen winners like he was hitting.
"Then came the one scenario that Wawrinka wouldn't have prepared for - and that was when he found himself 2-0 up with Nadal struggling with an injury.
"It took him a while to adjust and he was a bit hesitant. He was watching what Nadal was doing and lost concentration.
"Nadal almost came back but credit to Wawrinka who regained his composure and fought back to win the set and the match in the way that he did."