Davis Cup: Andy Murray & GB team-mates prepare to face USA

By Russell Fuller
BBC tennis correspondent
Last updated on .From the section Tennis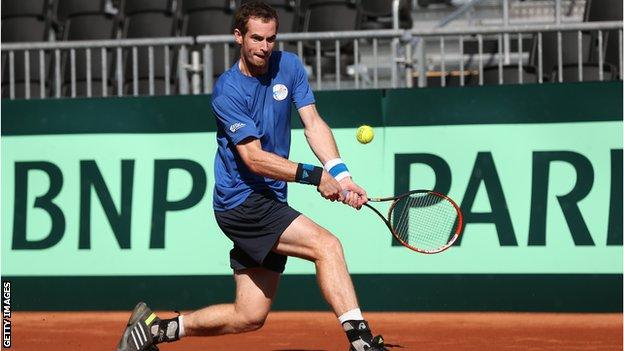 Andy Murray will be Great Britain's trump card when he's available for Davis Cup, but this weekend in San Diego he may need a helping hand from a former practice partner of Rafael Nadal.
James Ward spent some time in Mallorca one winter with a 23-year-old Nadal and has now been asked by his captain Leon Smith to fill the second singles role for this World Group first-round tie.
The ankle injury to John Isner means that should the tie come down to a deciding fifth rubber on Sunday, Ward will play Donald Young, who will be making his debut and has spent most of the past 18 months outside the world's top 100.
Smith is a forward-thinking captain who is not afraid to take risks. He was very tempted to pick 19-year-old Kyle Edmund, who has put on half a dozen kilos of muscle since Wimbledon and impressed Murray when he tackled the same drills during a three-week training stint in Miami.
In the end, though, Smith chose Ward, who is ranked more than 150 places higher and has twice won five-set matches in Davis Cup. The 26-year-old outplayed Edmund in the set they contested on Wednesday and has also been chosen - according to Smith - for "the way he is serving and the way his patterns of play match up against the opposition".
This may be a more conservative choice, but I think it also happens to be the right one. Tennis players don't tend to reach their physical peak until their mid-twenties and it would have been unrealistic to expect Edmund to win a five-set match against a top-100 player just three weeks after his 19th birthday - he has never previously played more than three.
Murray will start as clear favourite to beat both Sam Querrey and Young, even though he lost to the 24-year-old left hander in the first round at Indian Wells three years ago. That means Saturday's doubles will also carry huge weight: Dom Inglot could pair up with Colin Fleming, but only if Young runs Murray into the ground on Friday.
The choice of venue for this tie is very left field. Literally.
A clay court has been laid down in left field at Petco Park: the home of the San Diego Padres Major League Baseball team. We saw some leisurely pitching practice taking place earlier in the week, but there's no panic as the Padres don't face the LA Dodgers in their first home game of the National League West Division until the end of March.
A ship's horn sounds amid a brief firework display whenever a home run is scored here, although we are not expect the recording of the Navy's USS Ronald Reagan to sound when Murray hits a forehand winner down the line.
The baseball park provides a spectacular backdrop, and the quick and slippery court has been made to order for the American team.
"It was very slippy the first day we hit on it," said Fleming.
"With European clay you have a lot of clay packed down. It felt like almost a cement-style court with a thin layer on top, so you sort of slide on top of it, rather than slide in it, if that makes any sense. But they have been adding water each night and that moisture has helped day to day - it is getting better, but we'll just have to wait and see come the weekend."
Dom "The Bomb" Inglot stands at 6ft 5in tall and didn't earn that nickname for a sliced serve.
"I went and threw down some rockets and had some fun with it," he told me.
"So I'm enjoying it, but if the ball comes back, I'm like, oh-oh, ice rink."
The speed of the court would have been ideal for all 6ft 10in of John Isner, and Sam Querrey, who is just four inches shorter, should reap some benefits even if he has only won one of his six Davis Cup matches on clay.
I suspect the surface won't ultimately make much difference to the result, although the Bryan brothers, Bob and Mike, think it will play to their strengths.
"We like the court," Mike told BBC Radio 5 live.
"You could choose to put more clay on it and make it slower. You need spikes under your shoes to get the grip, but we're pretty happy with it. We're pretty excited to go to war on the dirt."
And on the dirt in Davis Cup, they are 10 & 0 - as they are fond of saying in these parts.