Davis Cup: Teamwork the key to British success against USA

By Russell Fuller
BBC tennis correspondent
Last updated on .From the section Tennis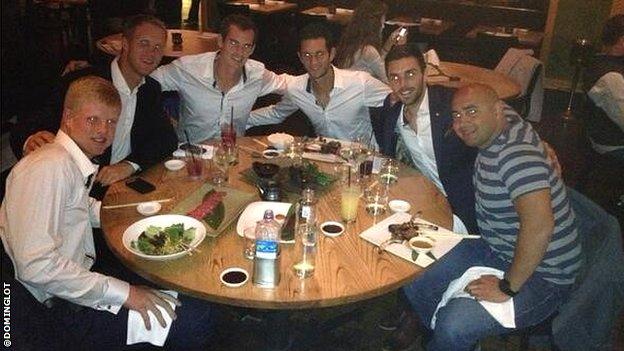 Ricardas Berankis and Laurynas Grigelis have a tiny footnote in British Davis Cup history.
In Vilnius in March 2010, they spearheaded the Lithuania team which proved too strong for Great Britain and left them facing a play-off just to stay in Europe/Africa Zone Group II.
Four years on, and British tennis fans know that a second year in the World Group is guaranteed.
There will be no relegation play-off this year - Great Britain are into the quarter-finals of the "World Cup of Tennis", and some of the travelling supporters are starting to study both the draw and their holiday entitlement more closely.
If Britain win in Italy in April, was the gist of one conversation, could Kazakhstan possibly upset a Swiss team of Roger Federer and Stanislas Wawrinka to provide GB's semi-final opposition?
It's nice to be able to look ahead with optimism rather than trepidation, even if another very challenging tie beckons - almost certainly on clay - against the likes of Fabio Fognini and Andreas Seppi.
Teamwork is the secret. With Andy Murray in the side anything is possible, but he probably wouldn't have been in the position to clinch the winning point without James Ward. And Ward may not have managed to win 10 of the last eleven games against Sam Querrey on Friday without the support of the wider team.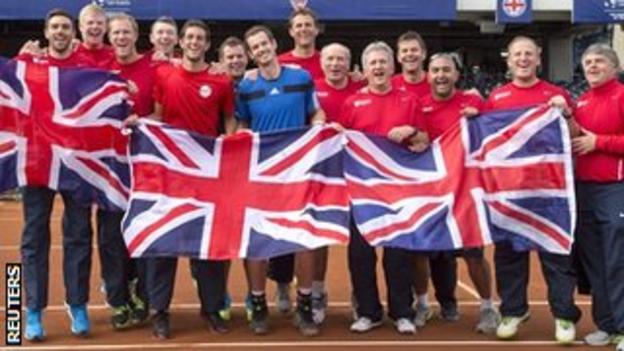 The scratch pairing of Colin Fleming and Dom Inglot gave all they had against the Bryans in the doubles, and were banging the advertising hoardings as hard as they could to celebrate key points won in the singles.
Kyle Edmund stayed with the team throughout the week, despite being overlooked on this occasion, and there was plenty of hard work from LTA coaches like Colin Beecher, Louis Cayer and Nick Weal, as well as Shane the physio who had to work double shifts after his running mate Joey went down with a sickness bug.
The conductor is Leon Smith. Britain's youngest Davis Cup captain in 35 years made the inspired choice to bring Dan Evans into the team for last April's comeback win over Russia, and called it right again here in San Diego.
Handing a debut to 19-year-old Edmund was a tantalising option, but it's not about making headlines before a ball has been struck. Ward was most definitely the man for this, and quite probably future occasions on clay.
Smith and a wider team at the LTA spent countless hours analysing tapes of the Bryan brothers winning last year's French Open, to see which players might best exploit any weaknesses on clay.
And he knows that small details can also make a difference. The United States players did not dress to impress for the official dinner, while Britain looked like a real team in their sharp suits (even if Dom Inglot's late inclusion meant it was impossible to knock out a matching suit for a man nearly six and a half feet tall). The US team did not feel especially united.
The British team got hooked on the word game Articulate and played as a group every night, and once with a BBC Radio 5 live microphone within range.
Unfortunately, due to a "wifi malfunction", no recording of Andy Murray's duel with James Ward has survived. Murray had been playfully scathing about Ward's ability to explain the word on his card without mentioning the word in question, but to be fair to the Londoner, he once again played above his ranking. He sailed through "net" and "dog", although did pass on "medical timeout".
The British team have also enjoyed some good fortune in their recent string of victories. Marin Cilic was serving a doping ban when they won promotion to the World Group in Croatia last September, and John Isner would have dramatically strengthened the US team in California if his ankle injury had healed in time.
But they thoroughly deserve those breaks. It's a little bit early to start dreaming of ending another drought stretching back to Fred Perry and Bunny Austin in the 1930s, but winning the Davis Cup is no longer the ludicrous proposition it seemed just 10 months ago.