Jersey's Scott Clayton faces long lay-off with shoulder injury
Last updated on .From the section Tennis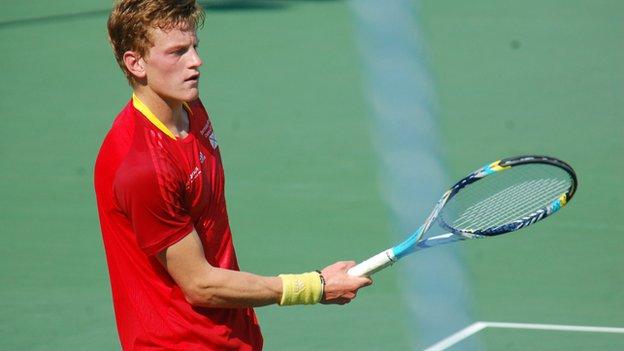 Jersey tennis player Scott Clayton faces up to six months out of the sport as he prepares to undergo surgery on a longstanding shoulder injury.
The 20-year-old has managed the injury for about 18 months, but has now been forced to arrange an operation.
"I'm not looking forward to this, but it has to be done if I want to continue my career in the best possible way," Clayton told BBC Radio Jersey.
"I probably missed five events with it, so it will help in the long run."
Clayton - who, along with James Connelly, - first suffered the injury at the Under-18 British Championships in 2012, an event he went on to win.
He had painkilling injections in his shoulder, but the problem flared up again during pre-season and after his first tournament of the year, he has decided to follow medical advice and have the operation.
"My specialist said the rehab programme was really good and I've been doing the right things. I built up the muscles well and it's down to that that I kept playing for so long.
"But my serve was really affected by it in the tournament I just played and I was struggling to generate pace. The serve is one of, if not the, biggest part of the game so I really need to sort it out," he said.
"I'm still young and I don't have points to defend until the end of the year really, so it's the best time to do it, even though there's never a good time to have it happen.
"I'm in a better place than I was this time last year mentally, physically and in terms of my playing ability, so I'm going into it with the right frame of mind and I just need to get it sorted." ."