Former BBC commentator John Barrett enters tennis Hall of Fame
Last updated on .From the section Tennis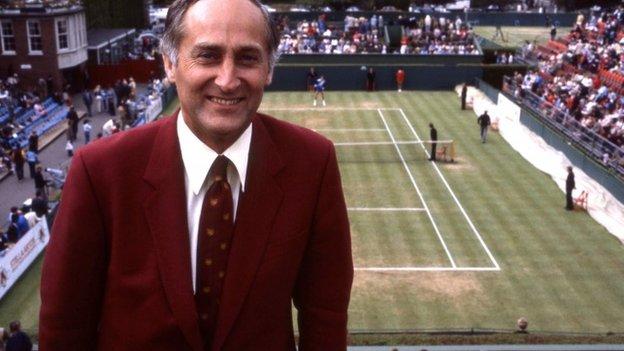 Former BBC Sport commentator John Barrett has been inducted into the International Tennis Hall of Fame.
Barrett, 82, a former Davis Cup captain, reached the third round of the men's singles at Wimbledon four times.
He joined the BBC in 1971 and became the corporation's 'Voice of Tennis' until his retirement in 2006. He is also a tennis historian.
"This accolade could not go to a more deserving gentleman," said BBC director of sport Barbara Slater.
"On behalf of everyone here at BBC Sport, I would like to congratulate John on this achievement. John's career as the BBC's 'Voice of Tennis' spanned more than four decades and we were privileged to bring his vast knowledge and talent to our coverage of tennis and, in particular, Wimbledon."
Cambridge graduate Barrett is only the eighth journalist to be honoured by the organisation in its 60-year history and will be one of five people to be recognised this year.
Others in the 'Class of 2014' are former world number one Lindsay Davenport, five-time Paralympic medallist Chantal Vandierendonck, coach Nick Bollettieri and former US Tennis Association president Jane Brown Grimes.
Hall of Fame president Stan Smith said: "A leader on many levels, John's lifelong passion for the sport resulted in some of its finest journalism, most compelling story-telling, and therefore some of the most important works dedicated to preserving tennis history."
Barrett is married to former world number one Angela Mortimer Barrett and they are now the second married couple in the Hall of Fame, following former world number ones Andre Agassi and Steffi Graf.
The International Tennis Hall of Fame is a non-profit organisation set up to preserve the history of tennis and honour its greatest champions and leaders. It has inducted 235 people from 20 countries during its 60 years.
London-born Barrett played the sport at the highest level, competing at Wimbledon for two decades before moving into broadcasting.
As well as working for the BBC for 35 years, he also commentated for Australian, American and Canadian networks and in 2007 was awarded an MBE for his services to broadcasting.
Barrett is also one of the sport's premier historians and authors and is the current vice-president of the All England Lawn Tennis & Croquet Club.