Billie Jean King: Nobody ever asks us women to coach

By Russell Fuller
BBC tennis correspondent
Last updated on .From the section Tennis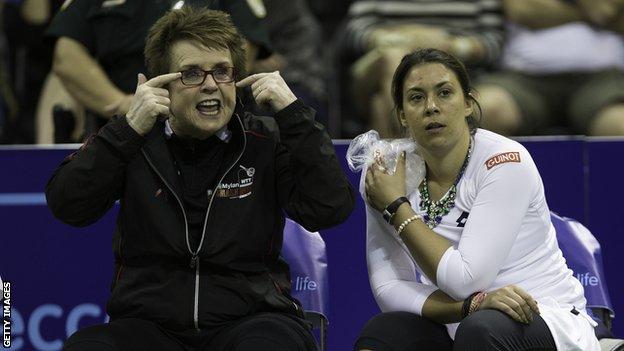 Billie Jean King, who won 39 Grand Slam titles and was the driving force behind the formation of the WTA Tour, says modern players are making a "big mistake" by not employing more female coaches.
Other than Martina Hingis' informal relationship with Sabine Lisicki, no-one in the WTA Top 20 is currently coached by a woman. And Mikhail Kukushkin and Denis Istomin are incredibly rare on the ATP tour in being coached by their wife and mother respectively.
"I've coached Tim Mayotte and a couple of others, but nobody ever asks us," King told me on a visit to this week's event in Indian Wells.
"It's a big mistake because we are a great resource, and they should ask. Nobody ever comes to me and says 'Will you help me with my game?' any more. The last one to ask me to help was Martina Navratilova when she was playing her last few years of singles."
So why does she think female players aren't asking other women to coach them?
"We've been taught that we're not as good at things. That's the way world culture works. I don't think it ever crosses their mind. And a lot of people don't like to be controversial - everything's branding today. I didn't worry about that so much.
"We grew up seeing the world through men's eyes. You can say it's good or bad - it doesn't matter - but the point is we have. That's the way we perceive the world because men wrote the stories and decided what would be on television."
The 70-year-old was in typically feisty form when we met in the BBC commentary box at the Indian Wells Tennis Garden. Her eyes sparkled with excitement, through purple-rimmed glasses, when we talked about the emergence of Romania's Simona Halep and her recent trip to Sochi as part of the US presidential delegation for the closing ceremony of the Winter Olympics.
Despite recently expressing concern at the treatment of the lesbian and gay community in Russia, she told me that it was a fabulous trip: the food was great, the sky was perfect, and they even played Tchaikovsky.
And after the success of last year's documentary about King's 1973 'Battle of the Sexes' match with Bobby Riggs, she is delighted there has been interest in a film version from producers like Danny Boyle. Jennifer Lawrence's performance in The Hunger Games would make her an ideal candidate to capture a 29-year-old Billie Jean King.
Maria Sharapova's suggestion in a recent BBC interview that men should play best of three set matches at Grand Slams had also reached King's ears.
"Somebody said to me earlier today you must have gotten to her with [your views on] the two out of three sets, but I said I haven't actually talked to her. Maybe she's read stuff because I've been saying it for ever.
"And I'll tell you why. I don't want the top men to quit tennis so early. It's so physically difficult the way they have to play today."
Bille Jean believes the likes of Sampras, Borg and even John McEnroe retired too soon.
"Every time one of them leaves I just want to cry because I love watching them. I think part of the reason they leave early is that they are just worn out. I remember Sampras telling me that he had to get through the last year to be ranked (year end) number one in the world six times.
"He was getting injections in his shin just to get through the last year, and he said I was just worn out. I want quality over quantity and I want them to last longer."
King's suggestion is that men should experiment with best-of-three-set matches for a five-year period. She is convinced it would be more exciting, and she has a history of being very persuasive.
There's no appetite for a change on the men's tour just now, but don't ever underestimate Billie Jean King.