Andy Murray: No rush for key coach choice, says Brad Gilbert
Last updated on .From the section Tennis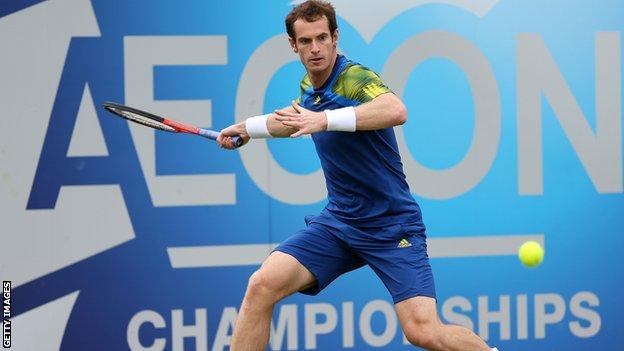 Andy Murray should be in no hurry to appoint a new backroom team, according to his former coach Brad Gilbert.
However, that was later confirmed as an April Fool's joke.
"He will have no shortage of offers," Gilbert told BBC Scotland. "He can take time to figure his next move. I'd say don't rush it."
Gilbert teamed up with Murray in 2006 and helped him reach number eight in the world during a 16-month partnership.
And that is where the Scot finds himself in the rankings again, following an erratic return from back surgery, which sidelined him for four months prior to January's Australian Open.
However, Gilbert believes Murray will rediscover his best form again and has plenty of time to mount a challenge for more of the game's top prizes.
In two years with Lendl, Murray won the US Open,Wimbledon and Olympic titles.
"I think if you ask Andy, two [majors] is nice but he won't be satisfied," added Gilbert. "I'm sure he'd like to win more, I don't want to put a number on it because he's still in the prime of his career.
"He's probably got five more years to chase majors and I'm sure he'd like to get to at least five.
"He's a heck of a player but this is the greatest generation of four guys at once that I've ever seen. [Novak] Djokovic wants more, so do [Rafa] Nadal and [Roger] Federer.
"He's knows what to do, it's just a matter finding a way to get it done. There's no magic formula; it's about working hard to win 21 sets and being healthy."
Murray showed signs of progress with a dominant win over Jo-Wilfried Tsonga at last month's Sony Open before playing well in defeat to Djokovic in the following round in Miami.
And Gilbert thinks Nadal's incredible return from knee problems last year has perhaps raised expectation levels from tennis fans.
He said: "Because of what we saw in 2013, everyone is thinking 'okay, you're injured, you just come back like Nadal'. That doesn't happen that easily.
"It might take a few months to get his game back and his confidence back. Injuries happen and you just have to deal with them and move on."
Murray said that Lendl would be "a very hard person to replace", adding the eight-time Grand Slam winner had made a significant impact on his "mental side - dealing with those pressure situations".
"I was surprised by the split," admits Gilbert. "Ivan did a great job getting Andy over the hurdle.
"I think the best coaching that Ivan did was when Andy lost at Wimbledon [in the 2012 final]. He drew strength from that.
"So Andy needs to figure out his next move. He took time between [coach] Alex Corretja and Lendl and that worked out fine.
"If he's looking for another former top player then that narrows the list. He's just had someone who was a legend - but it all depends on what he's looking for."