Davis Cup: Great Britain hopes hit by lack of strength in depth

By Russell Fuller
BBC tennis correspondent
Last updated on .From the section Tennis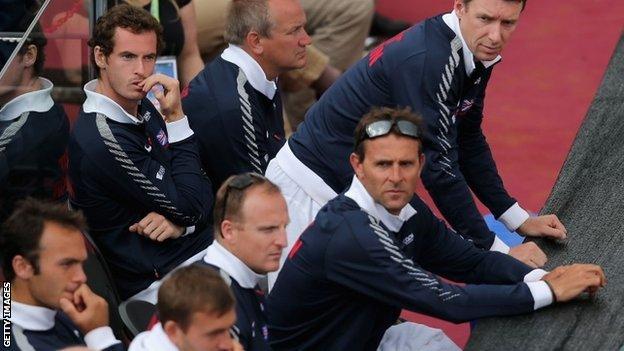 There was a sense of optimism within the British team ahead of the final day of the Davis Cup quarter-final against Italy, and despite the end result, it was not misplaced.
Combining excellence and consistency, in a way that often escapes him, Fognini outplayed the Wimbledon champion. His world ranking of 13 does not accurately reflect his pedigree on clay, even if he has often stumbled against a player of Murray's calibre in the past.
Murray admits he needs to spend more time on the surface to become more fluent in the tricks of the trade. An honest assessment is that defeat by such a seasoned clay-court practitioner would also not have been a huge surprise on the clay of the ATP tour.
There remains, though, a huge sense of disappointment, and of an opportunity lost - not least of all for a semi-final with Switzerland on Wimbledon's Centre Court, which would have been a wonderful shop window for the sport.
Such has been GB's success over the past 12 months that about 700 fans travelled to Naples more in expectation than in hope.
Was it the wrong decision to pick James Ward ahead of the higher-ranked Dan Evans? Not on clay, where Ward is the more experienced and successful of the two. He played above himself in Friday's four-set defeat by Fognini - a match which may not have taken place if Ward had not managed to beat Sam Querrey in such style in San Diego.
Was it unwise to ask Murray, with the remnants of a virus in his system, to play three matches in three days - especially as his singles with Seppi could not be completed until the morning of the doubles? Ross Hutchins and Colin Fleming could have beaten Fognini and Simone Bollelli in the doubles, but they would have started as second favourites, and I believe captain Leon Smith was right to play his strongest hand at every opportunity.
The reality is that it is very difficult to progress through the World Group with only one top-50 player. In recent years, Rafael Nadal has had help from David Ferrer, Novak Djokovic from Janko Tipsarevic, and Tomas Berdych from Radek Stepanek as the Czech Republic have won the cup two years in a row.
Ward and Evans - with excellent back-up from doubles players like Fleming, Hutchins and Jamie Murray - performed magnificently in taking Britain to the cusp of the World Group when Andy Murray took a step back from the team. But they will always be up against it in the World Group.
Britain needs to find another top-50 player before Murray retires.
Let's hope both Evans and Ward can move into the top 100. Evans, in particular, has time on his side. He is still a month from his 24th birthday.
But a lot of resources are now being invested in Kyle Edmund, who at 19 finds himself just inside the world's top 300. He was not ready to make his Davis Cup debut in San Diego, but pushed Ward close for a place in the team, and impressed everyone with his ball striking as a practice partner here in Naples.
I am told that when you compare his achievements with past players of his age, he is on track to be ranked between 50 and 100 in the world. That is purely a projection and, as those with experience of the stock market will testify, your investment can go up as well as down.
The 2015 World Group campaign - which incidentally won't start until the first week of March - is likely to be a little early for Edmund to make an impact.
But maybe three or four years from now, with Murray either planning, or clearing up after his 30th birthday celebrations, Britain will have two singles players who could prosper in the World Group. Even if they are again drawn away, and have to play a tie on what Leon Smith described as a "very heavy, thick, mud-like court".