Novak Djokovic out for 'some time' with wrist injury
Last updated on .From the section Tennis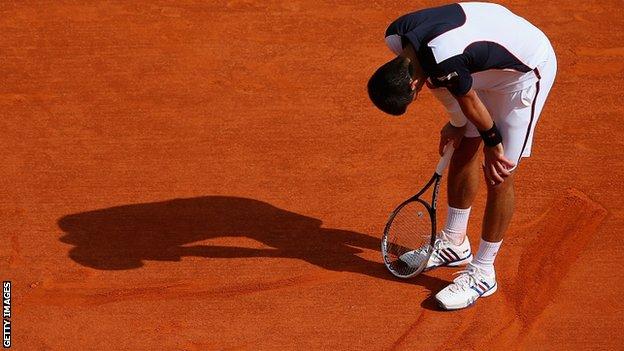 World number two Novak Djokovic says he will not play tennis "for some time" to let his injured wrist heal after losing to Roger Federer in Monte Carlo.
Djokovic, the defending champion, had struggled with a sore wrist all week and went down 7-5 6-2 on Saturday.
The Serb, 26, said he does not need surgery before the French Open, which starts on 25 May.
"I just rest now," said Djokovic. "I cannot play tennis for some time. How long, I don't know."
The French Open is the only Grand Slam that Djokovic has yet to win, although he went close to beating Rafael Nadal in last year's semi-finals before losing in five sets.
Djokovic is due to play at the Madrid Masters from 5 May and the Italian Open the following week before returning to Roland Garros.
"The good thing is I don't need to have a surgery," he said. "I don't have any rupture or something like that.
"I'm going to go see doctors tonight and then tomorrow again have another MRI, to see if anything changed in the seven days since I had the last one.
"It's really not in my hands any more. I'm going to rest and see when it can heal 100%, then I will be back on the court."
Djokovic had won consecutive Masters 1000 titles in Shanghai, Paris, Indian Wells and Miami before losing to Federer in Saturday's Monte Carlo semi-finals.