Elena Baltacha: 'Sorely missed Scottish tennis ambassador'

By Kheredine Idessane
BBC Scotland
Last updated on .From the section Tennis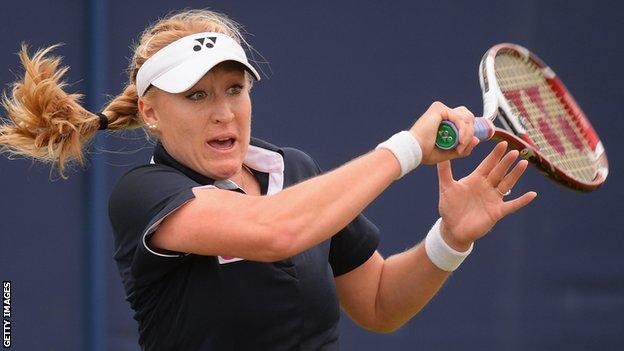 It's often hard to find the right words, but not on this occasion. Elena Baltacha was one of the nicest people I've met in nearly 20 years of covering sport.
Always positive, always approachable, it was a genuine pleasure following her progress on the world tennis tour. From Wimbledon to New York, Paris to Australia, she played all the big tournaments - and her determination to be the best she could be shone through.
Yet her rise through the tennis ranks wasn't easy. Beset by health and injury problems throughout her career, she refused to let them dent her dream of making it into the world's top 50.
Once Bally set her mind on something, she usually achieved it. And usually with a huge smile on her face.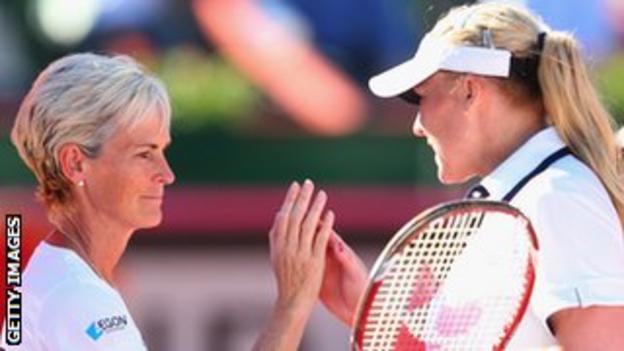 Indeed, from a professional point of view, one of the things I admired most about her was her openness in both defeat and victory. And she was as articulate off the court as she was talented on it.
She came a long way in the game from the seven-year-old who arrived in Perth when her dad, Sergei, signed for St Johnstone. Sport was, of course, in the genes. Her mother, Olga, represented the Soviet Union in both the pentathlon and heptathlon; her brother, Sergei, played football for St Mirren and Millwall.
Although born in Kiev, a childhood spent in Perthshire meant Bally was happy to adopt Scotland as 'her' country and we were happy to have her.
As she dreamt of stardom at her local club in Perth, she was soon in very good tennis company. The Murrays were just down the road in Dunblane and lifelong friendships with Andy, Jamie and Judy were quickly forged.
As both Murray brothers will tell you, it takes a lot to make it to the top in tennis when you come from a country that had precious little pedigree or history in the sport. Bally had the same tenacity and desire to succeed as the brothers Murray. As well as competing at all four Grand Slam events and cracking the world top 50, Elena spent more than 130 weeks as the British number one from 2009.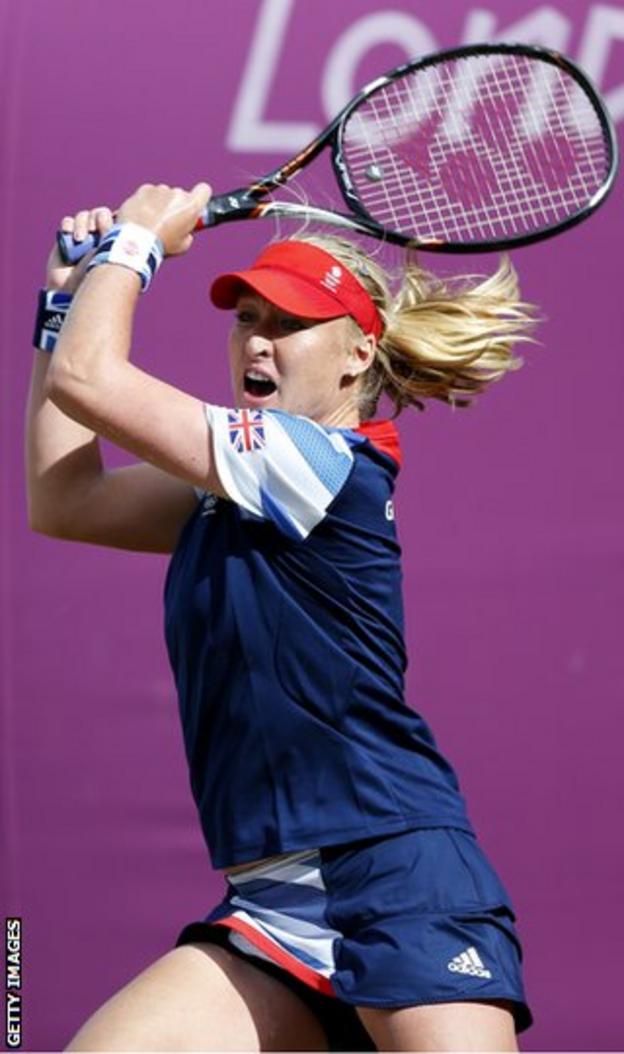 That was the year I first started following her on the world tour. I remember her delight when she found out BBC Scotland would be sending a reporter regularly to cover tennis.
"How's your knowledge?" she asked, with huge grin and a little sparkle in the eye. She knew I was a tour virgin. "Patchy," I replied, "but I'm a quick learner."
"Don't worry, I'll keep you right. Anything you need, just ask." Ever-generous, she was as good as her word and often gave me the low-down on her, and Andy's, upcoming opponents.
I remember interviewing her in the BBC roof garden at Wimbledon. She had just beaten a much higher-ranked player, Alona Bondarenko, to get through into the second round.
It meant so much to her to win that match as she said she didn't want to let anyone down. She was proud of the way she stood up to the pressure and the expectation that comes when a Brit steps on court in SW19.
Her excellent contribution to Britain's Fed Cup team down the years is another indication of what it meant to her to represent Britain. Which was why she was so thrilled to qualify for the London Olympics. There were tears of joy all-round when Judy Murray told her she'd be an Olympian, playing for Team GB at Wimbledon.
It hardly seems any time at all since she was strutting her stuff at London 2012; even less since she competed at her final tournament, last year's US Open. Which makes her sudden passing all the harder to take.
She lived her life to the full, brought joy and inspiration to others and her name will live on in her fine tennis academy in Ipswich, a facility that helps children from all backgrounds learn and play tennis.
Bally will be sorely missed. She was one of the best tennis players Scotland has ever produced and one of the sport's finest ambassadors.
In her life, as in her tennis, she never let anyone down.