Andy Murray wants to help players struggling on the tennis breadline

By Russell Fuller
BBC tennis correspondent
Last updated on .From the section Tennis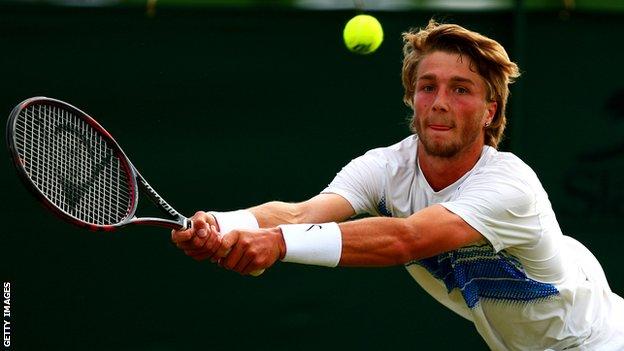 Andy Murray will earn £1.76m if he successfully defends his Wimbledon title in July, but he is very aware that if you win a tournament at the lowest level of the men's tour you can walk away out of pocket.
Prize money on the third-tier ITF Futures Circuit has not increased since the tour was remodelled 16 years ago.
The cost of living has risen 53% since 1998, yet a winner's cheque can remain as low as £850.
If you lose at the quarter-final stage, you may have to get by on just £175.
"If you win the tournament that week, you can just about pay for your hotel room and travel," Murray told BBC Sport. "You're losing money."
But the Wimbledon champion has an idea.
He thinks the world's most successful players and tournaments could subsidise the events that nurture the talent of the future.
"We want to make tennis a better sport and we want to make it easier for more players to make a living," said Murray.
"It's not about making millions, it's about being able to make a living.
"There's a lot of players that have to stop when they are 21 or 22 because they can't afford to play the game because the prize money is not high enough
"The Grand Slams obviously make a lot of money and the players at the top of the game could certainly help with that, too."
On a recent visit to the West Hants Club in Bournemouth, I discovered 32 players competing for a total prize fund of $10,000 (£5,940).
Britain's Liam Broady, pictured at the top of this story, was among them - and having to be resourceful as a UK road trip and a three-week spell in the Middle East had only netted him £1,830 in prize money all year.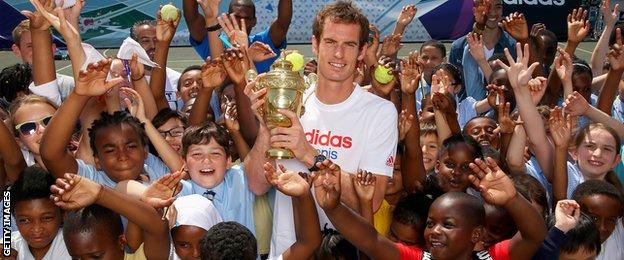 Broady is very grateful to the Lawn Tennis Association (LTA) for funding his coach Mark Hilton and to the family who put him up that week.
A cost of £61 per night for the tournament hotel would otherwise have put a huge dent in his budget - and that is before you add in food, travel and £13 you have to part with every time you need to get a racquet strung.
"I was told once that, in the men's tour, you have to be top 160 to be breaking even with prize money," he told me, during one of the many rain delays.
"Sometimes there are players that you see who win these tournaments... they're good enough to be a higher level, but maybe they don't have the money to go further.
"It's become quite stale. Once you get to that sort of top-100 perch, it's a lot easier to stay there, but it's quite hard to break into it."
Broady, who has been a runner-up in the boys' singles at both Wimbledon and the US Open, went on to win the title that week to rise to a career-high ranking just inside the top 400.
One of the keenest debates within the sport at the moment is whether that is a good enough standard to deserve to earn a living from the sport?
Bournemouth's tournament director, Richard Joyner, says we should not be too quick to dismiss the talent of players ranked even lower.
"If you were the 600th best player at football in Britain, you would be playing for Mansfield Town, or somewhere like that, and earning a salary of £25/30/35,000 a year," he said.
"If you're the 600th best player in the world at football, you would be playing in the World Cup."
The International Tennis Federation's (ITF) focus in recent years has been on increasing the number of tournaments, and thus opportunities, for players starting out on a professional career.
There were nearly 1,200 - for both men and women - in 80 different countries on their Pro Circuit in 2013.
Any increase in prize money will have to wait until the completion of the ITF's review of all the professional circuits, which is currently being carried out in conjunction with the ATP and WTA tours.
But as the organisers of each event - often a country's national association - have to cover prize money and staging costs, the funding may need to come from elsewhere.
There has recently been a concerted attempt with all four Grand Slams to direct a greater share of the prize money to those who lose in the early rounds. At Wimbledon, for example, this year's first round losers will depart with £27,000 - a huge rise on the £11,500 they received in 2011.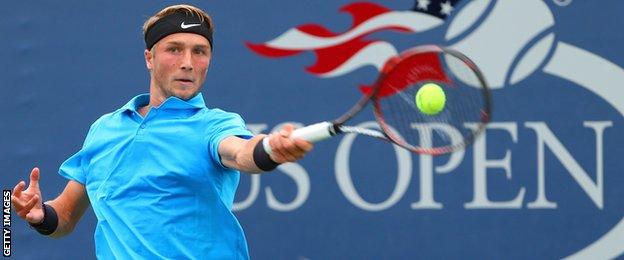 But can they go one step further? Would the All England Club consider subsidising players on the Futures tour?
"It's not something that we have ever done in the past," chairman Philip Brook admitted.
"But I think that it's an interesting idea because this is a sport-wide problem and people often look to the Grand Slams to take a leadership role in these areas.
"The Grand Slams have done that, I think, in terms of the prize money at their own tournaments, but that isn't to say that we couldn't take a wider look at it and try and help a larger group of players."
They would not just be subsidising a tour, but also a Wimbledon player of the future - a player who might otherwise have to take his talents elsewhere in an attempt to make ends meet.
You can listen to a BBC Radio 5 live special on the future and funding of tennis at 22:00 BST on Wednesday, 21 May.