French Open 2014: Nadal and Djokovic ease into second round
Last updated on .From the section Tennis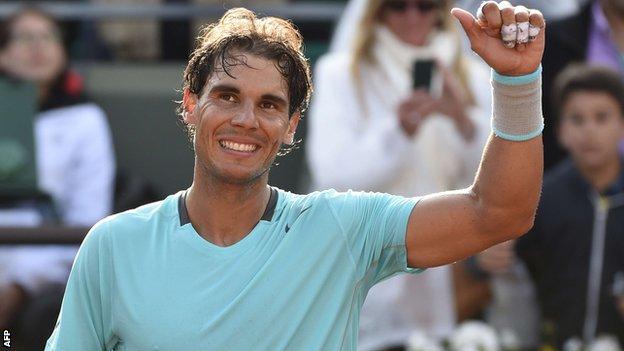 Defending champion Rafael Nadal beat Robby Ginepri with ease on a rain-interrupted day at the French Open
Novak Djokovic also completed a comfortable straight-sets win over Joao Sousa but third seed Stanislas Wawrinka lost to Guillermo Garcia-Lopez.
Britain's James Ward went ahead against Tommy Robredo before losing to the Spanish number 17 seed in four sets.
The 2012 women's champion Maria Sharapova demolished fellow Russian Ksenia Pervak.
Nadal was in no mood to hang around after being forced to wait until late afternoon to face the American, who he beat 6-0 6-3 6-0 in 102 minutes.
Six-time Grand Slam winner Djokovic, who has never won the title at Roland Garros, beat his Portuguese opponent in just under two hours to set up a meeting with France's Jeremy Chardy.
Seventh seed Sharapova had few problems dealing with Pervak after play began more than an hour late because of rain.
Court Philippe Chatrier
M Sharapova (Rus) (7) beat K Pervak (Rus) 6-1 6-2
"It's always nice to get out there on a day like this," Sharapova said. "It's good to play the first match."
N Djokovic (Srb) (2) beat J Sousa (Por) 6-1 6-2 6-4
"I played for most of the match quite solid," said Djokovic. "The end of the match was not so nice from my side - I dropped the serve twice - but they were very heavy conditions. The court is not that great at this moment."
A Cornet (Fra) (20) beat A Barty (Aus) 6-2 6-1
France's number one woman demolished the 18-year-old Queenslander in only 58 minutes.
G Garcia-Lopez (Spa) beat S Wawrinka (Sui) (3) 6-4 5-7 6-2 6-0
Court Suzanne Lenglen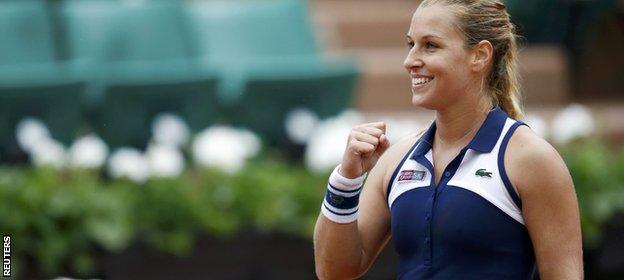 D Cibulkova (Svk) (9) beat V Razzano (Fra) 7-5 6-0
The runner-up to Li Na at this year's Australian Open edged a close, 59-minute first set before powering away in the second.
G Simon (Fra) (29) beat A Pavic (Cro) 6-1 6-1 6-3
R Nadal (Spa) (1) beat R Ginepri (USA) 6-0 6-3 6-0
"It doesn't matter if it's Chatrier or Lenglen or another court, to be around here in Roland Garros is always going to be great," said Nadal. "And I started in Lenglen this year, it's a great court."
P Kvitova (Cze) (5) beat Z Diyas (Kaz) 7-5 6-2
Outside courts - selected results
F Bagnis (Arg) beat J Benneteau (Fra) 6-1 6-2 1-6 3-6 18-16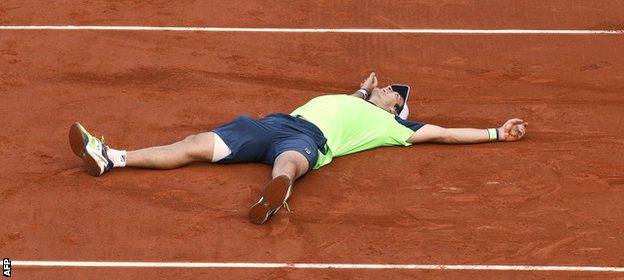 It might not have been most people's pick as match of the day but Argentina's Facundo Bagnis and Julien Benneteau served up a 143-minute final set on the bullring that is Court One.
After saving an earlier match point, Bagnis finally made the breakthrough to move 17-16 ahead in the decider and then slammed away a backhand volley to clinch victory after four hours and 27 minutes.
The 24-year-old from Rosario was overcome by emotion afterwards, burying his head in his t-shirt as the tears flowed before being interviewed courtside by Argentine media.
M Klizan (Svk) beat K Nishikori (Jpn) (9) 7-6 6-1 6-2
Kei Nishikori failed to get beyond the first round at Roland Garros for the first time in four attempts, with Martin Klizan making the last 64 for only the second occasion.
"I saw he withdrew from Rome and he retired the match against Nadal, but I didn't know exactly which problem he had, so I was just concentrating on my game," said Klizan. "I just saw a little bit that he was touching his back when he was serving."
T Kamke (Ger) beat M Mecir Jr (Svk) 7-5 7-6 7-6
Mecir, the son of the 1988 Olympic gold medallist and two-time Grand Slam runner-up Miloslav Mecir Sr, went close to taking all three sets but could not force a win on his main-draw debut in a Grand Slam.
The champion snubbed?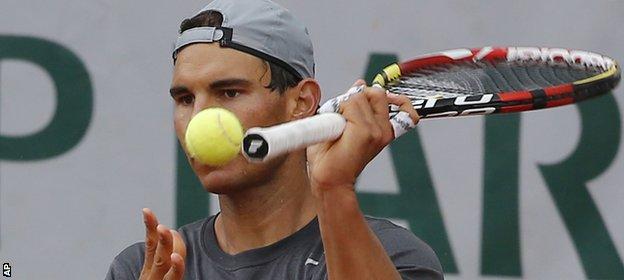 There were raised eyebrows all round when the schedule landed on Sunday evening and showed that eight-time champion Rafael Nadal would start his title defence on the secondary Suzanne Lenglen Court on Monday.
Nadal's manager tweeted "interesting to know the reason why he's scheduled there" and Spanish newspaper El Pais commented that the situation "emphasises that the love Nadal feels for Paris is not always reciprocated".
However the official Roland Garros site's blog hit back with tongue lodged firmly in cheek, saying:
"...should the eight-time champion somehow scrape past the 279th-ranked player, no one can be in any doubt that his next match, and the vast majority of his matches thereafter, will be scheduled for Chatrier. So let's put away those hastily-created protest banners, people, and save the outrage for something worth getting worked up about."
Quotes of the day
"It depends how fresh they are. I usually allow myself a couple here and there, but on tougher occasions I allow myself more than usual, yeah." Sharapova reveals that she takes comfort in macaroons when times get tough.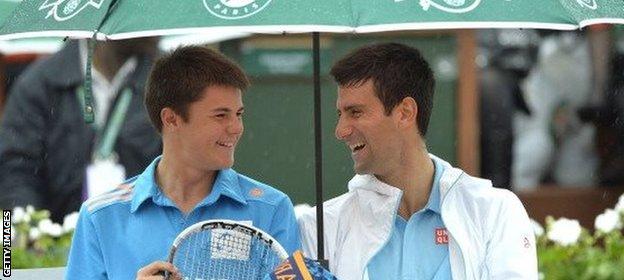 Djokovic passed the time during a rain delay in his first-round match by beckoning a ballboy to sit alongside him, and then engaging in a lengthy conversation.
"We had a nice chat," said the world number two. "He's a tennis player, so I asked him how long he's been playing, and how he's enjoying his time as a ball kid.
"It was a nice, fun time, something unusual for the Grand Slams. He accepted the offer to sit down, which I didn't think he would do, so he's a very spontaneous little boy, and I hope I see him at my next match."
Wildcard Robby Ginepri describes the moment he learned he would be playing eight-time champion Rafael Nadal: "Midway through practice, practising with Jack Sock, they were all on the changeover and they were like, 'The draw is out. Do you want to know who you play?' I said, 'Sure.' They said, 'Nadal.' I don't think I made another ball the rest of that practice."
Sam Stosur explains the need for a shin guard: "I actually had an accident in the gym on Wednesday night and cut my leg pretty bad. I've got stitches. Five. I was doing some box jumps, but I missed it and landed straight on my leg."
Crossed wires of the day
France's Nicolas Mahut faced the press following his defeat to Mikhail Kukushkin...
The Moderator: Questions in English, please.
Q: Congratulations.
Mahut: Congratulations? I lost.
Q: You lost? Okay. So what happened out there?
Mahut: Are you serious? Did you watch the match?
Q: No, I didn't. I was told that you won. I'm sorry.
Mahut: Questions in French, please.
Selfie of the day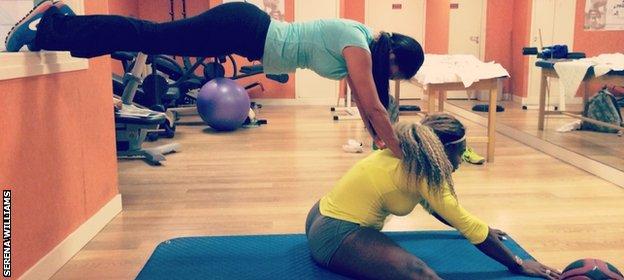 Serena Williams makes sure she warms down correctly after her win on Sunday with this stretching session