French Open 2014: Is Novak Djokovic the man to beat in Paris?
By Piers Newbery
BBC Sport at Roland Garros
Last updated on .From the section Tennis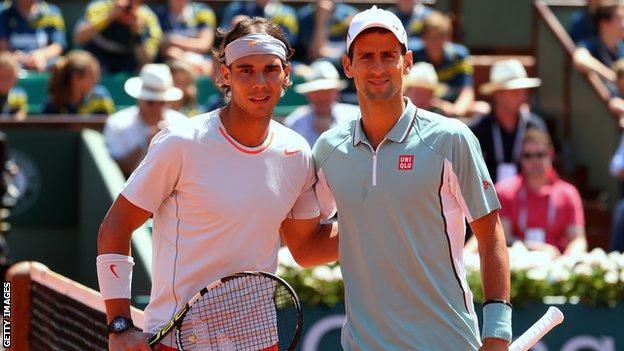 Twelve months ago, with the court wide open and eight-time champion Rafael Nadal at his mercy, Novak Djokovic teetered on tip toes like a man on a trapeze wire before toppling forward and touching the net.
An elusive first French Open victory, and the daunting obstacle of Nadal, had been on the Serb's mind throughout 2013.
He freely admitted later in the year that the dramatic loss to the Spaniard was a crushing blow, and this year he resolved to take the pressure off himself coming into Paris.
"The last few years have been quite successful for me at Roland Garros," said Djokovic.
"Especially the last two, where I played finals and semi-finals and lost in both of the matches against Nadal, who has the best record on clay and best record here, and obviously is still number one favourite to win the tournament this year."
It is not obvious to everyone, however. The world number two's form was so irresistible in his Italian Open win over Nadal earlier this month that, for the first time since 2004, the Spaniard is not the undisputed favourite for the French Open.
The bookmakers and pundits are divided, the players insist it means nothing, the stats can be skewed in either direction.
Former champion Mats Wilander has described Djokovic as "the obvious favourite", former world number one Andy Roddick says "I think Novak wins it this year", while Roger Federer has a very different view.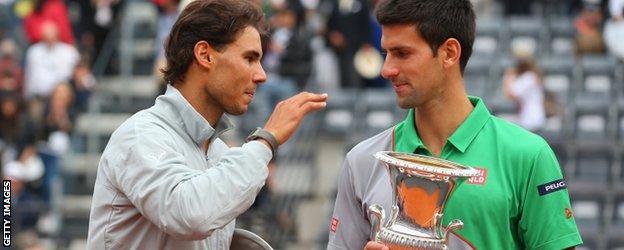 "Not for me," he said when it was put to him that Djokovic might be the favourite. "And three weeks ago he couldn't play tennis any more, I remember that too.
"When he was injured [with a wrist problem]... 'Oh, my God. Things are looking so terrible.' Now everything is great.
"It doesn't go week by week. Rafa is the favourite, and then Novak, and then the rest. It's very clear."
What cannot be disputed is the fact that Nadal arrives in Paris with three defeats on clay in a season for the first time since 2004, the year before he began the most extraordinary run at a Grand Slam in modern history.
Defeats in the quarter-finals of Monte Carlo and Barcelona, plus that Rome loss to Djokovic, have at least raised questions about just how far Nadal can extend his incredible record at Roland Garros, which stands at 61-1 after his second-round win.
"Rome, Monte Carlo, Madrid, Barcelona is past now," said Nadal. "We are here in Roland Garros.
"The dynamic is positive, so that's always important for the confidence. I felt that in Rome I was able to play without the nerves, that anxiety that I played with in the first two tournaments and some moments in Madrid."
There are other candidates - the likes of Federer, Andy Murray, David Ferrer and Tomas Berdych do not enter tournaments with anything other than victory on their minds - and the heavy conditions in a gloomy Paris could upset the equilibrium.
Stan Wawrinka was another expected to challenge, but the Australian Open champion made a swift exit on day two.
"Since I won a Slam, I realised that what they have been doing for years is just incredible," said the Swiss.
"I think everyone knows it, but sometimes you don't actually realise how difficult it is to do what they do. Come on, it's fabulous."
Everything being equal, the world's top two players look fated to meet for a third year running and the 42nd time in their careers.
Nadal won the pair's first nine meetings on clay between 2006 and 2009, before Djokovic's extraordinary year in 2011, since when they are 4-4.
The Spaniard has managed to keep the Serb at bay in Paris, winning all five of their matches at Roland Garros, and his sole defeat remains that seismic shock against Robin Soderling in 2009.
"The people outside sometimes talk without knowing about the tennis," said David Ferrer, the man Nadal beat in last year's final. "Here is a new season. Rafael is number one of the world. He is the favourite in Roland Garros."
And while discussing favourites might be fun for outside observers, most of the players have little time for such speculation.
"For me it really doesn't matter," said Murray. "It's stuff that everyone talks about but normally, when the tournament starts, whether Rafa has been playing well or not I would expect him to play great tennis here."