Rafael Nadal & David Ferrer reach third round of French Open
Last updated on .From the section Tennis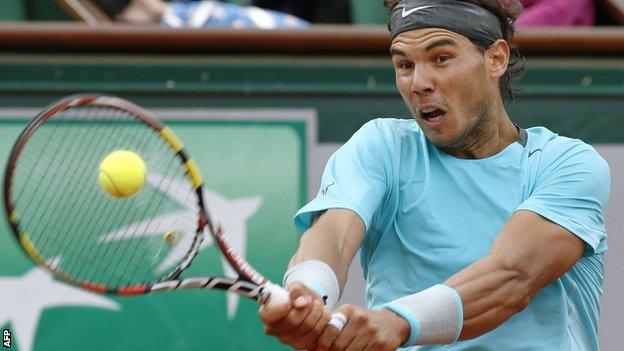 Defending champion Rafael Nadal reached the third round of the French Open with a straight-sets victory over Austria's Dominic Thiem.
The Spaniard, who has won a record eight times at Roland Garros, recovered from being broken in the third set to record a 6-2 6-2 6-3 victory.
Fifth seed David Ferrer eased to a straight-sets win over Simone Bolelli.
Petra Kvitova, Simona Halep, Jelena Jankovic and Ana Ivanovic were among the leading women to progress.
Both Ferrer and Nadal will be pleased with their clinical performances - the latter extending his record at Roland Garros to 61 victories and just one defeat.
Thiem, 20, was the youngest player to reach the second round and he briefly troubled Nadal with his booming inside-out forehands but the champion eventually prevailed before applauding his opponent at the end.
Court Philippe Chatrier
J Jankovic (Srb) (6) beat K Nara (Jpn) 7-5 6-0
"She's always tough to play against," said Jelena Jankovic after beating Kurumi Nara. "We have been playing the last three Grand Slams against each other, so hopefully she can play someone else from now on."
R Nadal (Esp) (1) beat D Thiem (Aut) 6-2 6-2 6-3
"His ball is so high he was able to hit strong he has completely everything to become a champion," said the world number one, who for the first time arrived at Roland Garros having lost three matches on his favoured clay this season.
"I think I played a solid match, I knew that if I didn't I would be in trouble."
R Gasquet (Fra) (12) beat C Berlocq (Arg) 7-6 (7-5) 6-4 6-4
"Great match," said Richard Gasquet, who continues his return from injury. "I did not expect that. It's Roland Garros, central court, lots of people. Obviously it puts you in a mindset which is very different. I did not want to give up."
A Ivanovic (Srb) (11) beat E Svitolina (Ukr) 7-5 6-2
"I don't think any seed went out in my section, to be honest," said Ivanovic. "It's what happened in the other parts of draw. It's not what I think of or focus on. I have to take care of my own matches."
Court Suzanne Lenglen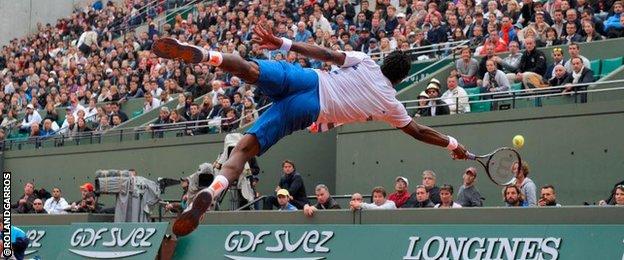 D Ferrer (Esp) (5) beat S Bolelli (Ita) 6-2 6-3 6-2
"I prefer when it's sunny," said Ferrer, last year's runner-up. "The balls are faster, that's true, and I'd rather have a faster type of court. It was too slow today."
K Mladenovic (Fra) beat A Riske (US) 7-6 (7-5) 3-6 6-3
P Kvitova (Cze) (5) beat M Erakovic (NZ) 6-4 6-4
G Monfils (Fra) beat J-L Struff (Ger) 7-6 (7-4) 6-4 6-1
Outside courts - selected results
A Murray (GB) (7) beat M Matosevic (Aus) 6-3 6-1 6-3
S Halep (Rou) (4) beat H Watson (GB) 6-2 6-4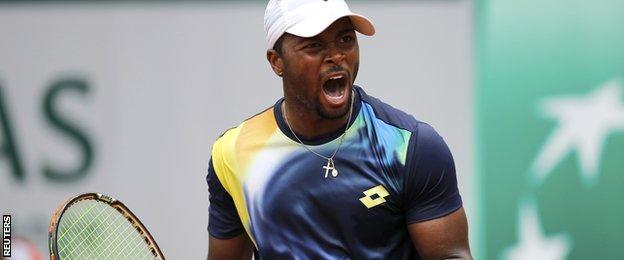 D Young (US) beat F Lopez (Esp) (26) 6-3 7-6 (7-1) 6-3
"I have actually never won a match outside of the US on red clay. So to win two here at the French Open, it means a lot," Donald Young said.
S Stephens (US) (15) beat P Hercog (Slo) 6-1 6-3
G Garcia-Lopez (Esp) beat A Mannarino (Fra) 6-4 6-3 4-6 6-0
A Seppi (Ita) (32) beat J Monaco (Arg) 6-2 6-4 6-4
S Errani (Ita) (10) beat D Pfizenmaier (Ger) 6-2 6-4
F Verdasco (Esp) (24) beat P Cuevas (Uru) 4-6 6-7 (6-8) 7-5 6-4 6-3
Quotes of the day
"I'm not the only one that talks to myself," says Andy Murray when asked about the occasional rude word he might let slip. "I think what I say is fairly mild compared to the guys that speak the other languages. There are a few phrases that some of the guys use, and they're not pretty."
Richard Gasquet is not exactly relishing his first tournament back after injury. "I can really tell you from the bottom of my heart it doesn't suit me to find myself after seven weeks playing in Roland Garros. It's not pleasant to be thrown in here like this."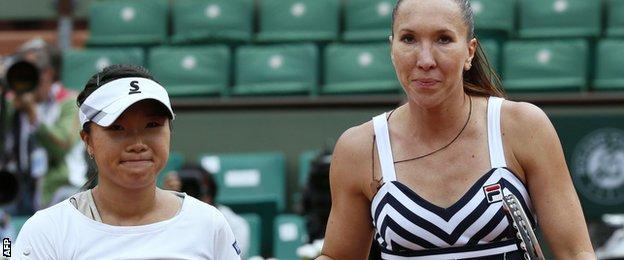 Jelena Jankovic is asked which is her favourite of the dresses on show at Roland Garros this year: "Mine is my favourite.
Speaking about the dress with white and navy blue stripes, she added: "I think it's a very unique dress. It's very classy. I think it's very French. I love it.
"I have the red shoes that give a little nice contrast to it. It's a little bit different to what I used to wear, and I think it's nice to show it off here at the French Open where fashion is quite a big thing."
Former world junior number one Donald Young: "At one time I was a lot better than a lot of my peers and you can rest on your laurels a little bit. I maybe didn't work as hard as I could have and gotten better and trained harder."
"90% of the time I didn't play really good, so this was the difference," Italy's Camila Giorgi offers a fairly brutal assessment of her performance against Svetlana Kuznetsova.
Britwatch
While there were mixed fortunes in the singles, with Andy Murray going through but Heather Watson going out, Thursday's British interest in doubles fared well.
Dom Inglot, the British number one, teamed up with regular partner Treat Huey of the Philippines to beat Colombia's Santiago Giraldo and Alejandro Gonzalez 6-3 3-6 6-3 on Court Eight.
The pair, seeded seventh, are looking to improve on last year's run to the quarter-finals and they face Mate Pavic and Andre Sa in the last 16.
Who wants to coach a Wimbledon champion?
Another day, another battle of wills as the media try to wrestle some hint from the Wimbledon champion of just who his next coach might be.
So come on, Andy, who's it going to be? John McEnroe, Jonas Bjorkman, Larry Stefanki, Mats Wilander, Bob Brett, Martina Navratilova, Leon Smith….?
"Not that I'm aware of, no."
Selfie of the day
Former French Open champion Kim Clijsters takes a selfie from Court 17 as he watches Belgian compatriot Yanina Wickmayer beaten by Spain's Silvia Soler-Espinosa 6-2, 6-4.