Novak Djokovic & Roger Federer through at French Open
Last updated on .From the section Tennis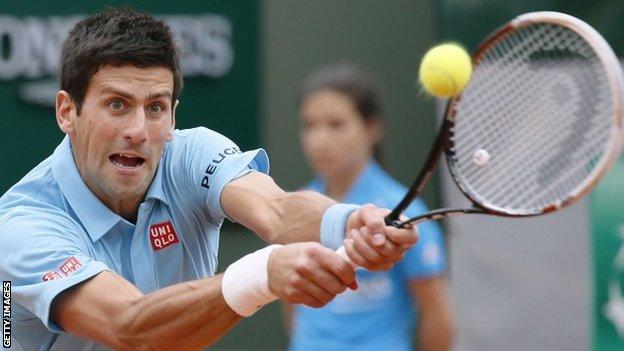 Novak Djokovic and Roger Federer both had to work hard for their wins in the third round of the French Open.
Second seed Djokovic dropped a set against Marin Cilic for only the third time in nine meetings, but came away with a 6-3 6-2 6-7 (7-2) 6-4 win.
Fourth seed Federer, whose only Paris title came in 2009, beat Dmitry Tursunov 7-5 6-7 (9-7) 6-2 6-4.
In the women's draw, Maria Sharapova eased through with a 6-0 6-0 win over world number 75 Paula Ormaechea.
The Russian, seeded seven, will now play 19th seed Australian Sam Stosur, who caused a minor upset with a 6-4 6-4 win over Dominika Cibulkova.
In the men's draw, Federer will next face Latvia's Ernests Gulbis, who defeated Czech Radek Stepanek in three sets, while Djokovic will play 13th seed Jo-Wilfried Tsonga after he swept past Pole Jerzy Janowicz in three sets.
And sixth seed Tomas Berdych, who beat Argentine Roberto Bautista Agut in four sets on Friday, faces John Isner of the United States for a place in the quarter-finals.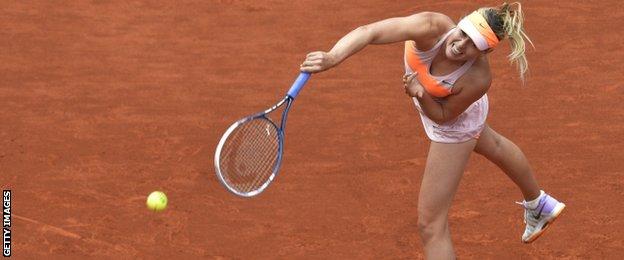 Court Philippe Chatrier
A Tomljanovic (Cro) beat A Radwanska (Pol) (3) 6-4 6-4
R Federer (Swi) (4) beat D Tursunov (Rus) (31) 7-5 6-7 (9-7) 6-2 6-4
"He played really well and went for big shots,'' Federer said. "It was difficult to finish the match, so obviously I'm relieved. Gulbis has a great game, and he can do lots of great things. He can be very good against the best players. He's brimming with confidence, and I'm delighted to play against him."
M Sharapova (Rus) (7) beat P Ormaechea (Arg) 6-0 6-0
"I like to be positive yet realistic, and there is no reason why I shouldn't be the favorite at this tournament," said Sharapova.
Court Suzanne Lenglen
S Stosur (Aus) (19) beat D Cibulkova (Svk) (9) 6-4 6-4
"I guess it is an opportunity," said Stosur of how the draw is opening up. "But I have only beaten Maria a couple of times; she's beaten me nine or 10. It's a bit irrelevant up until I play this next match."
N Djokovic (Ser) (2) beat M Cilic (Cro) (25) 6-3 6-2 6-7 (7-2) 6-4
"Physically I had to work very hard, because he was very aggressive, and I could expect that," said Djokovic. "I came into the match knowing that he's gonna take his chances. In important moments I held my nerves and I'm very happy that I went through."
JW Tsonga (Fra) (13) beat J Janowicz (Pol) (22) 6-4 6-4 6-3
"My goal was to be in the round of 16," said the Frenchman. "It's chance for me to produce a great performance against Novak. Last time I played him at the French Open [2012] I had match point but I lost."
Outside courts - selected results
T Berdych (Cze) (6) beat R Bautista Agut (Spa) (27) 6-1 6-2 6-7 (7-4) 6-4
E Gulbis (Lat) (18) beat R Stepanek (Cze) 6-3 6-2 7-5
"I don't want to tell all my cards. But I have a game plan," Gulbis said of his next match against Federer. "You don't need to be scared to do certain things against him, because most of the people they go on the court and they lose before it has started."
J Isner (US) (10) beat T Robredo (Esp) (17) 7-6 (15-13) 7-6 (7-3) 6-7 (7-5) 7-5
C Suarez Navarro (Spa) (14) beat T Townsend (US) 6-2 6-2
G Muguruza (Spa) beat A Schmiedlova (Svk) 6-2 6-4
"Today was a very difficult match, after beating Serena and all this emotion, to play on centre court and in front of so many people," said Muguruza. "It was mentally very hard and difficult to handle, but I think I did it very good."
E Bouchard (Can) (18) beat J Larsson (Swe) 7-5 6-4
Quotes of the day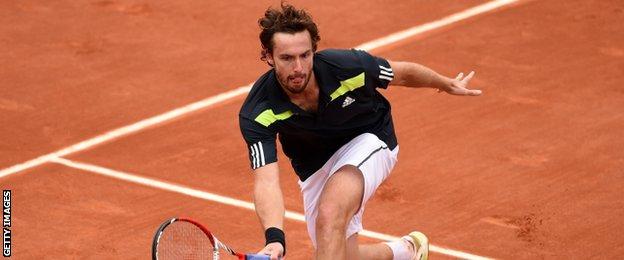 "I wouldn't like my sisters to become professional tennis players," says Ernests Gulbis. "It's a tough choice of life. A woman needs to enjoy life a little bit more. She needs to think about family, needs to think about kids."
A laughing Maria Sharapova responds: "I don't think we can take everything serious when he speaks. I mean, let's be honest with that. I think he's great entertainment and we love to listen to what he has to say. I think the sport brings so many opportunities to women."
As for Novak Djokovic…."I respect his opinion, and I respect everybody's opinion, but I can't say more than that, really. I'm sorry. That's all."
"How I sleep hasn't been interrupted. I'm a true professional when it comes to those kind of things." Roger Federer is not letting two sets of twins disrupt his shut-eye.
"The bakeries are fine, I don't think they are too much of a problem, but I haven't enjoyed any French wine this week. I'm enjoying the baguettes instead." Sam Stosur is treading carefully through the gastronomic delights on offer in Paris.
Taylor Townsend would give the offer of a Wimbledon wildcard due consideration. "If I got a wildcard into Wimbledon, I would pass out right now. I just love the atmosphere. Oh, my God, I'll probably cry. I'm not a crier, either. So that means a lot."
Murray on fight night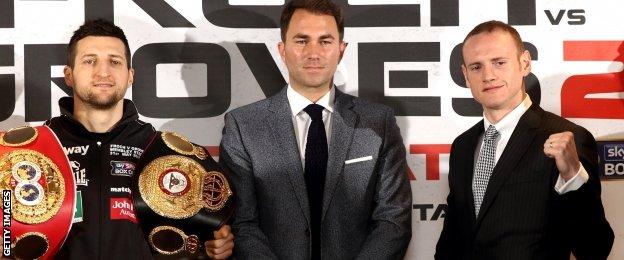 Andy Murray is a well-known boxing fan and he has been talking to BBC Radio 5 live about Saturday's Carl Froch v George Groves world title re-match at Wembley.
The Scot, who is a friend of Groves, will be playing Philipp Kohlschreiber earlier in the day.
"Hopefully I'll still be here for a start," said Murray. "If I'm still here, we're obviously an hour ahead so I would expect I'll try to get to sleep, check the result in the morning and then watch the replay.
"I don't watch live. I watched the last fight live in Miami but I find it very difficult. I get very, very nervous watching if I know the person fighting, so I tend to not watch, get the result, hope no-one gets hurt and then watch the replay."
Britwatch
Jamie Murray and Australian John Peers enjoyed a fine 6-4 6-3 win over Italians Simone Bolelli and Fabio Fognini to reach the last 16, although things are about to get even tougher as they next play top seeds Bob and Mike Bryan of the United States.
However, Murray later suffered a 6-3 5-7 10-6 first-round mixed doubles defeat with partner Casey Dellacqua of Australia at the hands of third seeds Yaroslava Shvedova and Bruno Soares.
Elsewhere, Dom Inglot and Treat Huey on the Philippines, seeded seventh, lost a desperately tight match 7-6 7-6 to Mate Panic and Andre Sa.
Inglot later tweeted: "I think it's safe to say 'dirt dog' is not a nickname of mine after this clay season."
Selfie of the day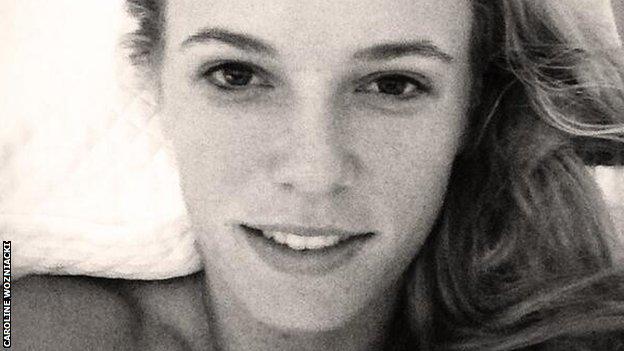 Former world number one Caroline Wozniacki, who was beaten 7-6 (7-5) 4-6 6-2 by Belgium's Yanina Wickmayer in the first round of the French Open, looks far happier having left Paris behind for Miami.