French Open 2014: Tennis tough career for women - Ernests Gulbis
Last updated on .From the section Tennis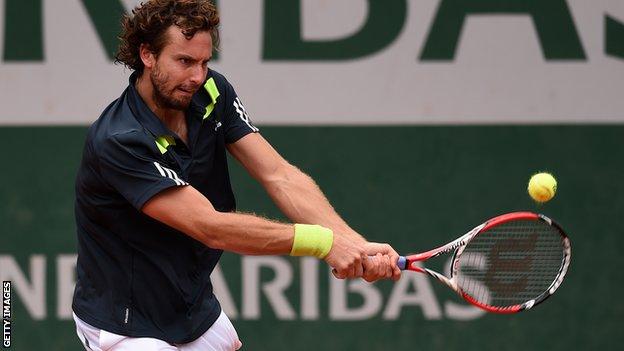 Latvia's Ernests Gulbis believes tennis is a difficult career for women to follow when they "need to think about kids".
Gulbis included his younger sisters, who both play below the main tour, in remarks he made at the French Open.
"I wouldn't like my sisters to become professional tennis players. It's a tough choice of life," said Gulbis, 25.
"A woman needs to enjoy life a little bit more; needs to think about family, needs to think about kids."
Gulbis was responding to a question about his sisters after beating Radek Stepanek of the Czech Republic 6-3, 6-2, 7-5 to set up a fourth-round meeting with Roger Federer at Roland Garros.
He said that life on tour was testing, particularly for female players who can't think about having children until they are in their late twenties, adding: "That's tough for a woman, I think."
World number eight and 2012 French Open winner Maria Sharapova was unperturbed by Gulbis' comments.
"I don't think we can take everything serious when he speaks," said Sharapova, 27, who is also into the fourth round in Paris.
"I think he's great entertainment and we love to listen to what he has to say. But, of course, you have different opinions.
"In a way, I think he was joking, but he's playing the sport, so how bad can it be?
"If he felt so bad about it, and even if he's a male, I don't think he'd be playing it."
Gulbis will be playing in the second week of a Grand Slam tournament for the first time since reaching the quarter-finals at the 2008 French Open.