Eugenie Bouchard faces kindred spirit Sharapova at French Open
By Piers Newbery
BBC Sport at Roland Garros
Last updated on .From the section Tennis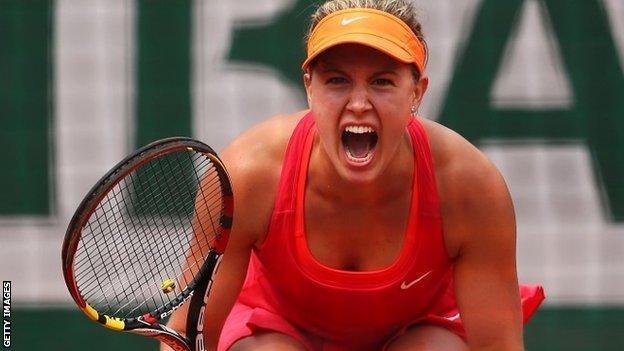 "My best friend on tour? I don't have one. I don't think the tennis tour is the place to have friends. For me it's all competition."
Eugenie Bouchard and Maria Sharapova are women of different tennis generations but the same mind.
That line could have come from either player; in this case it was Bouchard.
With typically perfect timing, Sharapova followed her into the media room later on Monday and echoed the sentiment with a phrase that will surely be adorning her sponsor's T-shirts any day now.
"I was never here from day one to make friendships. This is a battlefield for me, and I want to win."
The 20-year-old Canadian and the 27-year-old Russian will meet on Court Philippe Chatrier on Thursday with a French Open final place at stake, and it will not be a place for faint hearts.
The intensity Sharapova gave off in turning around her last two matches, against Sam Stosur and Garbine Muguruza, shook the very foundations of Roland Garros.
She will find a kindred spirit across the net on Friday.
Bouchard, the world number 16, is all business and the days when she was making YouTube videos with Laura Robson appear to be long gone.
"I think it's kind of important to be a little bit selfish in tennis," Bouchard told BBC Sport.
"It is an individual sport. It's only you out there - you win on your own and you lose on your own, and you've got to just think about what's best for you.
"That's how I try to approach it. We have short careers and I just want to try to give it my all, stay really focused and do the best I can."
The Montreal-born Florida resident's rise has been both steady and spectacular.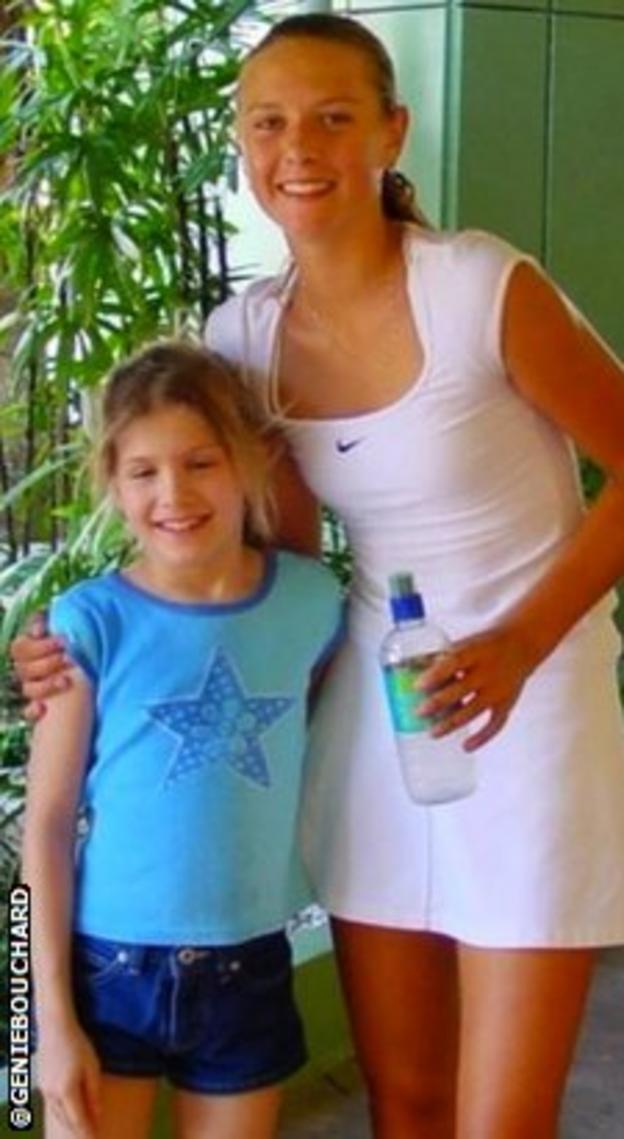 She has moved apparently seamlessly from winning junior Wimbledon in 2012 to reaching 32 in the world by the end of 2013, and her first Grand Slam semi-final in Australia at the beginning of this year.
"It gave me confidence that I can play on big courts and compete with some of the best players in the world," she said.
"I have this belief in myself that I do belong in the top level of the game and I'm just going to keep working to try to get there."
Bouchard now has her sights set on a first major final, and the daunting obstacle of former champion Sharapova in her way.
For all their hard-nosed talk, Sharapova and Bouchard at least put up a good front when starring together in an advertising campaign last year.
The pair actually first met in Miami in 2002, when an eight-year-old Bouchard managed to get a photo taken with Sharapova, then 15 and two years from her breakthrough Wimbledon victory.
Asked about their shared antipathy towards making friends on the tennis tour, Sharapova said: "It's not really my social hub. I don't know how else to say it.
"I have known her for a couple of years. I remember she asked Nike if she could wear my collection, which is an honour, and of course I agreed."
Bouchard might appear frighteningly focused but she does occasionally betray her youth, letting slip in an on-court interview in Melbourne that she is a Justin Bieber fan, and clearly enjoying the support of the self-styled 'Genie Army'.
"I think it's amazing that since Australia, most of the cities I have played in, there has been some kind of mini Genie Army and I have received many, many stuffed animals this year.
"I just think it's so cool and I feel so special to have a fan base like that."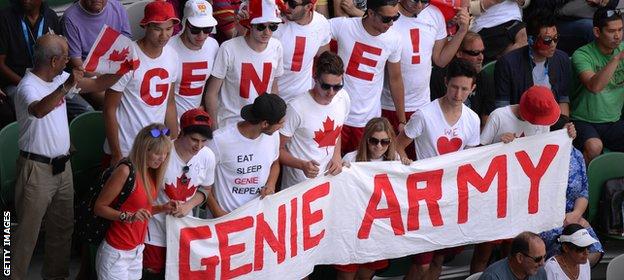 The French capital has yet to be stormed by the Genie Army, and she joked: "I hope the Parisians get their act together."
Having just turned 20, it would be easy for the Canadian to play the 'nothing to lose' card against as experienced a campaigner as Sharapova.
There will surely be plenty more opportunities to make the Grand Slam breakthrough, but Bouchard is not one for hanging around.
"I'm not all that young," she said. "I feel very old. I think I'm starting to get wrinkles on my face.
"So I want to be the best player I can be as quickly as possible, because one day I will wake up and I will be 30."