French Open: Rafael Nadal now focused on Wimbledon success
By Piers Newbery
BBC Sport in Paris
Last updated on .From the section Tennis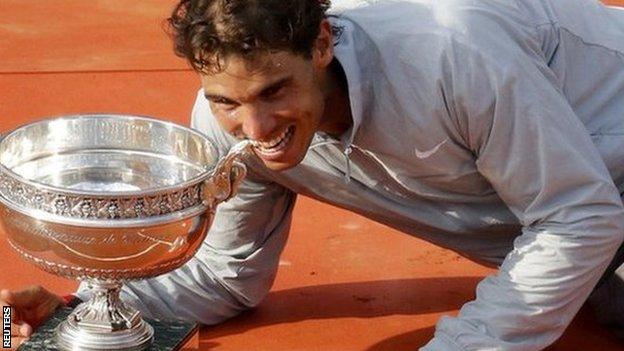 Rafael Nadal is determined to make an impact at Wimbledon again after winning his ninth French Open title on Sunday.
The Spaniard, 28, beat Novak Djokovic 3-6 7-5 6-2 6-4 to win for a record fifth successive time at Roland Garros.
Nadal is now focused on making up for last year's first-round defeat at the All England Club.
"I want to try to play well again in Wimbledon," he said. "I'm healthy. That's the most important thing."
Nadal struggled with the switch from clay to grass last year as he was on the way back from seven months out with a knee injury.
He made a shock first-round exit against world number 135 Steve Darcis of Belgium, and it is now four years since he won his second Wimbledon title.
"I hope my knee will have the positive feeling on grass, because I feel my knee is better than last year on the rest of the surfaces," he said.
"Grass always was a little bit harder for me after the injury. Last year I tried, but I was not ready to compete at Wimbledon.
"Let's see how my feelings are there this year, but it's a very important tournament."
Nadal has now won 14 Grand Slam titles, three behind Roger Federer's record total, but refuses to target the Swiss player's mark.
"We will see when I finish my career how many Grand Slams I have or if I win four, three, or five in a row," he said.
"The most important thing today is I won the most important tournament of the world on clay, probably the most important tournament of the year for me."
Both men appeared to struggle in the 27C heat after a fortnight of relatively cold weather in the French capital.
"The combination of two weeks of cold with the drastic change of yesterday and today - today was the first real day that we played with that conditions," he said.
"This big change I think affects us, affects our physical performance."
Djokovic has now lost five of his last six Grand Slam finals, and this time his challenge faded in the hot conditions after he lost the second set.
"I did have the period of the match at the end of the second and the whole third set, I struggled a little bit," he said.
"It's not impossible, but it's very, very difficult to stay with Rafa in this court, throughout the whole match on the highest level of performance.
"I started feeling, as I said, a little bit better, but I wasn't managing to bring my A game when it was most needed in the end of the fourth."