Amelie Mauresmo is the latest strong female in Andy Murray's life

By Russell Fuller
BBC tennis correspondent
Last updated on .From the section Tennis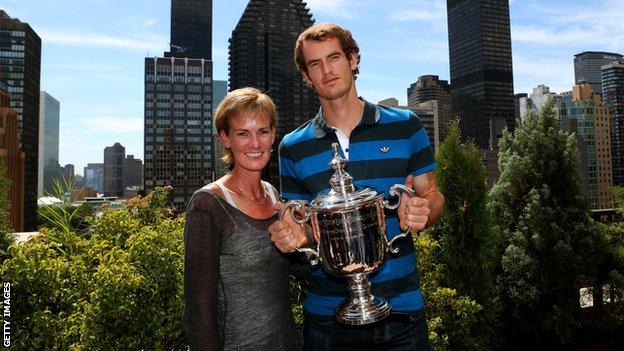 Ever since Judy Murray started to organise indoor games of tennis for a very young Andy and Jamie, the Wimbledon champion has had a strong female influence on his career.
In those days, the ball was a balloon filled with a few grains of rice and the net a piece of rope stretched between the radiator and the wall. But the games evolved, and Judy - who remained heavily involved in coaching Andy up until the age of 17 - still frequently attends his matches.
Boris Becker once suggested that Mum should travel less, and Andy's decision to appoint Amelie Mauresmo as his coach will have raised some eyebrows so high that you just hope the wind doesn't change any time soon.
Not that Murray will mind. In fact, it turns out that he was actively seeking a female coach.
He turned for advice to Darren Cahill, with whom he's worked closely as part of the Adidas player development programme.
"I mentioned to him that I was thinking about possibly a female coach," Murray told BBC Sport at Queen's Club, on the eve of his Aegon Championship defence.
"I didn't know a lot of the females that were playing around the last 10 years or so, and he thought Amelie would be a good fit. We also came up with a few other names, and after I spoke to her I just had a good feeling about it."
His next answer was the most revealing.
"I've found, with my mum especially, that she listened extremely well and that was something that I felt right now that I needed," he said.
"I've started to listen to my body a lot more and I think it's important that the people you work with respect that and understand and listen to how you are feeling. You can't just be pushed extremely hard every single day. I need to pick my moments during the year when I really go for it in training."
Murray added that Mauresmo appeared 'extremely calm' when they spoke on the phone. The reason he was happy to tell the BBC - on the eve of the French Open - that he had a "first choice candidate in mind" was the one-and-a-half hours they spent together just before the tournament began.
As six-time Wimbledon champion Billie Jean King points out: "It is not the gender of the coach that is important, it is the strength of the relationship between the coach and the player that will make the partnership work."
Mauresmo is said to have a good sense of humour, which is a very important quality to Murray, and brings with her the experience of two Grand Slam titles and the world number one ranking.
She did though let some winning positions slip in Grand Slam finals and, as the current French Fed Cup captain, can't be expected to have a deep knowledge of the men's tour.
The arrangement is initially for the grass court season, but if both pass their probationary period, then it's a relationship which Murray hopes will flourish.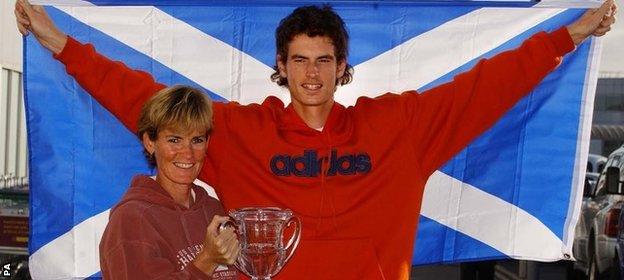 The 1987 Wimbledon champion Pat Cash was one of those surprised by the news, but points to another advantage of employing such a classy grass court player.
"I believe he still has plenty of room to improve around the net. That would make him a better player - and Amelie's a fantastic player around the net," the Australian said.
"If he can improve 10 or 20% around the net, and continue attacking, then he doesn't need to get into long grinding matches."
Will the relationship be a success? Check Murray's Grand Slam tally when Mauresmo's work is done.