Andy Murray column: From leaving Lendl to texting Mauresmo

By Andy Murray
Wimbledon champion
Last updated on .From the section Tennis
My partnership with Amelie Mauresmo began with a text message: "I'm looking for a coach at the moment. If you're interested in chatting to me, let me know."
I don't know if she was surprised to hear from me, but she did make me wait overnight before messaging me back the next morning.
A month or so later, here we are at Queen's Club - and off to a winning start on the grass.
We spoke a couple of times on the phone before the French Open and then I met her at a hotel when I got to Paris, somewhere quiet. I might have been a bit nervous, but I knew what I wanted to speak about. After five minutes, we were talking about tennis and what I was looking for.
I liked talking to her. She's very calm and a good listener. She had a think about it for a couple of days and then said she was up for doing it.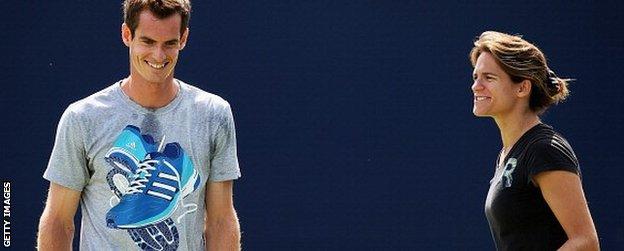 When I was speaking to her originally and we were discussing the number of weeks I want her to be around, she said: "When do you need to have an answer by?"
I wanted someone in place before Wimbledon and didn't want to have to start the process again, so suggested we try it for a couple of weeks over the grass, see how it goes, and then we have a few weeks after Wimbledon to decide whether we want to go on or not.
There's a bit less pressure that way than her having to say 'yes' or 'no' to a full-time role. You never know, she could have said 'yes' to the job permanently, only to find after a week working together that we hated it!
At the same time, she could have said 'no' and three weeks later end up regretting it. A trial period just seemed like the right thing to do.
Hopefully it will work out well. The fact that she's a woman really wasn't something I considered much once the decision was made. I've brought in Amelie because I feel like I need something extra. I've won Grand Slam titles now and that's the level I want to get back to.
In a lot of ways, it's been a tough year for me since I last played on grass. Getting over the back surgery I had in September was a hard process. In the Slams, I played decent: a couple of quarters and then the semis at the French, which was a pretty good effort despite the result at the end.
It took a good three or four months after the surgery before I felt strong enough to play some longer matches. Even at the French, I struggled a little bit physically.
From time to time, I still feel the back, but, in comparison to what it was like during the clay-court season last year, it's so much better.
I used to struggle when I woke up in the morning, whereas now I wake up and don't have any problems. It was affecting almost everything I did before and now that's not the case.
Andy Murray's Grand Slam record

Australian Open

Runner-up three times

French Open

Twice a semi-finalist

Wimbledon

2013 champion and 2012 runner-up

US Open

Won title in 2012 and runner-up once
The split with Ivan Lendl was also hard to get over for a little while because he was a huge part of my career. He had a big influence on me and my team.
He was the leader because of all the things he achieved and the results we had together. That gives you more influence. If things are going horribly, it's a bit different, but things had gone very well. It was tough for me, for sure, for a few weeks, but once I started thinking about different coaches, I started to move on and look for something different.
It's very early days with Amelie and part of the job is making her feel comfortable around me and the rest of the team.
I remember seeing her play football in Indian Wells a few years ago and she looked pretty good. Maybe we'll test out her skills. The football-tennis game we use in practice is probably quite a good way to get her involved, quite a lot of banter flies around during those games.
Just spending time around her at the tournament, being on court, that kind of thing takes a bit of time, but it was great to have her on the team on Wednesday. And most important of all, we started with a win.
Andy Murray was talking to BBC Sport's Piers Newbery.