Elena Baltacha: Nino Severino tells of wife's great strength
Last updated on .From the section Tennis
The husband of Elena Baltacha has praised his wife's "incredible strength" during her treatment for liver cancer.
And Nino Severino said his wife had never complained about her disease, and showed her fighting spirit right until the end.
"In all the time I spent with Bally, this is what really showed what a person she was," said Severino.
Wimbledon champion Andy Murray is among a number of tennis stars playing in a charity fundraiser in memory of Baltacha on Sunday.
Baltacha had announced her retirement from playing in November having struggled with injury and illness during her career.
She married her coach Severino shortly before her diagnosis in January.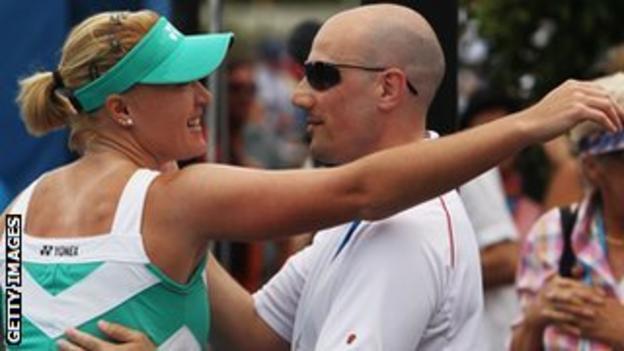 "Bally was ill for quite a long time," explained Severino.
"The medical people couldn't seem to understand why. The symptoms she was showing didn't seem to indicate anything with the liver. She had loads of tests that all came back clear.
"But she had this really, really bad cough and then it was in January she got a pain in her side and that's when we found out.
"When she got the diagnosis, she was obviously very shocked, very upset. I was beside myself. It was very, very difficult.
"Lots of humans go through horrible, horrible things but this woman was 30 years old, she had just retired and she had so many amazing things at her feet and then we were up against this fight."
Born in Ukraine and raised in Scotland, Baltacha won 11 singles titles, made the third round of Wimbledon in 2002 and was part of Great Britain's Fed Cup team for 12 years, under the captaincy of Judy Murray.
And Severino described how bravely his wife had battled against her illness.
"She never once, through the whole ordeal, ever complained," he said.
"She said 'please' and 'thank you' to everybody, treated everyone with respect. She always put my feelings first before hers, never wanted me to be upset.
"I literally spent every second with Bal fighting all the way. It was horrendous cancer that she had, the worst you can get, in the liver. The fight was brutal.
"I loved her, more than anything and she felt the same. We were just utterly devoted to each other, utterly."