Victoria Azarenka: Former world number one in Eastbourne return
By Piers Newbery
BBC Sport
Last updated on .From the section Tennis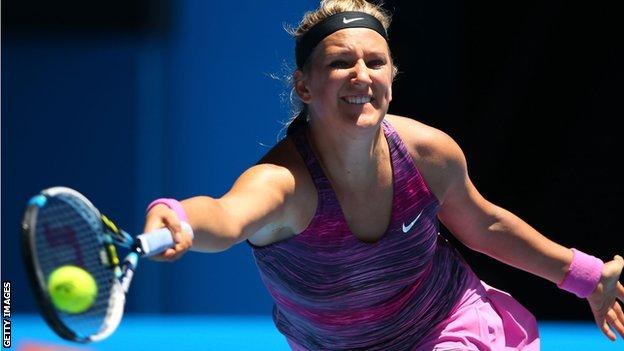 Victoria Azarenka was last seen ordering Andy Murray around at Queen's Club while wearing a policeman's hat - but she is back and she means business.
The former world number one from Belarus returns to action in the gentle surroundings of Eastbourne this week, having played just one match since January because of a foot injury.
She warmed up for her comeback with a starring role in Sunday's charity match in memory of Elena Baltacha, taking over umpiring duties with the likes of Andy Murray and Martina Hingis on court.
For someone who has not always enjoyed the warmest relationship with crowds around the world, Azarenka showed an engaging, witty side to her character.
"That's how I am in real life," the 24-year-old tells BBC Sport. "I wanted to arrest Andy!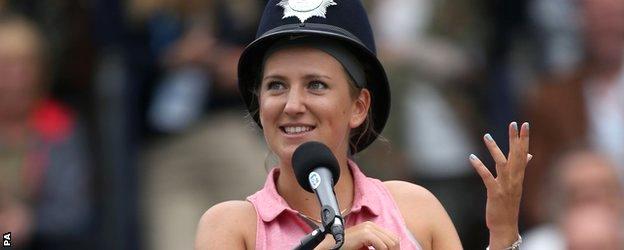 "When I'm on court I'm really serious, because that's what I'm there to do. I work hard to achieve my dreams and my goals and that's the best way for me to do that.
"Off the court, I'm just like that all the time. I joke even more, sometimes very inappropriately!
"I wanted to create the vibe that we had in memory of Elena because I felt she was a fun and exciting person. We had to make that happen in her memory."
A few hours earlier, Azarenka was to be found away from the crowds on a distant court at Queen's Club. It might have been a practice session but every winner was followed by a fist pump, every error a sigh or a swipe at the turf.
"When I'm on the court, I'm a different person," she says. "I'm just here for business.
"If you look at the people who are trading stocks, for example, they are so intense; they are in the moment.
"You have to find the way to perform in any job to your best. That's the way I do it. You have to recreate that and train that way to stay at the top level.
"As a kid I played 10 hours a day, imagining myself playing on the big stadiums. I think that's the passion I have for the game."
In recent months some of that passion was diverted into other pastimes, such as painting and walking her dog Duke, as she went through a lengthy rehab process until she was able to return to the practice court last month.
"I think the best way is to try to get the best out of that time, and I definitely feel like I did that," says Azarenka.
"I got the best out of those months on the court, in the gym, the whole experience.
"I didn't watch much tennis because I don't watch much anyway, unless I'm at the tournament. It was tough at times because I didn't know when I was going to be able to play again, but after I started training it was a lot better."
Azarenka lost her Australian Open title in January and has slipped to eighth in the world following her injury break, but she has remained patient over her comeback.
She might have the career plan of a stock-market trader, but she was not about to gamble on her fitness just to make Wimbledon.
"Desperate is definitely not the right word," she says.
"I'm looking forward to it because I love the tournament. I love the fans there, the tradition - it's one of the best tournaments in the world.
"I happened to get a wildcard for Eastbourne and I really wanted to test myself and see how I can go, because I think competition is the best way to see where you're at, so you can adapt little bit and see where you want to improve."
Azarenka meets questions about the next few weeks with the obligatory "no expectations" response, but does she ever go on court expecting anything other than victory?
"Well, you've got to believe that," she says with a big grin. "There's no other way."