Andy Murray unsure how he will handle Wimbledon pressure
Last updated on .From the section Tennis
Andy Murray has admitted he does not know how he will cope with the pressure of walking onto Centre Court on Monday as the defending Wimbledon champion.
Murray is the first Briton to defend the men's singles title in 78 years.
The 27-year-old, seeded third for the tournament which begins on 23 June, said of his first-round match: "I'd expect to feel pride and some nerves.
"I don't know how I'm going to handle it; no-one does. It'll be interesting to see how I deal with that."
Murray, who said he found it difficult to motivate himself after his Wimbledon triumph, has experienced a testing 12 months, having back surgery in September, slipping to as low as eighth in the world rankings and ending his partnership with coach Ivan Lendl in March.
But the Scot, now the world number five, believes he is capable of retaining his title, even though he concedes it will be extremely difficult.
"If you've done it once there's no reason why you can't do it again," Murray told BBC Sport. "If I can play like I did last year I'll definitely be in with a chance.
"The few months after Wimbledon last year I found it difficult to motivate myself.
"But then you remember what it feels like to win Wimbledon, you know how all the work you put in was worth it and the feeling and emotions you get when you win a tournament like this.
"It'd be strange not to want to do that again and that's something I hope I can put myself in a position to do during the championships. It doesn't always work out, you don't always win the tournament, but if I can give myself a chance I'll be pleased with that."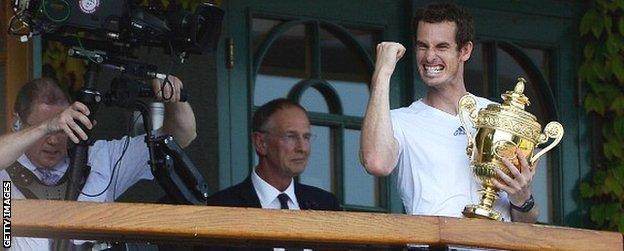 Murray also said he was enjoying working with Amelie Mauresmo, whom he appointed as his new coach for the grass-court season earlier this month.
Mauresmo has committed to being Murray's coach during Wimbledon, although it is understood both are hoping the partnership will be extended beyond that period.
"It's been a good start," said Murray of his time with the former Wimbledon and Australian Open champion. "I've enjoyed spending time on court with her. The sessions are hard work but good fun."