Wimbledon 2014: Should we expect Andy Murray to retain title?

By Tom Fordyce
Chief sports writer
Last updated on .From the section Tennis450
For a year, the scoreboard on Wimbledon's Centre Court has stood still. Displayed to the empty green seats and grey London skies has been the last result it recorded: Andy Murray vs Novak Djokovic, 6-4 7-5 6-4.
That straight-sets victory on a flawless summer's afternoon was many things - the end to a 77-year wait, the culmination of one young man's ambition and lifetime's work, the final act in a remarkable run of British sporting success.
Yet as the scoreboard has remained frozen in time, the challenges for the reigning champion have accelerated.
His own performances less reliable, his rivals reinvigorated, Murray returns to the scene of his greatest triumph facing arguably a more daunting task still: doing it all over again.
A little precedent. Of the 20 first-time winners of the Wimbledon men's singles title in the Open era, only four have gone on to retain their crown the following year - Bjorn Borg in 1977, Boris Becker in 1986, Pete Sampras in 1994 and Roger Federer 10 years later.
How first-time Wimbledon men's singles champions performed the following year

Novak Djokovic

Won 2011, semi-finals 2012

Rafael Nadal

Won 2008, injured 2009, won 2010

Roger Federer

Won 2003, retained title 2004

Lleyton Hewitt

Won 2002, first round 2003

Goran Ivanisevic

Won 2001, injured 2002 & 2003, third round 2004

Richard Krajicek

Won 1996, fourth round 1997

Pete Sampras

Won 1993, retained title 1994

Andre Agassi

Won 1992, quarter-finals 1993
As many champions have gone out in the quarter-finals as have won it. As many have been dethroned in the fourth round.
Then there is Murray's form, as uncertain this year as it was solid 12 months ago.
Since his season began he has lost 11 times, more than he did in the whole of an injury-truncated 2013.
In that time he is yet to beat a single player in the world's top 10, and has beaten only one in the top 20. At the same stage in 2013, he had beaten nine players in that 20-strong top bracket; in 2012, six.
Our first caveat. Murray's high ranking ensures he comes up against his fellow big fish only when the smaller fry have been dealt with in the early rounds. Only on four occasions this season has he played another top 10-ranked player: Roger Federer at the Australian Open, Djokovic in Miami, Rafael Nadal in Madrid and Paris.
But he has not threatened that great trio as a man with his track record and ability should, winning only two sets in total across those four matches.
In 2013 he came to Wimbledon at least on a par with those formidable rivals, having in the 11 preceding months outplayed Djokovic and Federer to win Olympic gold, beaten Djokovic to seal his first Grand Slam title at the US Open, seen off Federer to reach the final of the Australian Open and won Queen's.
This time around the same punches have not landed. He was beaten in the quarter-finals at Flushing Meadow by Stan Wawrinka, by Federer in the quarter-finals of the Australian Open, demolished in the semis of the French by Nadal and upset in the third round at Queen's by Radek Stepanek. Going to Miami as defending champion, he was sent packing by Djokovic in the quarter-finals.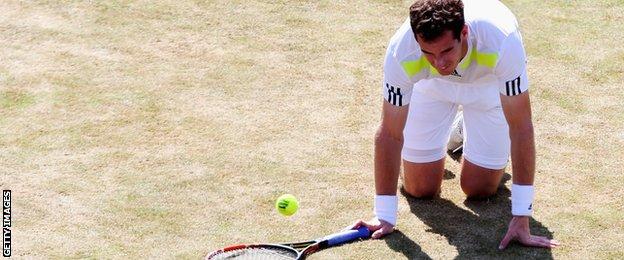 Then there are the struggles against those in the next division: losing to Marin Cilic in Rotterdam, Grigor Dimitrov in Acapulco, Milos Raonic in Indian Wells, Fabio Fognini in Davis Cup and Santiago Giraldo at the Madrid Open.
With the exception of qualifier Giraldo, none of these men is a straightforward opponent. Dimitrov, crowned champion at Queen's last Sunday, is ranked 13th in the world and rising. Raonic is ninth, Fognini 15th.
Neither is there any disgrace in being steamrollered in Paris by Nadal, a man who has lost only once there in 10 years and 67 matches.
At Queen's two years ago, another early exit, this time in the third round, did not prevent Murray reaching the Wimbledon final three weeks later; in taking the crown at SW19 last year he had to beat only one player from the world's top 20, and that in the final, although that was in part thanks to rank outsider Steve Darcis taking unexpected care of Nadal and the similarly unheralded Sergiy Stakhovsky accounting for Federer.
But precedent again sends its warning.
Of the multiple champions of recent Wimbledon vintage, all were considerably younger than Murray's 26 years when they won their first title. Nadal was 22 in 2008, Federer 21 in 2003, Sampras 21 in 1993.
Go back still further and the pattern repeats: Stefan Edberg was 22 in 1988, Becker 17 in 1985, John McEnroe 22 in 1981, Borg 20 in 1976 and Jimmy Connors 21 in 1974.
To defend the title, it would appear, is far simpler when you have the majority of your peak years ahead in which to do it. Goran Ivanisevic, at 27 a rare older first-time winner than Murray when he finally saw off Pat Rafter to win the title 13 years ago, never won another tournament, let alone Wimbledon.
To which Murray's supporters might point out that Andy is no Goran, who had already felt the effect of the injuries that would bring his career to a premature conclusion, and that those great names - all of whom would end with at least six Grand Slam titles - by definition were likely to win their first Wimbledon early.
Perhaps more pertinently, there was the sense in Murray's defeat at Queen's last week that the chance to spend more time on the practice court with new coach Amelie Mauresmo was more than mere consolation.
Bereft when his previous relationship with Ivan Lendl broke down, Murray was acutely aware of the need to buttress his support before his season's crescendo.
Mauresmo may do little actual coaching - players with career prize winnings of £18.5m rarely need someone to tweak their top-spin forehand - but her experience of the biggest stage and the approach needed to flourish on it will be invaluable during the intense two weeks ahead.
Murray's ascent to the top was not an easy one. It took him eight attempts to win Wimbledon, four semi-finals to make the final, another final to step onto the summit.
Andy Murray's Wimbledon record

2005

Third round

2006

Fourth round

2007

Missed due to injury

2008

Quarter-finalist

2009

Semi-finalist

2010

Semi-finalist

2011

Semi-finalist

2012

Finalist

2013

Winner
It has led some to wonder whether he might now be satiated, even on a subconscious level. Is there the same motivation to climb Everest a second time?
There is certainly less pressure on him than there was before the weight of those 77 years was lifted. He feels more comfortable at the All England Club than at any other tournament, commuting up the A3 from home in Surrey, bolstered by a support that no other player will enjoy.
On grass too he is more physically at ease than on the clay of Roland Garros, the lower bounce and shorter points unlikely to place the same strain on his still recovering back.
It is why he is seeded three, against a current world ranking of five, and why he remains joint second favourite with Nadal, just behind Djokovic and with daylight to Federer.
Spared a battle against a top-four player until the semi-finals, it will be the coming men who pose the initial threat, and even then his home advantage may offer some protection. Dimitrov might have won Queen's last week and be a former winner of Junior Wimbledon, but he has never got past the second round as a senior.
Murray's Wimbledon past, by contrast, inspires fresh hope.
He has reached at least the semi-finals in each of the past five years. The last time he failed to reach at least the fourth round of a Grand Slam event he has been fit enough to start was at the US Open four years ago.
He has the track record and the support. Now for the form and fortune.
Watch and listen to live coverage of Murray's opening match - scheduled to start at 13:00 BST - against David Goffin on Monday, 23 June on BBC One, BBC 5 live and online.
Watch a documentary about 'When Andy Won Wimbledon' on BBC One on Monday, 23 June at 22:35 BST.