Wimbledon 2014: Sania Mirza on being a sports star in India
Last updated on .From the section Tennis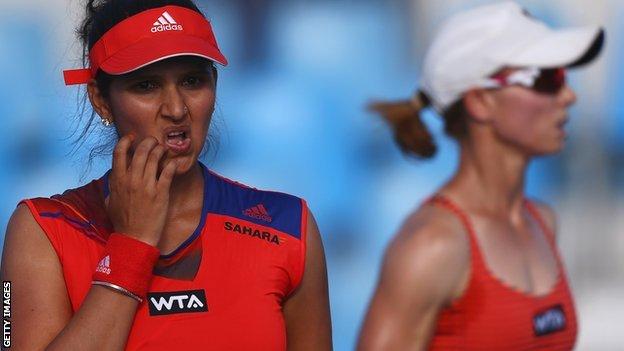 In India, where being fair and therefore lovely is de rigueur, getting dark and therefore dirty on a sun-baked tennis court is frowned upon by some.
"On the sub-continent, for girls to be lighter skinned is supposed to be great," Sania Mirza, India's most successful female tennis player, told BBC's Sportshour. "So my aunts, uncles and cousins were concerned I wouldn't be able to find someone to marry me if I got dark. That's the kind of culture there is over there."
But 11 years after turning pro Mirza is one of India's biggest sports stars, has just reached her highest world ranking in women's doubles (6) and is one half of one of South Asia's most famous couples.
"In the beginning it was tough," said Mirza, who married former Pakistan cricket captain Shoaib Malik in 2010 and has earned almost £2m during her career. "I wasn't really comfortable in my own skin and I was being judged every step of the way.
"When I picked up a tennis racquet, a girl wanting to play Wimbledon was unheard of. When I did win junior Wimbledon with Alisa Kleybanova in 2003, people apologised and said 'we're extremely sorry that we ever said anything'.
"But even though things have changed so much over the last 20 years, things still have some way to go."
In 2010, India's whitening cream market was worth $432m (£201m), according to the country's largest research agency, AC Nielsen. Cricket players and Bollywood stars endorse the products and even Indian men have taken to using the product.
Last year, film star Nandita Das leant her support to the Dark is Beautiful campaign, which challenges the widely-held belief in India that status and beauty and a woman's future marriage prospects should be determined by skin colour.
But according to Mirza, who will partner Zimbabwe's Cara Black in the women's doubles at Wimbledon this month, it is not only the fear of a sun tan that has prevented generations of talented Indian girls from forging a career in sport.
"There's a norm in India of what a woman should and shouldn't do," said Mirza, a former world number 27 in singles, winner of two Grand Slam mixed doubles titles and runner-up in the French Open doubles final in 2011.
"That's one of the reasons we don't have as many professional women athletes at the highest levels, especially in global sports like tennis and golf, where you really have to get out there, travel the world and sacrifice a lot of other things.
Mirza added: "If women want to be a professional athlete it sounds a bit off and this has nothing to do with religion or cast. It has just to do with the whole culture that goes on in the sub-continent."
In 2005, a tennis tournament in Calcutta was forced to beef up security following rumours that a radical Islamic group had threatened to stop Mirza, a Muslim, playing unless she changed her on-court outfit, which it deemed "indecent".
In 2008, Mirza announced that she would no longer play tournaments in her home country after being accused of disrespecting the Indian flag during the Hopman Cup in Australia. Having been pictured sitting with her feet resting on a table next to the flag, one irate viewer registered a complaint with a court in the central Indian city of Bhopal.
Mirza, 27, and originally from Mumbai, did represent India at the 2010 Commonwealth Games in Delhi but has said that the various controversies back home have caused her "great lows".
"I had a good support system around me, fortunately. My parents were good, my family and friends kept me grounded. It's easy to lose your way with that much going on."
On the subject of her husband, who will be supporting her in the crowd at Wimbledon this year, she said: "It's good to be married to someone who understands sport and plays sport at the highest level.
"You don't have to tell the other person to 'shut up' when you lose a match. You just keep quiet for a few hours and let them get over it! And in a marriage those things matter, believe it or not."
Mirza was first coached by her sports journalist father and was only the third Indian woman to win a singles match at a Grand Slam tournament in the Open Era, in Australia in 2005.
But India, a country of 1.2 billion people, is still failing to transform all that female potential into success on the tennis court, despite Mirza's example.
With Mirza now concentrating on doubles, India's top-ranked woman in singles is 21-year-old Ankita Raina, the world number 289. India only has two women in the top 500, neither of whom has played in a Grand Slam tournament.
In contrast, while India have never been a major force in men's tennis, there have been a number of male stars, especially on the doubles circuit - Mahesh Bhupathi and Leander Paes have won 26 Grand Slam titles between them.
"When I came on the scene, the question I was asked again and again was 'who's after you?'" said Mirza, who launched an eponymous tennis academy in Hyderabad last year.
"But I'm still the only one and have been for 10 years now. I finally thought I should do something about that, to try to keep the legacy of tennis in India going. Otherwise when I retire there won't be anyone else."
Sania Mirza was talking to World Service sports reporter Caroline Rigby.