Andy Murray: Wimbledon butterflies will be different this time

By Andy Murray
Wimbledon champion
Last updated on .From the section Tennis
Pride, pressure and nerves are what I expect to feel when I walk on to Centre Court as the defending champion at one o'clock on Monday.
I've already felt the familiar butterflies in my stomach that I experience every year before the start of the Championships, but a year on from winning the title it will obviously be a very different experience this time.
If I don't know exactly what to expect on Monday, the build-up has been much the same as in previous years. Aside from a bizarre encounter with a runaway dog and some traffic - more of that later - I've been able to focus on the fact that I have an opening match to win.
How first-time Wimbledon men's singles champions performed the following year

Novak Djokovic

Won 2011, semi-finals 2012

Rafael Nadal

Won 2008, injured 2009, won 2010

Roger Federer

Won 2003, retained title 2004

Lleyton Hewitt

Won 2002, first round 2003

Goran Ivanisevic

Won 2001, injured 2002 & 2003, third round 2004

Richard Krajicek

Won 1996, fourth round 1997

Pete Sampras

Won 1993, retained title 1994

Andre Agassi

Won 1992, quarter-finals 1993
It helps that I'm very comfortable in my surroundings at the All England Club. I must have been back 20 times since the final last summer.
I came here when I was doing my rehab after back surgery, and also to use the indoor courts and the gym, so I spend quite a lot time here during the year.
Admittedly, it is a bit different knowing there is now a giant poster of me holding the trophy that greets all the players as they arrive, and I've managed to avoid the temptation of standing and admiring it by coming in via a different route!
I have taken the opportunity to look at the famous honours board of past champions a few times, and that is an amazing feeling. Having your name alongside all the other greats of the game makes you realise you really are part of the history of the tournament. That's the nicest part of it all.
Over the last few years, as I've got older, I've started to understand better what Wimbledon means. The first time I played here I was a teenager and it was hard to take it all in, but now I really appreciate walking through the corridors on the way to Centre Court and seeing all the pictures of the great players from the past.
Fred Perry is a name that has been linked to mine throughout my career, so I've taken a special interest in him and seen some of the footage from when he won here. Maybe when I finish playing it's something I'll look into a bit more, but last year I avoided getting really involved in all of that because it might have made concentrating on the job in hand even harder.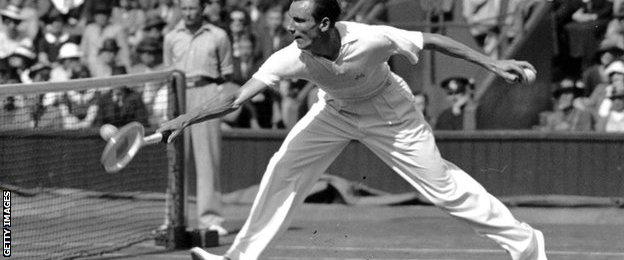 Keeping your mind on the next match is vital in tennis and I haven't spent loads of time thinking about last year, but there are reminders around if I need them.
I received my replica Wimbledon trophy a day or so after the final - it arrived a bit quicker than my US Open trophy - and while it's not something I put on display and show off to everyone, I do use it as motivation. I also have the draw sheet from last year in my gym to give me a bit of inspiration when I'm training.
That hasn't been required over the last 10 days or so as I've really enjoyed working with and getting to know my new coach, Amelie Mauresmo. The fact that she's a former Wimbledon champion is already benefitting me.
On the practice court I suppose things have changed a little since this time last year, just because different coaches will do different drills, but she also knows what the days before returning to defend your title are like. She's someone who conquered nerves to win Grand Slams, and it's a really big help to have someone around with that experience.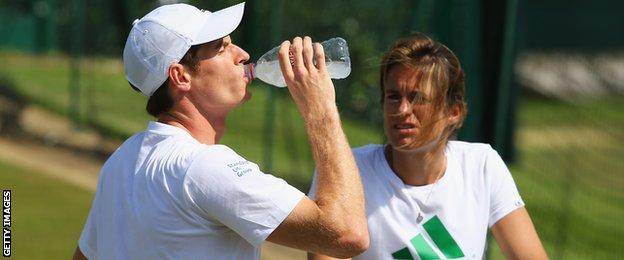 The only real difference to my usual pre-Wimbledon routine has been that, as defending champion, I did all my media commitments on Sunday rather than Saturday before heading home to put my feet up and watch a bit of the World Cup.
There was a danger that I might not make it to practice at all on Sunday morning when I found myself in the middle of a busy road trying to stop the traffic on the way into Wimbledon.
I saw a dog running loose along the road and stopped to try to help. After a bit of a struggle, I managed to get it in the back seat of my car, rang the number on the tag and eventually got the dog back to its owner, safe and sound. Quite what anybody in the passing cars made of it all, I've no idea!
Hopefully there won't be any dogs in distress when I head back to the All England Club on Monday, a little earlier than I'm used to.
I normally play third on Centre Court during the early stages of Wimbledon, and I've had some great matches that have gone on into the evening, but sometimes hanging around and waiting can build nerves and pressure.
Just for once, it will be nice to get out there early on day one.
Andy Murray was talking to BBC Sport's Piers Newbery.
Watch and listen to live coverage of Murray's opening match - scheduled to start at 13:00 BST - against David Goffin on Monday, 23 June on BBC One, BBC 5 live and online.
Watch a documentary about 'When Andy Won Wimbledon' on BBC One on Monday, 23 June at 22:35 BST.