Wimbledon 2014: Andy Murray makes perfect start - Tim Henman

Last updated on .From the section Tennis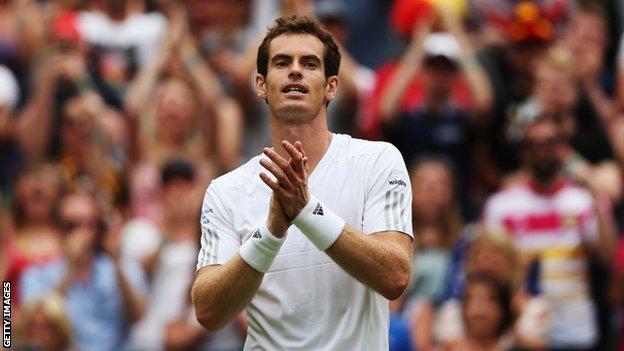 Andy Murray made the perfect start to his Wimbledon title defence with a 6-1 6-4 7-5 victory over David Goffin.
The British number one had talked about feeling nervous the day before and the morning of the match but he walked onto Centre Court and played faultless tennis.
Before the contest, I was courtside with BBC Sport's John McEnroe and Sue Barker and there was a huge sense of anticipation.
'Mac' suggested that a standing ovation would be nice and right on cue the crowd rose to their feet to greet Andy, 27, as he entered the arena. I think that definitely helped him to settle down and get into his rhythm so early in the match.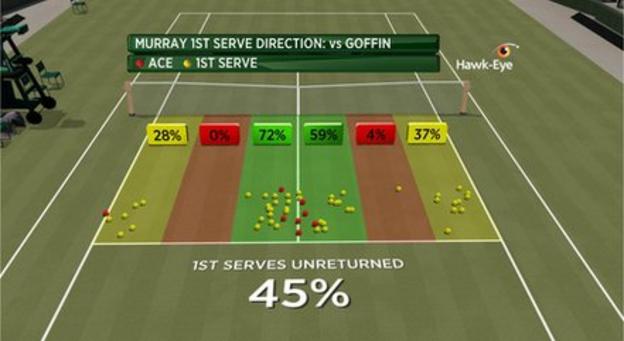 He served really well, getting 71% of his first serves in and he was very aggressive from the back of the court, but the shot that really stood out for me was his backhand.
It looked as if he was really flattening it out and trying to dictate with it both down the line and cross-court.
If Murray can maintain that level on his backhand side, it can be a real weapon for him in this tournament.
Winning the first set 6-1 and hitting the ball so cleanly really set the tone for his performance.
He got an early break in the second set, so you felt that was never in doubt, but in the third set Belgian Goffin upped his game and made life a bit more difficult.
In three sets, however, Andy didn't lose his serve and I'm sure he and his coaching team will be really pleased with all aspects of his display.
It's far too early to speculate on whether new coach Amelie Mauresmo has had any effect on Murray's game and it wasn't something I was particularly looking out for today.
The important thing for Andy in these early rounds is to concentrate on his game, build up his confidence and get some wins under his belt. He knows the way to play here and all the signs were there to suggest he can have a really good tournament.
This season has not been an easy one for Andy since he returned from back surgery. If you'd asked me six weeks ago about where his game was I think there would have been a few question marks.
But at the French Open in Paris, and again today, I thought the quality of his play was fantastic.
That is not to say that Andy or his followers should be taking anything for granted. He's got a good section of the draw, but you only have to look back 12 months to recognise the dangers that lurk in the first week.
Rafael Nadal lost in the first round and Roger Federer in the second, so these upsets can and do happen.
Of the top players, I think Rafa has the toughest draw, but I still expect him to come through. There are some strong players emerging but as I have said before I would be very surprised if the winner came from outside the top four.
We'll have to wait and see how it all pans out, but that is the beauty of this tournament. There are no scripts. We don't know what's going to happen and that's why we watch.