Maria Sharapova: Second Wimbledon title in Russian's sights
By Piers Newbery
BBC Sport at Wimbledon
Last updated on .From the section Tennis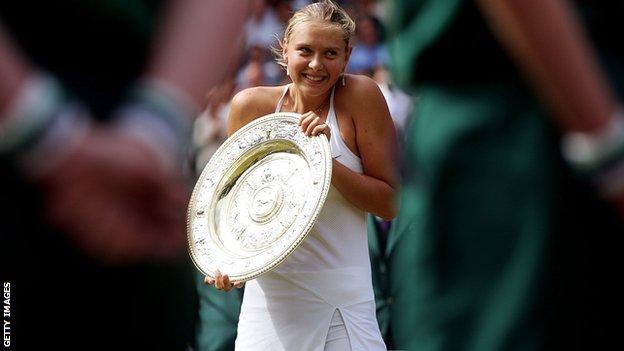 Maria Sharapova returns to Wimbledon with her iron will set on repeating her breakthrough victory of a decade ago.
Sharapova has come a long way since the moment she knelt on the Centre Court turf in disbelief, before grappling with a mobile phone as she tried to contact her mother.
More major titles, serious injury and vast wealth have followed, but 10 years on she arrives at the All England Club having only been back to the final once.
"I need a new challenge and this is going to be it," Sharapova told BBC Sport. "I want to change this result around."
It is easy to forget just how stunning it had been in 2004 to see a teenager who had never been past a Grand Slam quarter-final match the force of nature that was Williams chasing a hat-trick of Wimbledon titles.
Tracy Austin on Sharapova
"Maria is definitely one of the greats of the game. I'm particularly impressed by how she came back from her shoulder surgery. There were questions about how successful the surgery was going to be and whether she would be able to hit her serve full out, but she came back to the very top. She made it known that she was uncomfortable on clay - it was her least favourite service - so she hired a footwork coach and learned how to slide. It is astonishing that not only did she become comfortable on clay, she has now won the French Open twice, more than any other Grand Slam."
"I was not expected to win," said Sharapova. "I was a very happy girl to get to the fourth round. I cherished the situation.
"I had that fearless mentality going into that big stage of my career, playing the final against Serena Williams."
If the result shook the tennis world, Sharapova's efforts to call her mother on a mobile phone straight afterwards engaged a wider audience. Tellingly, it would swiftly lead to a deal with a phone company as the endorsement opportunities flooded in.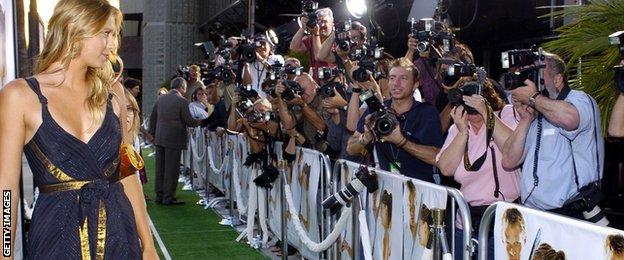 Guided by Max Eisenbud, the agent who first saw her hitting balls at the Nick Bollettieri academy when she was 12 years old, Sharapova racked up deals with car manufacturers, jewellers, fashion houses and more.
While leaning heavily on Eisenbud, with whom she can share 75 emails a day, the Russian's famous drive on court is similarly applied to her business dealings.
In the past two years, Sharapova has started her own line of sweets, with an estimated 1.3 million units shifted in the first 12 months as she poured every ounce of effort not expended on court into her new venture.
According to the latest Forbes rich list, the Russian topped the standings for female athletes for the 10th year in succession with earnings of £14m. Despite missing the second half of last season through injury, Sharapova still made an estimated £13m through endorsements.
Her off-court rewards remain directly linked to success on the court, however.
In the year to June 2013, £13.5m of her reported £17m earnings came through endorsements after she completed the career Grand Slam at the 2012 French Open, triggering bonus deals from clothing and racquet sponsors. After this year's tournament in Paris another high-profile deal with a cosmetics firm was announced.
Hers might be one of the most marketable names in sport, but the Sharapova brand is not without its critics.
But whether it concerns her on-court shrieking, her lengthy routine between serves, her cool admission that tennis for her is "a battlefield, not a social hub", or her decision to invest in a line of sweets rather than something rather more healthy, dissent is shrugged off.
Sharapova at Wimbledon
2013:
Second round (lost to Michelle Larcher de Brito)
2012:
Fourth round (lost to Sabine Lisicki)
2011:
Final (lost to Petra Kvitova)
2010:
Fourth round (lost to Serena Williams)
2009:
Second round (lost to Gisela Dulko)
2008:
Second round (lost to Alla Kudryatseva)
2007:
Fourth round (lost to Venus Williams)
2006:
Semi-final (lost to Amelie Mauresmo)
2005:
Semi-final (lost to Venus Williams)
2004:
Champion (beat Serena Williams)
2003:
Fourth round (lost to Svetlana Kuznetsova)
Asked in Paris how she would respond to those who question her methods, she simply said: "My French Open victory."
The determination was apparently evident from the very earliest days when Sharapova arrived in Florida, aged nine, with her father Yuri. But the ruthless streak has been more pronounced in recent years.
After winning the US Open in 2006, playing arguably the best tennis of her life, and the Australian Open in 2008, a torn rotator cuff put her out of the sport for 10 months.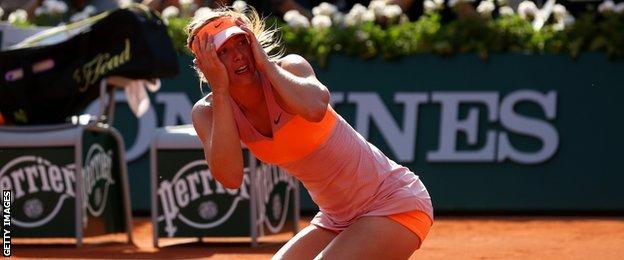 It required the kind of surgery that ends careers as often as it prolongs them, and the shoulder remains an area of concern. It led to her missing the second half of last season, and even when fully fit, her serve will never be the reliable weapon it once was.
For now, Sharapova could not be in a much more positive mood. She has just won her fifth Grand Slam title at the French Open, on the clay she once found so difficult to master.
"If somebody had told me that at some stage in my career I'd have more Roland Garros titles than any other Grand Slam, I'd probably go get drunk," she joked afterwards. "Or tell them to get drunk."
She described this year's victory as the toughest of her career after coming through nerve-shredding final sets in her last four matches.
Sharapova was in deep trouble when two games from defeat in the fourth round, with dark clouds threatening above Court Suzanne Lenglen and up against a rampant Sam Stosur.
Somehow, as if a switch were flicked, she raised her intensity to a level that seemed capable of rolling back the clouds and flattening any opposition, reeling off nine games in a row as she set her own course to lifting the trophy a few days later.
Tracy Austin on Sharapova
"She is such an incredible example for the game of putting in that work ethic day in and day out. She has put her nose to the grindstone and kept her eye on the goal of where she wanted to go, and 10 years later she is still just as motivated. Every time she takes the court, whether it's the first round in Barcelona or the finals of the French Open, she has that same mentality, to give 100% on every point. So many players blow hot and cold in their career, but she seems to be consistent in so many areas of her life."
Following that up with a Wimbledon victory will be another huge test, not least because Williams is a potential quarter-final opponent and remains the dominant force she was in 2004, the last year in which she lost to Sharapova.
One thing is for certain, the Russian will be up for the fight.
"I'm at a point in my career when I'm 27 years old, it's 10 years later, and I go out on the court and love that challenge that's in front of me.
"I cherish that. I face it. I think that's why I love the sport so much. That makes me proud.
"I know I can compete, if I'm healthy, for however many years, because that competition is what I really love."