Andy Murray: So far so good but now hard work starts for the Scot

By Tom Fordyce
Chief sports writer
Last updated on .From the section Tennis191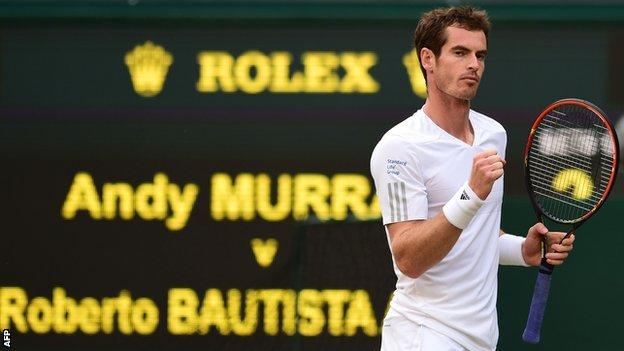 A week down, a week to go.
At the mid-point of these 2014 Wimbledon championships, Andy Murray is exactly where he wants to be - into Monday's fourth round without losing a set, two rest days behind him, his body untroubled and his game in shape.
It is a valid truism that you can't win a Grand Slam in the first week, only lose it, a thought to calm those in the home support anxious about the reigning champion's form coming into his title defence.
It is also correct to say that we should expect nothing else. There have been few rogue dangers hidden in these early rounds. David Goffin and Blaz Rola offered no more than the stooge roles one would expect; Murray, more comfortable at this tournament than any other, has reached at least the semi-finals here in each of the last five years.
But there are signs, even if greater tests lie ahead, that the 27-year-old is starting to find his feet after an uncertain year and an imperfect preparation.
Roberto Bautista Agut, ranked 23rd in the world, fresh off his first grass court title win, could have expected to at least dent the champion's bodywork. Instead he was barely a speed-bump in the road, Murray racking up 21 winners before the first hour was up and securing 24 of 25 points on his first serve.
Not once did the level drop. There was a rhythm to the groundstrokes, an impregnability about the serve and an unhurried ease to his movement.
Like a golfer with a swing in perfect groove or batsman stroking his on-drives with effortless style, Murray has been hitting his backhand with the sweetest of timing. Form can be a capricious thing. But it appears to be back with Murray, even if the big guns are yet to come into range.
"The first two matches he played great but he had no real opposition," says John Lloyd, former British number one and formerly Murray's Davis Cup captain. "But Friday was phenomenal.
"He played against a very good player who came out all guns blazing to try to put him out of his rhythm. But Murray dug in there as if to say, 'It's not happening, sunshine'.
"After five games, I saw Bautista look up to his box as if to say, 'What can I do here?' and I knew it was all over then. He didn't know where to go any more."
Statistically there are no significant differences to the same stage a year ago. Murray has been on court only 45 minutes fewer, and hit virtually the same number of winners and unforced errors.
But after one of his earliest ever Wimbledon finishes on Wednesday - after becoming accustomed to being third match on Centre, Murray has twice opened proceedings this week - his draw ensured that he enjoyed the middle weekend off for only the second time since he became a serious contender.
It allows him both to train harder on Saturday and have the Sunday to recover, a rare luxury for those going deep in a Grand Slam.
It may sound insignificant. But the size of Murray's task in attempting to win successive titles here means that every small advantage will be gratefully received.
Of the 20 first-time winners of the Wimbledon men's singles title in the Open era, only four have retained their crown the following year - Bjorn Borg in 1977, Boris Becker in 1986, Pete Sampras in 1994 and Roger Federer 10 years later. As many champions have gone out in the quarter-finals or the fourth round as have won it again.
Crucially, too, he appears to be enjoying the mantle of champion. Some had wondered if the same desire could be there, a year after ending Britain's 77-year-hoodoo in the men's singles. Climbing the mountain can be easier than staying at the summit.
Instead it seems to have liberated Murray. The pressure of that long wait has been dissipated, replaced by a belief that he has done it before and can thus do it again. A support that no other player can enjoy remains untouched.
"I think he's playing better than last year," says Lloyd.
"People talk about him coming back as defending champion being tough. Winning a Grand Slam is always tough, but he looks more relaxed to me because he has already done it.
"He looks more in tune with the crowd, a man confident in what he is going to do."
Just as the routine of Wimbledon suits Murray - quick drive up the A3 from his home in Surrey, familiar practice courts and locker-room, home to eat dinner and sleep in his own house - so on its grass courts he moves better than on any other surface.
On grass there are no issues with his back. On grass, he moves better than arguably any other player.
"You don't want to go over the top when someone is winning in straight sets," says Andrew Castle, who commented on Murray's victory over Bautista Agut for BBC television.
"But he has looked unreal. He seems very relaxed and happy - and why wouldn't he be, because he no longer has a large silver-backed gorilla pounding away at his back. Even when he won Olympic gold, that gorilla was still there."
What of his rivals for the crown? Between them, Roger Federer, Rafa Nadal, Novak Djokovic and Murray have won every Wimbledon men's title for the past 11 years, but this is only the second time in five years that all four of them have made it into the second week.
If it has made for a quieter first six days than in recent years, when Nadal was overturned by rank outsiders Steve Darcis and Lukas Rosol and Federer sent packing by Sergiy Stakhovsky, it is a good thing for this second week.
Front-load the tournament with shocks and you get a thrilling first week but sometimes a flat period until the final.
Not this time. With the big guns and those with fighter's chances all flourishing, the spring is wound for the second week.
Djokovic, number one seed, bookmakers' favourite, is cruising, seemingly starting to enjoy the fruits of his partnership with Boris Becker even as the supposed reason he has hired him - to help him mentally on the big points in big contests - is yet to come into play.
Nadal, habitually vulnerable in the early rounds after his exhausting escapades at the French Open, teetered again against Rosol but found a way through, and did the same again having lost the first set on Saturday against Mikhail Kukushkin.
Not always has he turned up here looking like a man with the physical energy or mental belief to succeed. But the enjoyment seems to be back, and he will prosper with every close contest rather than weaken.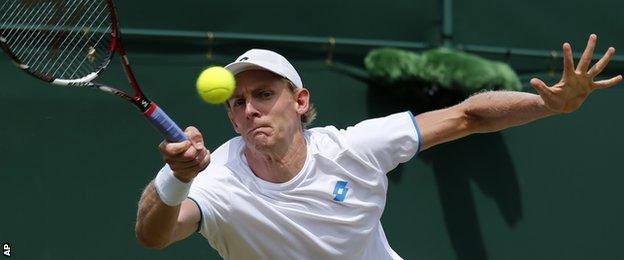 And Federer? Federer always believes he can win. He is playing a more attacking game under the advice of Stefan Edberg, knowing he must shorten points and matches when he can to conserve resources for the fights against his younger rivals later in the tournament.
For Murray, each round will bring a greater challenge.
Twentieth seed Kevin Anderson, 6ft 8in, built for grass, will provide a different sort of test on Monday to those the Scot has breezed through so far. Beyond that, Grigor Dimitrov could lie await in Wednesday's quarter-finals, Djokovic in Friday's semis.
This is the stage that has been the problem all season for Murray. Stan Wawrinka did for him in the quarter-finals at Flushing Meadow; Federer in the quarter-finals of the Aussie Open; Nadal, brutally, in the semis of the French. Going to Miami as defending champion, he was sent packing by Djokovic in the quarter-finals.
No-one said it was going to be easy.