Wimbledon 2014: Laura Robson on life behind the cameras
Last updated on .From the section Tennis
A year on from becoming the first British woman to reach the fourth round at Wimbledon for 15 years, Laura Robson has been taking a different view of the Championships.
A wrist injury has seen the 20-year-old complete just one match this year, a defeat by Kirsten Flipkens at the Australian Open in January. She has since undergone surgery on her left wrist and while recuperating, Robson has joined the BBC commentary team at the All England Club.
From tea with Caroline Wozniacki to chatting with Maria Sharapova, a crash course in being a ball girl to lessons from Martina Navratilova, it has been a busy period for the former Wimbledon junior champion.
"I had to be convinced"
"My mum initially thought the media work would be quite fun and keep me busy, but I had to be convinced because I thought it might be super-weird to see all the other players when I'm not playing.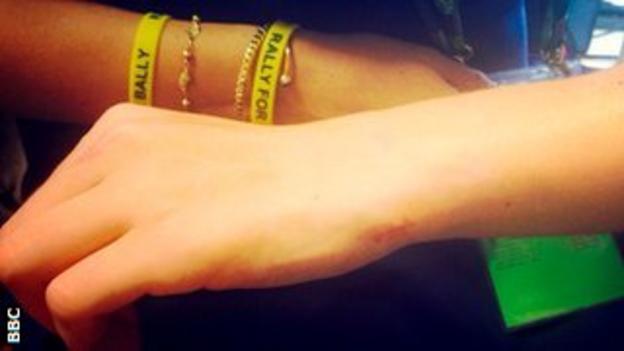 "All of them have been very supportive though, and everyone has said it's been a good thing for me, because it gives me something to do and keeps me interested in tennis.
"Otherwise I would probably have been just wallowing at home or at the National Tennis Centre. And all the physios are here, so I can pop down and do my rehab for an hour. I've been able to see them three or four times a day."
"There were a lot of 'likes' and 'you knows'"
"I found out I was going to be doing it at the beginning of the French Open, and I hadn't watched any tennis since my match in Australia. I was getting so depressed, not looking at the live scores or anything. I thought, 'If I'm going to be doing this, I'll have to actually switch on the TV and see how people are doing.'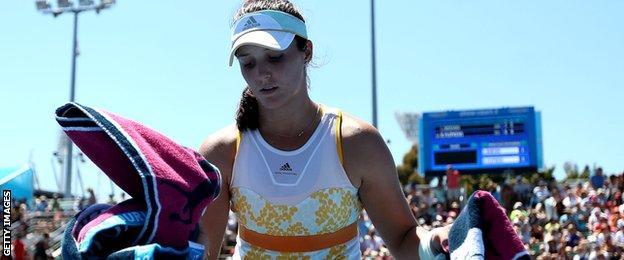 "I did a day-and-a-half of training, and I definitely needed it. There were a lot of 'likes' and 'you knows' in my speech, and there still are, but slightly less hopefully! I could also look at things like my hand movements on screen, which you never really notice doing your own interviews.
"You're also very aware of how bad you look on TV - it's a good thing I'm getting my hair and make-up done every day."
"It's weird looking in from the outside"
"It's been very different. I could get used to having my hair and make-up done each morning! I feel like it's almost longer hours than when you're actually playing and you have to be very aware of all the other matches and what's going on.
"When you're a player, you're in your own little bubble and other people tell you results, but here I feel I have to find out for myself.
"I've stayed out of the locker room but I have been around the restaurant and said 'hi' to everyone, had a nice catch-up, because I haven't seen them all for six months. It's been fun getting to see everyone but they're in their own bubble, so it's weird looking in from the outside. But I've really enjoyed it."
"Martina has a lot more knowledge than I do!"
"I've spoken a lot more to ex-players, and just sitting and watching matches with them is very interesting and informative. There's a little lounge for the commentators and I watched a match with Martina Navratilova - she has a lot more knowledge than I do!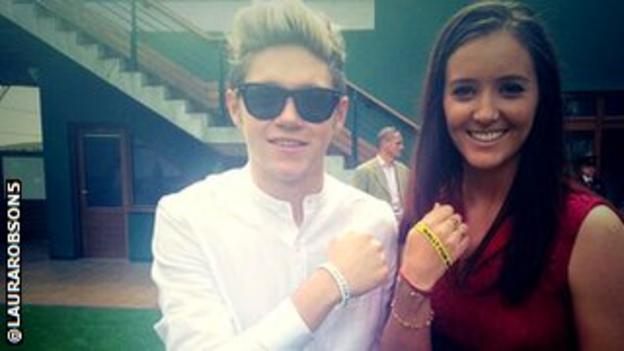 "I hope that I'll be able to bring a bit of that onto the court when I start playing again. I'd be very nervous if I had to commentate with her, thinking what do I have to bring to the table here?
"I also spoke to Niall Horan and Liam Payne from One Direction. It's not the first I've met them but everyone else was very, very excited. Caroline Wozniacki was messaging me saying, 'Just let me know when they're going to be around, I might just finish my practice a little bit early,' and Novak Djokovic came over and was chatting away to them.
"It was very weird to see other players excited by it, and there were a lot of the players' kids and the coaches kids' loitering around their table."
"I look at things in a different way now"
"My dad said to me on Monday morning that this time last year I was on Court One playing against Kaia Kanepi in the fourth round.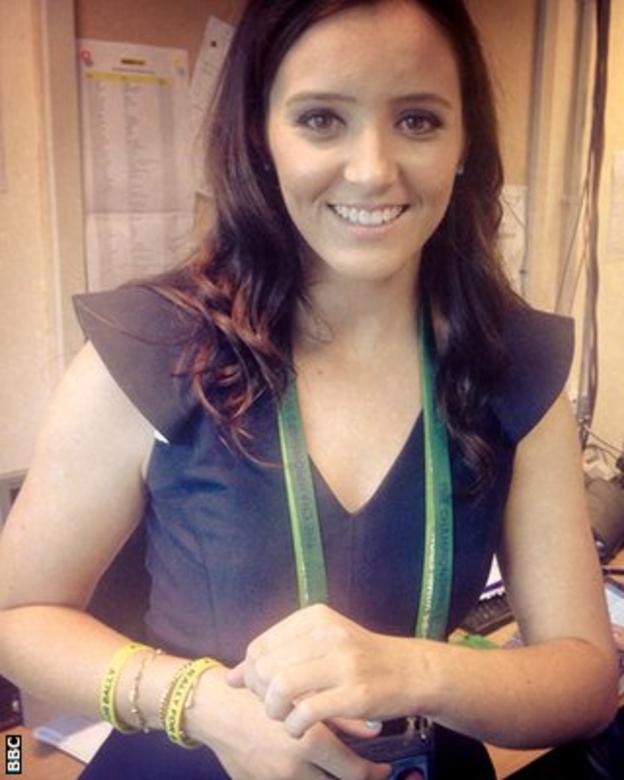 "That did make me feel a little jealous of the players out there, but I've been away for so long now that I can just appreciate good tennis and a player who's good at their job. If someone is doing well then I'm really happy for them. I kind of look at things in a different way than I did six months ago.
"I'm looking forward to holding a racquet again. It will start off as a mini-tennis racquet with sponge balls. I'm now eight weeks post-op and can start turning my hand again, which considering where I started is a huge difference. All the physios are here with the British guys, doubles players. I see them every day. My poor physio hasn't had a day off since my surgery eight weeks ago, so I've been casually buying him coffees and small gifts like that.
"I would hope to play again this year but I don't know exactly when, and I don't want to put a date on it because then I'll get depressed if I don't make that goal.
"The surgeon warns you against that kind of thing because you can lose motivation, so I'm keeping it day by day. As much as I've enjoyed my time here this year, I would much prefer to be out on the court."
Laura Robson was talking to BBC Sport's Piers Newbery.