Andy Murray: 'Grigor's a nice guy but a tough opponent'

By Andy Murray
Wimbledon champion
Last updated on .From the section Tennis
A friendly rivalry with Grigor Dimitrov and his team off the court is about to get serious now we're into the quarter-finals of Wimbledon.
We get on well, he's a nice guy and has good people around him, and he's improved a lot over the past year.
He'll be a tough opponent but I'm feeling good, moving well, and I have to expect bigger tests at this stage of a Grand Slam.
I was pleased with my win over Kevin Anderson because he was playing really well at the end. I've managed to get this far without playing too many long matches, and that means both physically and mentally, I haven't had to use too much energy.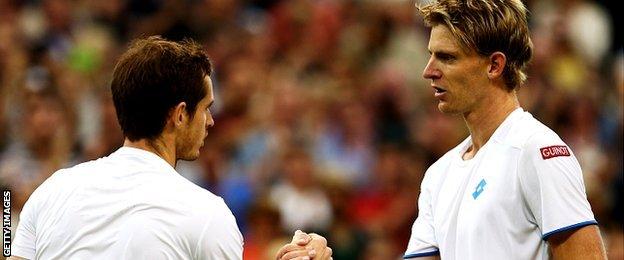 The first time I saw Grigor play was when he was a junior in Spain. He used to train at the academy I went to but he arrived there just after I left.
I remember sitting in the stadium with one of my friends who was still at the academy and watching Grigor in the academy's junior final. He was working with my old coach, Pato Alvarez, and as a junior went on to win Wimbledon and the US Open, and was number one in the world, so there was obviously a buzz about him.
We've spent more time together recently since he started working with his coach, Roger Rasheed. I've known Roger for quite a long time because I've always got on well with the guys he's worked with like Gael Monfils and Jo-Wilfried Tsonga. I practised with them a lot so spent quite a lot of time with Roger, and it's the same now he's with Grigor.
There's been a bit of competition between the two teams because Roger likes to talk trash, so we thought we'd test him out. He's obviously in very good shape for his age, but when we're messing around he always talks nonsense about his fitness.
I think it was at the Australian Open that we first thought about setting up a race between Roger and Jez Green, my fitness trainer. Then they were meant to do it in Miami, but Jez pulled out with a slightly suspicious hamstring injury, so we finally made it happen here just before Wimbledon started.
It was over 200m and Roger did win, but it was pretty tight so we haven't given Jez a hard time about it. To be honest, he did pretty well. I think both of them were a bit sore for the next couple of days because they ran well, it was like 26.2 seconds and 26.4 or something, so it wasn't an embarrassing result.
Back to the serious business, and the build-up to Wednesday's match will follow a familiar pattern.
I've been setting the alarm for 8.30am every morning during the tournament, although sometimes I get up a bit earlier. This year Kim has been taking me into the All England Club each morning and I get one of the Wimbledon cars home in the evening.
I manage to go pretty unnoticed, although on Monday morning one guy did spot me and had his arm out the window and was fist pumping. It was pretty funny. I think it was to encourage me - either that or he was angry at Kim's driving!
I got in at 10am and saw my physio, Mark Bender, for about 45 minutes before doing a warm-up for 15 minutes, and then practise for 40 minutes. We hit on the same court most days and on the off days I've been hitting with James Ward, while on the match days I've been warming up with Dani from my team.
Jimmy Connors on Murray
"Murray's gone about his business very nicely. As he has said everyone is playing good, but he will have to lift his game, no doubt. The competition will get tougher, but he knows what it takes to win here, and he will have to lift it further to play Wimbledon championship tennis."
Then it's back to the locker room and, as I mentioned last time, at the moment there's a bit of a basketball competition going on. I'm doing pretty well actually. I beat Daniel Nestor on Monday - again. After that, I usually eat in the locker room and then keep an eye on what's happening out on court while getting ready to go on.
I'm sure the routine will be pretty similar on Wednesday, and I'll know what to expect against Grigor.
He's on his way to the top 10 after his results over the last week, and he does a lot of things well. He has good variety in his game, moves well, reads the game well, and he has the ability to get a lot of balls in court. His decision-making has also got better as his game has matured.
For me, I just need to try and concentrate on the tennis and my game and not worry about what people expect of me.
The crowd can definitely raise your intensity and give you a big lift though, and that can make it hard for my opponents. I can't wait to get back on court.
Andy Murray was talking to BBC Sport's Piers Newbery.