Wimbledon 2014: Eugenie Bouchard leads a quiet revolution

By Tom Fordyce
Chief sports writer
Last updated on .From the section Tennis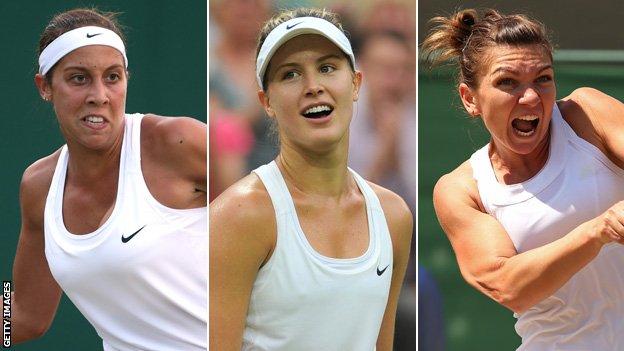 While Wimbledon stays aesthetically the same - dark purple and deep greens, picnics on the hill, dress codes and decorum - the women's game it hosts may be undergoing a quiet revolution.
On a rain-battered Monday afternoon, as many matches were washed away as made it through. But in the rapid advancement of 20-year-old Canadian Eugenie Bouchard on Centre Court you sensed you were seeing the sunlit future, just as some of the staples of the present may be becoming the past.
Last month in Paris, not one of the top three women's seeds made it to the last 16, the first time this had happened in the Open era.
Here at Wimbledon, the quarter-final draw only partially complete, the top two seeds have gone already. Even if the remaining big names all come through, only a maximum of four of the top 10 players can survive into the last eight.
The highest seed left is Romania's relatively unknown 22-year-old Simona Halep. At the other end of the timeline, 32-year-old Serena Williams - five-time Wimbledon champion, 17 Grand Slam singles titles behind her - suffered her earliest Wimbledon exit since 2005, and has now failed to make the quarter-finals at any of the Grand Slams this season.
Halep, the WTA's most improved player last year, meets 20-year-old Zarina Diyas in the first match on Court Two on Tuesday, a month on from reaching the final of the French Open, looking to push past the quarter-final stage she reached at the Australian Open at the start of the year.
| Eugenie Bouchard | Simona Halep | Madison Keys | Alize Cornet |
| --- | --- | --- | --- |
| Age: 20 | Age: 22 | Age: 19 | Age: 24 |
| World ranking: 13 | World ranking: 3 | World ranking: 30 | World ranking: 24 |
| WTA singles titles: 1 | WTA singles titles: 7 | WTA singles titles: 1 | WTA singles titles: 4 |
| Career prize money: $1,738,730 | Career prize money: $4,564,141 | Career prize money: $972,570 | Career prize money: $3,179,003 |
| Career high ranking: 12 (June 2014) | Career high ranking: 3 (June 2009) | Career high ranking: 30 (June 2014) | Career high ranking: 11 (Feb 2009) |
Her rapid ascent on its own is something to savour. Tied in with Bouchard's display in beating Serena's conqueror Alize Cornet 7-6 7-5, it sends a message that the old guard cannot ignore.
Bouchard has long been earmarked for the top. Winner of junior Wimbledon two years ago, up to 32 in the world at the end of last year, she made the semi-finals in both Australia and Paris, taking eventual champion Maria Sharapova to three sets at Roland Garros.
Here, at her second senior Wimbledon, she has continued to impress. There is her game - an all-court affair, laced with aggression - and her attitude, the sort of fierce competitiveness that reminds the connoisseurs of the teenage Monica Seles and Steffi Graf.
Centre Court occasions can intimidate even the most poised of athletes. But Bouchard matched her performance to the occasion, seizing her first break of serve when she needed it most, at 4-5 in the second set, and reeling off four games on the spin to end the contest.
The reaction of the crowd too was an indication that she is no ordinary young player. Her performances this year have created an interest; her display on Monday both satisfied and magnified it.
Not everything in women's tennis is changing. Her looks are entirely incidental to her sporting success, yet she is already being groomed by Nike as the natural heir to Sharapova. Front pages as well as back will feature her as this Wimbledon adventure continues.
The indications are that she will take it in her stride. Sharapova could lie in wait again here, should the 2004 champion come through her delayed fourth-round match against Angelique Kerber. Close as it was in Paris, it could be closer yet in south-west London.
"She does not want to make friends on tour, she wants to beat people," says Patrick Mourotoglou, Serena's coach in her late renaissance.
"That is something that is very impressive because she is young. She looks like she has so much experience.
"She is not afraid. She always looks in control: even when she is losing she keeps focused. She does not panic when many players start panicking.
"She always looks calm, she looks really dedicated, and she has a great game for grass. She takes balls very early, she has got a good serve, with good placement, and the grass increases the speed of the slice.
"She is a player moving up to the ball all the time, taking time off the opponent and that is a great game for grass."

Halep's own grass court game is developing with every round. Before this week she had won just two matches here in three years, but so impressive has her climb through the rankings been that she has made the second week with ease.
A baseline puncher in the mould of Justine Henin, the Romanian has won seven tournaments in 13 months, and did not lose a set at the French Open until the second set of the final..
Behind Bouchard and Halep there are others in the fresh-faced new wave.
Seventeen-year-old Swiss Belinda Bencic, who won the French Open and Wimbledon girls' singles titles last year and has been coached by Martina Hingis's mother Melanie Molitor, made it to the third round before Halep's greater physical strength proved too much.
The USA's 19-year-old Madison Keys was only an injury withdrawal away from the fourth round; her 21-year-old compatriot Sloane Stephens has already served notice of her own prodigious power.
Then there is Spain's 20-year-old Garbine Muguruza - into the fourth round at the Aussie Open, into the quarters of the French, beating Serena en route.
Youngest female Grand Slam winners
Martina Hingis - 1997 Australian Open - 16 years, 117 days
Monica Seles - 1990 French Open - 16 years, 189 days
Tracy Austin - 1979 US Open - 16 years, 270 days
Maria Sharapova - 2004 Wimbledon - 17 years, 75 days
Arantxa Sanchez - 1989 French Open - 17 years, 174 days
Serena Williams - 1999 US Open - 17 years, 350 days
Steffi Graf - 1987 French Open - 17 years, 357 days
The age of these women alone is not exceptional. In the 1990s, 15 Grand Slam singles titles were won by teenage women. Serena was 17 when she won the 1999 US Open, Hingis 16 when she won the Aussie Open, Wimbledon and US title in 1997.
But youth has long since bowed to experience. Not since Sharapova here a decade ago has a teenager won a women's Grand Slam singles title.
It has been an era for old stagers (Serena, 32-year-old Li Na, comparative veteran Sharapova) and comeback kids like Kim Clijsters and Justine Henin.
The fascination now lies not only in watching the development of the new generation but the reaction of the old.
Serena is only one Grand Slam singles title away from matching Martina Navratilova's record. Last September, when her triumph at Flushing Meadow meant she had won four of the last six majors on offer, few would have been surprised if we had not witnessed that this fortnight.
Instead some are now wondering when she might win another. There was a fragility in her defeat to Cornet that was entirely uncharacteristic.
"She fought as much as she could, but first of all I don't think she is playing the best tennis at the moment," Mourotoglou told BBC Sport.
"Even though she is working hard, she just does not have the usual mind-set, the one that makes her so great. So then she is beatable.
"When she thinks right - when she thinks the way she thinks usually when she comes onto a tennis court - she is probably the most difficult player to beat. She is almost unbeatable.
"I don't think it is anything to do with physical fitness, or age. I just think it is a moment in her career, and that happens to everyone.

"It has happened to other champions in the past, but I definitely think she can bounce back any time because this is something that can come back any time. She is fit, she is working hard, her tennis is there. Only her competitiveness is not as high as it usually is."
Navratilova, relentless in her pursuit of fitness, nevertheless only won one Grand Slam singles title over the age of 30. Serena has already won two still passing that landmark.
"She is going to find a way back, I have no doubt about it," says Mourotoglou. "She wants it. I know her tennis is there and also I know how a champion she is."
But it will be harder for her than ever before. The young guns are coming, and they are coming fast.