Grigor Dimitrov: Baby Federer to Bulgarian Beckham
By Sam Sheringham
BBC Sport at Wimbledon
Last updated on .From the section Tennis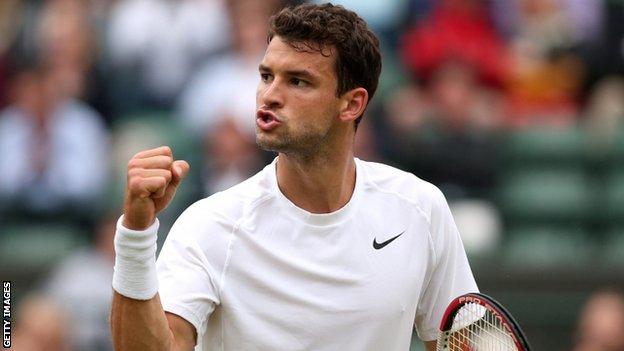 Five years ago, a well-known tennis coach made a comparison that was to weigh heavily on the shoulders of his star pupil.
Peter Lundgren, the Swede who guided Roger Federer to the top of the sport, described an 18-year-old Grigor Dimitrov as better than the Swiss had been at that age.
If the hyperbole was justified by Dimitrov's victories at the junior US Open and Wimbledon in 2008, not to mention his silky one-handed backhand, the tag of "Baby Federer" is one that he has found difficult to live up to.
Now 23, it took the Bulgarian four years to break into the world's top 50 and another 12 months to reach the top 25.
Since the turn of the year, however, under new coach Roger Rasheed, Dimitrov's progress has been remarkable.
He beat Andy Murray en route to the Acapulco title on hard courts in March and won the ATP tournament in Bucharest on clay the following month. In June, on the lawns of Queen's Club, he became the first player this year to claim titles on three different surfaces.
Then he overwhelmed the defending champion in a Wimbledon quarter-final to help the chance to banish the Federer label once and for all.
"When I started to establish myself on the tour, the Federer thing was starting to get a bit out of hand," he said. "But I think now it is starting to fade away. I've proved over and over again that I'm a different person, a different player."
Before he had made a real impact on the tennis court, Dimitrov was already making headlines off it. He was rumoured to be dating women's world number one Serena Williams before going public with his relationship with the American's fierce rival Maria Sharapova.
When Williams later referred to "the guy with a black heart", it was widely assumed to be Dimitrov.

The Bulgarian's natural self-confidence, and his self-professed love of fast cars, watches and gadgets, has led some to portray him as a playboy. His Facebook page, littered with black and white studio photos of himself, has almost 400,000 likes.
But according to his former coach Patrick Mouratoglou, the narcissistic image could not be further from the truth.
"Maybe he doesn't look like it but he is a very serious guy," says the Frenchman, who now coaches Williams on a full-time basis.
"There are lots of things that he would love to do but he's holding himself back. He's just an unbelievably nice guy. He wants the people that he loves to be happy and he's thinking about the people that he loves all the time.
"When I was his coach, every time he was buying something for himself, he would buy two and give one to me. That's the way he is. He thinks about people. He's not a selfish person, he is very, very generous."
Born in a small town called Haskovo in southern Bulgaria as the only child of a tennis coach father and a sports teacher mother, Dimitrov was 13 when he accepted an invitation to attend Mouratoglou's academy in Paris.
"I saw him and I really loved the way he was playing so I got in touch with him," recalls Mouratoglou. "I was working with Marcos Baghdatis at the time so I suggested he came to be a hitting partner for Baghdatis for two weeks, which he did.
"That was the first time we got to know each other on a tennis court. When he was 18 he decided to come to the academy on a full-time basis and he stayed for three years.
"He used to go for his shots much more when he was a junior. He wasn't building the points the way he does now. He was going for it a bit too much. He likes to hit winners, to do brilliant things as you can see still, but his game is more solid now. He is working the point more. Everything is more tactically right than it was in the past."
Despite working under celebrated coaches Mouratoglou, Lundgren, Peter McNamara, and Magnus Norman, it was not until he appointed former Aussie Rules footballer Rasheed as his coach last October that Dimitrov really started to break through.
A renowned disciplinarian who has also mentored Lleyton Hewitt and Jo-Wilfried Tsonga, Rasheed has been credited with improving the Bulgarian's fitness and stamina, an aspect of his game that had been questioned by Murray's former coach Ivan Lendl.
The Bulgarian's athleticism was on show at Queen's when he sprinted across court to fashion a winner from an impossible angle and ended up doing the splits. His stunned opponent, Stanislas Wawrinka, shook his head and clapped.
At Wimbledon, he displayed his new-found durability by twice fighting back from a set down to beat Alexandr Dolgopolov in five sets. And in the last 16, he won two tight sets against Leonardo Mayer before stepping up a gear in the third to finish the match with a flurry of big serves and winners.
"Roger Rasheed is doing a great job, working him hard," says Peter Fleming, the seven-time Grand Slam doubles champion who was analysing the game for BBC television. "He has forced him to get physically and mentally fitter and it's paying dividends. I think the game would really benefit if he were to make that one more jump."
During his victory over Murray on Centre Court, Dimitrov was cheered on by an army of fans in his native Bulgaria, where he is fast becoming the country's highest-profile athlete.
With the football team having failed to qualify for the World Cup, the nation has been captivated by his progress at the All England Club - as well as his lifestyle off the court.
"He is like David Beckham for us at the moment," said Severina Grozeva, who is covering Wimbledon for Bulgaria Today newspaper. "Everyone is following every single match and is really excited.
"The media are really interested in his personal life as well. He's tried to put that aside a little bit because he wants to be known for his sports career, but it is front page news.
"He is also very good-looking, so the fans are mad about him. They scream and shout and get really excited when he changes his T-shirt. He is a great guy and we're very pleased to have him."
Once Baby Federer, now the Bulgarian Beckham. For all his progress on the tennis court, it seems Dimitrov may have acquired another unwanted nickname.