Wimbledon 2014: Virus forces Serena Williams to quit doubles
Last updated on .From the section Tennis
An unwell Serena Williams was forced to pull out of her Wimbledon women's doubles second-round match with sister Venus because of a viral illness.
The Americans were 3-0 down to German Kristina Barrois and Swiss Stefanie Voegele when they withdrew.
Serena, beaten in the singles by Alize Cornet, struggled in the warm-up and needed treatment from the doctor.
The 32-year-old then served four straight double faults in the third game before deciding to call a halt.
Serena, who seemed to be having problems with her vision, was struggling to bounce the ball and keep it under control.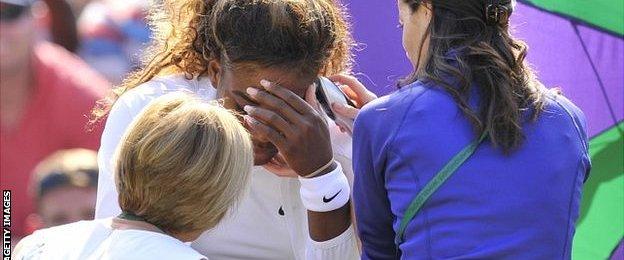 At that point, the sisters, five-time champions in the doubles, abandoned the match, sending their opponents into the third round.
"I am heartbroken I'm not able to continue in the tournament," said Serena later. "I thought I could rally this morning, because I really wanted to compete, but this bug just got the best of me.
"I want to thank my sister, Kristina, Stefanie and our teams for their support. We were all looking forward to a great match. From the bottom of my heart, I thank all of the fans for their cheers and understanding. I look forward to returning to Wimbledon next year."
Venus, who was beaten by Petra Kvitova in the third round of the singles, added: "Unfortunately, Serena has been feeling unwell for the past few days and she just couldn't play to her potential today. I'm really proud of her for trying because we just love playing doubles together."