Andy Murray: Wimbledon defeat need not be the end for Briton

By Tom Fordyce
Chief sports writer
Last updated on .From the section Tennis168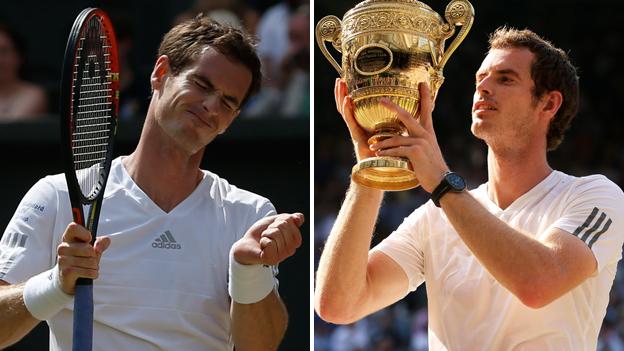 Champions never fall quietly. When the champion in question is the first British man to win Wimbledon in 77 years, his downfall will reverberate throughout the land.
This is not to wipe the memory of that scarcely believable Sunday afternoon a year ago, or deny his achievement in winning back the holy grail of British sport. Neither is it to ignore a 17-match winning streak on these courts or his run of five semi-finals in the five previous years.
It is instead to admit that form, precedent and probability, when combined with an opponent playing better than he ever has before, present a barrier that even those superior to the finest British player in living memory would struggle to surmount.
Of the 20 first-time winners of the Wimbledon men's singles title in the Open era, only four have gone on to retain their title 12 months on - Bjorn Borg in 1977, Boris Becker in 1986, Pete Sampras in 1994 and Roger Federer 10 years later.
After Murray's exit this week, more champions have gone out in the quarter-finals the following year than have won it.
This was the Scot's earliest Wimbledon exit in six years. In style it was as limp as his displays earlier in the week had been assured. By other yardsticks it was entirely in keeping with where expectations should have been.
A year ago he came to SW19 having won the US Open, reached the final of the Australian Open and won Queen's. This time around he fell at the quarters in New York to Stan Wawrinka, in the last eight again in Melbourne to Federer and in the third round at Queen's to the unheralded Radek Stepanek.
Returning to Miami as defending champion, he was beaten that time by Novak Djokovic, but again at the quarter-final stage. This has been his level all his season in the big events; when he went one round further at the French Open, it was to be steamrollered by Rafael Nadal in straight sets.
By early June 12 months ago, Murray had the scalps of nine top-20 players under his belt. In 2012, when he would reach the Wimbledon final only to lose to Federer, he had six. This year he has only two, and one of those recorded only on Monday.
Murray himself appreciates this disparity between form and national expectation. There was all the disappointment you would expect after his defeat by Dimitrov, but there were also echoes of Becker's philosophical response when, as another reigning Wimbledon champion in 1987, he crashed out in the second round to world number 70 Peter Doohan.
Andy Murray match record this year

Won

Lost

Overall

31

12

Grand Slams

13

3

Hard

15

6

Clay

11

4

Grass

5

2
"The reality is you lose in most tournaments that you play," said Murray, with impeccable logic.
"You don't win even 30% of them. In tennis, most weeks you end up being one of the losers. Sometimes it's in the final; sometimes it's a bit earlier."
It did not make the defeat any easier for the Centre Court crowd to comprehend. They had arrived primed to relish their own few hours of the Murray fairytale, to enjoy a contest that would never be easy but one that would ultimately end in triumph.
Instead they barely had a chance to clear their throats. As well as Dimitrov played - and ripening of the Queen's champion under coach Roger Rasheed will take him further still - Murray performed like a man manacled by self-doubt, all the sweet timing and poise of the first four rounds lost somewhere between the locker room and his first service game.
There were two statistics that told much of the tale: 37 unforced errors (his preceding match had brought just 12), and only 31% of points won on his second serve.
Dimitrov attacked that serving weakness and profited from Murray's escalating panic as he tried to claw back those points thrown away by risking more when even less was on. The 23-year-old Bulgarian had never before made it past a Grand Slam quarter-finals in 15 attempts.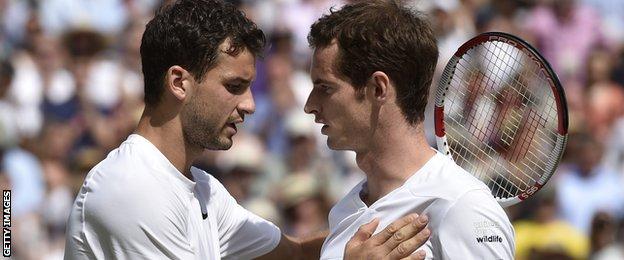 But Murray never came close to reversing the momentum, his body language distracted and his head gone long before the coup de grace.
He can cite mitigating circumstances. Since back surgery last September, he has sacrificed time on the practice court for recovery and rehab. He is less than a month into his relationship with new coach Amelie Mauresmo.
Compared to the travails of Nadal, who has won 12 more Grand Slams but was hammered by a bloke ranked 143 places below him, a loss to a man ranked just six places lower pales significantly.
Murray will not panic. He will equally understand that life is not about to get any easier.
When Wimbledon ends, he is likely to have drifted out to 10th in the world rankings, not just passing Dimitrov on the way there but also making it more likely that he will come up against Grand Slam winners as early as the fourth round of major tournaments.
The tennis landscape of the last five years has been a harsh enough environment in which to attempt to thrive, battling for parity against two of the greatest players of all time in Federer and Nadal and another in Djokovic, who should end his career with more majors to his name than Becker, Stefan Edberg or John McEnroe.
Remarkably, it appears to be getting even more inhospitable. Dimitrov and Wimbledon semi-finalist Milos Raonic are on the charge. Wawrinka has already risen. Kei Nishikori and Nick Kyrgios will not be far behind.
At 27 years old, Murray still has Grand Slams in him. It is also conceivable that he has reached his peak. He can maintain it, and he may even push past it. But these will be fierce years. Sport stands still for no-one.
Records after first Grand Slam wins

First Grand Slam win

Following three Slams

Roger Federer

2003 Wimbledon

Fourth round at US Open•Champion at Australian Open•Third round at French Open

Novak Djokovic

2008 Australian Open

Semi-final at French Open•Second round at Wimbledon•Semi-final at US Open

Rafael Nadal

2005 French Open

Second round at Wimbledon•Third round at US Open•Absent at Australian Open
"I need to go away and make a lot of improvements in my game," he admitted.
"I've lost a couple of matches in the last few slams where I've lost in straight sets and played poorly. So I need to have a think about things - what are the things I need to improve - and get myself in better shape and work even harder because everyone's starting to get better.
"The younger guys are becoming more mature and improving all the time.
"I need to make some improvements to my game and, if I'm going to play better tennis than I am just now, the only way to do that is by working even harder than I have before; getting in the gym, getting stronger, becoming physically better."
For those of us who have been lucky enough to witness Murray's triumphs, there must be both a renewed gratitude for those unprecedented highs and an appreciation for the golden period of British sport they helped create.
In the space of 12 months, we lived through Great Britain's greatest Olympics, its first ever winner of the Tour de France and then, on Centre Court last July, the greatest hoodoo of all blown apart in glorious style.
If this is a comparative calm, it is only because those months were so giddy. In the same way, Murray's time at the top is not over, only his 2014 Wimbledon. Even if to some of those mourning this defeat the two things might feel the same right now.