Wimbledon 2014: Canada in thrall to Eugenie Bouchard & Raonic
By Mike Henson
BBC Sport at Wimbledon
Last updated on .From the section Tennis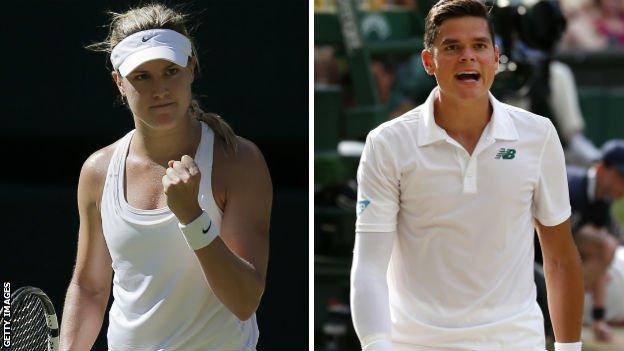 Despite having a London-based crew, the Canadian Broadcasting Corporation was not sure if it would cover Wimbledon this year.
Ice hockey dominates the schedules and, with the football World Cup filling most gaps and the annual Calgary Stampede rodeo starting on finals weekend, air time looked tight.
Fortunately for CBC, it decided the annual tennis jamboree in SW19 was worthy of attention.
Canadian involvement usually ends in the first week, but 2014 has seen a three-pronged assault on the latter stages of the sport's most prestigious Grand Slam tournament.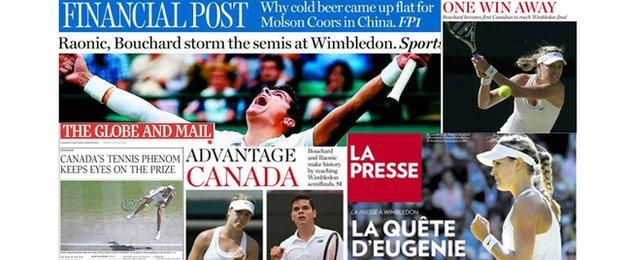 Eugenie Bouchard became the first Canadian to make a Grand Slam final in the women's singles on Thursday.
A day later compatriot Vasek Pospisil and his American partner Jack Sock advanced to the men's doubles equivalent, with Milos Raonic falling just a match short, losing to Roger Federer in the men's semi-finals.
"Everyone knows Canada as a hockey country, but right now Wimbledon is the only thing that anybody is talking about," said CBC reporter Jeff Semple.
"It is on the front page of every newspaper, the headline story on every news channel. It is the number one story on our website and that is unheard of for a tennis story.
"Usually it is stories about [controversial Toronto mayor] Rob Ford. It has captured people's attention like never before.
"When Eugenie Bouchard won her semi-final everyone put down what they were doing to watch and applause broke out across our office back in Toronto.
"Everywhere you look in offices, homes and restaurants people are engaged."
Even the highest office in the land is taking an interest.
Prime Minister Stephen Harper has regularly tweeted his good luck and congratulations to his country's new heroes.
Canada's top-ranked players

Men

Women

Milos Raonic (9 in the world)

Eugenie Bouchard (13)

Vasek Pospisil (33)

Sharon Fichman (84)

Frank Dancevic (107)

Aleksandra Wozniak (117)

Peter Polansky (126)

Heidi El Tabakh (201)

Filip Peliwo (241)

Gabriela Dabrowski (208)
But, just as their American neighbours have undergone a crash course in football this summer on the back of the United States World Cup success, the Canadian coverage has educated as well as enthused the population.
One website published an "idiot's guide to jumping on the Wimbledon bandwagon".
"A lot of Canadians don't know how it works and we have had to keep that in mind and explain how it works and what the rules are," admits Semple.
"This is the first time many have paid such close attention to it."
With Bouchard, 20, Raonic, 23, and Pospisil, 24, set for several more Wimbledon campaigns, perhaps as defending champion in Bouchard's case, it won't be the last.