Wimbledon 2014: Power of Petra Kvitova sees off Eugenie Bouchard

By Tom Fordyce
Chief sports writer
Last updated on .From the section Tennis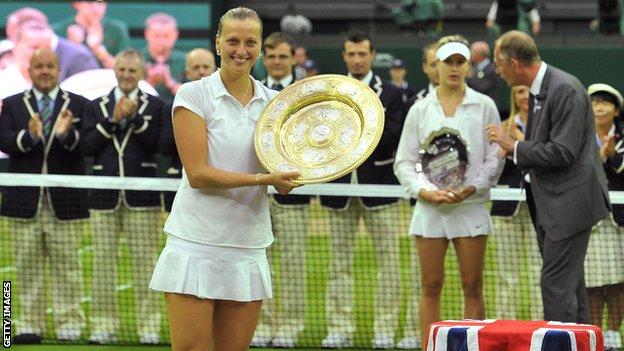 Centre Court was turned into a school-room, the ladies' final into a lesson.
Eugenie Bouchard, 20, may have been the focus of all the pre-match hype. She may have twice as many Twitter followers and 300,000 more fans on Facebook.
But in the arena that truly counts she was reduced to the role of pupil as Petra Kvitova showed exactly what is required to win this most cherished of trophies.
One-sided? Not since Martina Navratilova's 6-0 6-3 demolition of American teenager Andrea Jaeger in 1983 has a final been over so quickly.
Shortest Wimbledon women's singles finals
1975 - Billie Jean King beat Evonne Cawley 6-0 6-1 in 38 minutes
1972 - Billie Jean King beat Evonne Goolagong 6-3 6-3 in 50 minutes
1973 - Billie Jean King beat Chris Evert 6-0 7-5 in 53 minutes
1983 - Martina Navratilova beat Andrea Jaeger 6-0 6-3 in 54 minutes
2014 - Petra Kvitova beat Eugenie Bouchard 6-3 6-0 in 55 minutes
1992 - Steffi Graff beat Monica Seles 6-2 6-1 in 58 minutes
1974 - Chris Evert beat Olga Morozova 6-0 6-4 in 59 minutes
Not since Steffi Graf dismantled an 18-year-old Monica Seles 6-2 6-1 in 1992 has a final been dictated by so much brutal hitting.
Bouchard - hugely ambitious, drooled over by sponsors - is unlikely to go the same way as Jaeger, who fell out of love with tennis to such an extent that she became a Dominican nun.
Her run to the final here, in only her sixth Grand Slam appearance, confirms what her temperament and talent had already suggested: here is a champion of the future.
The present belongs to Kvitova. The Czech's 6-3 6-0 victory in just 55 minutes not only meant that she earned just under £16,300 a minute for her afternoon's tuition but also represented the most flawless performance in a career that has been as much about missed chances as championships.
The 2011 champion has always had great potency on her groundstrokes. What she hasn't always paired it with is consistency.
She can roar in like a storm, devastating everything in her path. She can equally veer off course or blow herself out.
On Saturday she began at pace and just kept going. Bouchard, never having come up against anything like it, never had a chance.
"We expected her to dictate some of the points," says John McEnroe, commentating for BBC Sport. "We didn't expect her to dictate every point."
Kvitova hit 28 winners to Bouchard's eight. She broke her callow opponent's serve six times. Bouchard would win just 46% of points on her first serve.
Match stats

Eugenie Bouchard

Petra Kvitova

1

Aces

4

2

Double faults

3

61

1st serve %

68

46

1st serve win %

82

36

2nd serve win %

38

8

Winners

28

4

Unforced Errors

12

1 of 1

Break points won

6 of 13
In a debutant's first service game in a final there are always likely to be nerves. Even if the face does not betray them, the body language or shot selection will.
Bouchard actually appeared to be settling. She held that first game with a brisk forehand winner down the line, and marched back to her chair with the crowd's fulsome support leaving no doubt as to which their favourite might be.
That was as good as it got. Kvitova's hammering cross-court forehand and thumping backhand set up two break points in Bouchard's second service game; she took the second, nearly broke again in the fifth and then did so with unremitting intensity in the seventh.
Even when Bouchard broke back in the following game she was instantly broken herself again.
For a fortnight it has been a Wimbledon dominated by the Mighty Bouch. Now it was all about the power of Petra.
Her own serve horribly vulnerable, Bouchard was equally unable to dent Kvitova's.
She had made more first serve returns than any other woman in the championships, receiving with toes on the baseline, attacking with vim at every opportunity. On Saturday the tactic instead left her with too little time to react.
Too many returns fell short, dropping inside Kvitova's service box to open up the opportunity for another one of those destructive winners.
Too many others were too slow, looping over at 60mph to receive the same punishment.
At 3-0 in the second she looked exasperated. Broken for a second time in the set a game later, she looked beaten - palms upwards to the Centre Court crowd, shrugging at her coaching team as if to rhetorically ask, 'what can I do about this?'
"Kvitova imposed her game on the first shot," says double Grand Slam champion Tracy Austin, "We've been so impressed with Bouchard's composure, but Kvitova just didn't let her into the match."
"When she's on her game she makes life absolutely miserable for you," agrees McEnroe, "because you don't feel you can do anything. Nothing."
Bouchard, the youngest Grand Slam finalist since Caroline Wozniacki at the 2009 US Open, will come again.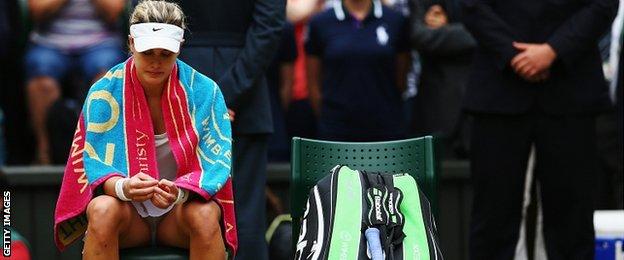 This was only her sixth appearance in a major, and her third time in a row she has made at least the semi-finals.
Both Serena Williams and Maria Sharapova took seven Slams to win one.
For Kvitova there should finally be the flowering promised by her straight sets win over Sharapova in the final here three years ago.
She has been beaten by herself as much as others in the intervening period, as perversely flaky in the heat of battle as she can be indomitable with her groundstrokes from the back of the court.
With so substantial a victory must come an abundance of self-belief. Her win means that, for the fourth straight year, three different women have won the first three Grand Slams of the season. But when Kvitova plays like this, there are few who can live with her.
"That was a thing of beauty," says Lindsay Davenport, champion here in 1999.
"She was so unaffected by the occasion. She played this match like it was a practice match on a side court.
"She goes for a lot, and she wasn't missing. I'm not sure there's anything anyone could have done today."