Novak Djokovic conquers demons to deny Roger Federer final miracle

By Tom Fordyce
Chief sports writer
Last updated on .From the section Tennis187
Watched by millions of people but suddenly utterly alone. A six-time Grand Slam champion yet, in his mind, a seven-time failure. A hand on the trophy but through the fingers it is slipping.
This was Novak Djokovic's Wimbledon nightmare. This time he woke himself up.
Had Roger Federer won a classic men's singles final to make it an unmatched eight titles, as a father of four and at an age for gentle decline rather than new records, it would have been a tale to celebrate and cherish.
For Djokovic to instead come through 6-7 (7-9) 6-4 7-6 (7-4) 5-7 6-4 was a story of redemption equally as appealing.
Dealing with defeat is one thing. Dealing with defeat when you had victory there for the taking, when you crumbled to toss it away and when you have done so before, is the sort of thing that can leave a man on the rocks.
Two sets to one up, all the momentum and money with him, Djokovic served for the championship at 5-3 and cracked, not once but twice.
A forehand went long. A break went. Another followed. From a position of dominance he was suddenly reeling: 3-3 in the fifth and break point down, Federer on the charge and the crowd with him, history repeating.
Novak Djokovic in Grand Slams - last five years

Year

Titles

Runner-Up

Semi-finals

Quarter-finals

2014

Wimbledon

French Open

Australian Open

2013

Australian Open

Wimbledon, US Open

French Open

2012

Australian Open

French Open, US Open

Wimbledon

2011

Australian Open, Wimbledon, US Open

French Open

2010

US Open

Wimbledon

Australian Open, French Open
Djokovic had lost each of his last three Grand Slam finals and five of the last six. Do you come back from losing another in such a style? Can you laugh it off when the 'Choke-ovic' jokes are already being made?
Tennis leaves you exposed to the world like few other sports. There are no team-mates to cover for you, no game-saving tactical changes a coach can make.
It is you, on your own, with your demons and your doubt and your forehand falling to pieces and your legs made of stone.
Djokovic stared into the darkness and faced it down. A year after providing the unhappy supporting role as Andy Murray made Wimbledon history, he would not do the same again for another Centre Court darling in search of their own fairytale ending.
That final 12 months ago was the perfect one for Britain. This was the perfect final for almost everyone.
In three hours and 56 minutes there was just a difference of six points in total points won (Djokovic 186, Federer 180) between the two players. It began with dramatic pace and intensity and carried you with it, through plot twists and power shifts, through game after game of wonderful shot-making and toe-to-toe aggression.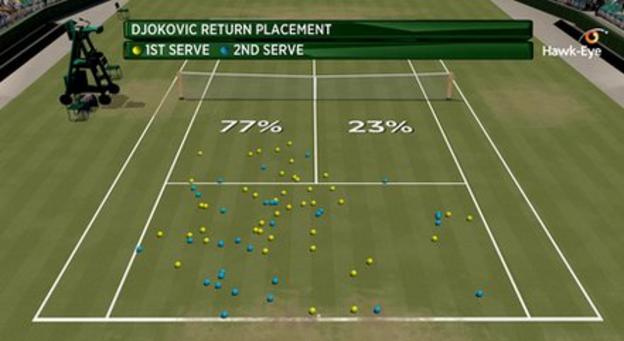 There was a standing ovation at the end of a first set that saw 36 clean winners; 28 would follow in the second, 33 in the third.
But it was the penultimate set that produced the peak, a set of tennis so good that it deserves its own soubriquet - the Fabulous Fourth - as the stand-out classic in a stand-out match.
Federer had been broken only once in 89 service games before this final. Djokovic had got through three sets and faced only one, unsuccessful, break point.
Yet suddenly it was break after break, first to put Djokovic 3-1 up (surely the title, you felt), then to bring Federer back to life (Centre Court bedlam), then to crush that fresh hope and put Djokovic a single hold away from only his second Grand Slam title in two and a half years.
It was barely half over. First Federer, serving to stay alive, teetered at 30-40 and had his first serve on championship point called out. Djokovic is the best returner in the men's game. A second serve was surely the end.
Except Federer challenged the call, and Hawk-Eye called it good, to giddy applause. And then Federer produced an ace, and broke Djokovic in the next, and held serve again and broke Djokovic once more, to send the contest into a fifth set and the restrained patrons of Centre Court into mayhem.
No man had come from championship point down to win Wimbledon since Robert Falkenburg in 1948.
The modern day RF came mighty close, first with that break point at 3-3 in the decider, and then again at 15-15 on the Djokovic serve at 4-4 when he stuffed a simple overhead into the net. But this was Djokovic's day to fight back.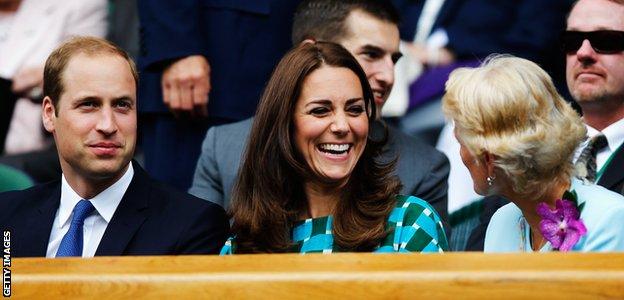 Deciding between the great finals is like deciding between the great champions. All should be appreciated in themselves, in their own time. So let us just say that this had every element that a classic should. The only disappointment was that it came to an end.
"I loved this match because there was more to it than just tennis," said double Wimbledon champion Jimmy Connors afterwards.
"For four hours neither player wanted to give an inch. Sometimes there's a lull in matches that go five sets, but I didn't think there was a lull today at all.
"Both players came out and gave it the punch right from the start. It was one of those days when you say, 'I'm happy to be here just to see this'."
It was evident throughout the contest that Wimbledon's love for its great champion Federer has not faded with the years, just as his flashing one-handed backhand and easy elegance across the court made it clear why.
Djokovic's brilliant precision and more angular athleticism have so far not endeared him in the same way. When Federer sent his backhand into the net to cede the match, there was almost a momentary period of mourning before the applause began.
The manner of this victory and his grace in its aftermath will convert many who were untouched before. The trophy was dedicated first to his fiancée and unborn baby, and then to Jelena Gencic, the coach who taught him the game yet died last year.
This tournament matters to Djokovic, not only because it is three years since he first won it but because the men's final was the first tennis match he ever saw, on his parents' television at the age of five.
In an era which has seen the peak of both Federer and Rafael Nadal, 31 Grand Slams between them, he has now won seven - as many as John McEnroe and Rene Lacoste, only one less than Andre Agassi and Fred Perry.
It is an achievement that at 27 years old should be bettered yet. It is equally one to be celebrated on its own. The look on Boris Becker's face as player and coaching team embraced suggested that it will be.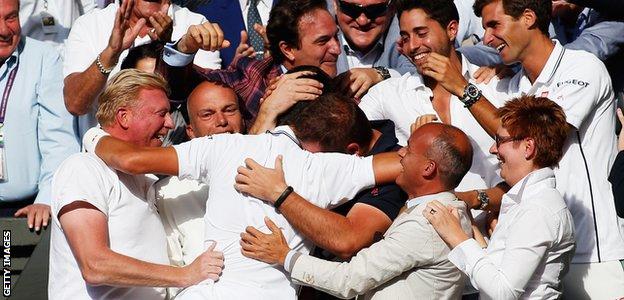 For Federer there were smiles too, even if he knows that his last chance to win that eighth Wimbledon title may have gone for good.
For all the difference that Stefan Edberg has made to his game, for all the benefits a bigger racquet and healthier back have brought, it is hard not to see the past fortnight as the last stirrings of a golden age.
No man in the Open era has ever won a Grand Slam title at Federer's age (32 years and 11 months), and the charge of the next generation in Grigor Dimitrov and Nick Kyrgios was the thrilling sub-plot to this year's tournament.
Federer has wrought many miracles in his tennis career. To win another Slam from here might be the greatest of them all.
Djokovic was not to be denied. "My convictions were greater than my doubts," he said afterwards. "That's why this win has a special importance to me. Because I managed to win not just against my opponent but against myself."