Andy Murray frustrated after Roger Federer defeat
Last updated on .From the section Tennis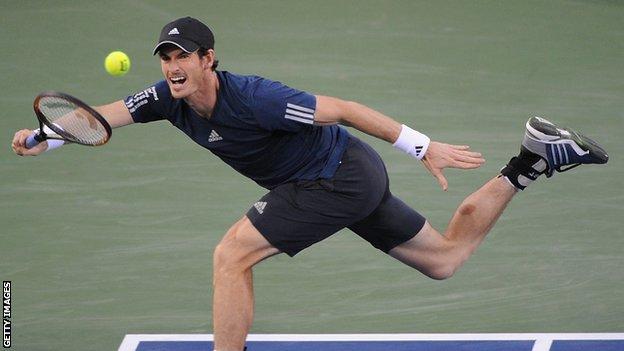 Andy Murray was left frustrated by his inconsistency after losing to Roger Federer in the Western & Southern Open quarter-finals in Cincinnati.
The Briton will head to the US Open, which begins on 25 August, without a title since winning Wimbledon in 2013.
His latest disappointment came after he squandered a double-break in the second set to
"There's no excuse for that. I've played enough matches now for that not to be the case," said Murray.
"When I was 18 then maybe, but I'm 27 years old now and I've played this tournament nine times. It can happen, but it's the way that it happened which isn't good enough."
Murray let a similarly strong position slip in the final set the previous week - his first tournament since a straight-sets defeat by Grigor Dimitrov in the Wimbledon quarter-finals.
"The inconsistency is the most disappointing thing," said Murray.
"It's fine to have periods like that when you're young and first coming on the tour, but one or two games max should be when you let your level drop and you need to be able to find it again. I didn't do that."
Andy Murray's story of 2014

Qatar Open

second round

Australian Open

quarter-finals

ABN Amro World Tennis Tournament

quarter-finals

BNP Paribas Open

fourth round

Mexican Open

semi-finals

Sony Open

quarter-finals

Madrid Masters

third round

Italian Open

quarter-finals

French Open

semi-finals

Queen's Championships

third round

Wimbledon

quarter-finals

Rogers Cup

quarter-finals

Western & Southern Open

quarter-finals
Murray has not won an ATP ranking event or beaten a top-10 player since his Wimbledon victory 13 months ago, and since having surgery on a back injury last September his ATP world ranking has slipped from third to ninth.
The Scot looked to have rediscovered his best form with a on Thursday, and he believes he has enough matches behind him to challenge for a second US Open title in New York.
"I've definitely played enough matches," said Murray. "Yesterday [against Isner] it was important to play a match like that.
"Tonight, it was good to play against someone of Roger's quality before the US Open because hopefully you'll be playing against guys like that in the latter stages if you play well, so it's good to test yourself and see the things you need to work on.
"There's a lot of things I'll obviously need to improve because [against Isner] I hit the ball brilliant. I hit the ball really well and played a very good match.
"But today I was very, very up and down and it's been like that most of the year."