US Open: Andy Murray keen to prove he is a contender
By Piers Newbery
BBC Sport at Flushing Meadows
Last updated on .From the section Tennis
US Open, Flushing Meadows, New York
Dates:
25 August-8 September
Coverage:
Live radio and text commentary on Andy Murray's matches on the BBC Sport website and app, plus commentary every day from 18:00 or 18:30 BST on BBC Radio 5 live sports extra
Andy Murray is determined to put recent disappointments behind him and confirm he is still a contender for the major prizes at the US Open.
Murray entered the tournament on the back of three successive quarter-final defeats, and without a title or a win over a top-10 player since Wimbledon last year.
This trophy drought and the consequent slide down the rankings have raised questions about where his career might be heading, but he looked more relaxed than ever in New York.
A trip to watch golf's world number one Rory McIlroy in action was followed by a courtside seat at a USA basketball game.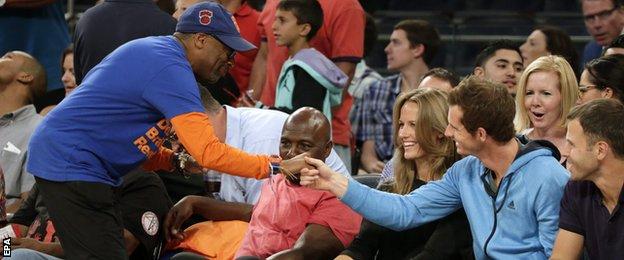 And the Scot had a typically wry take on his mother's imminent appearance in Strictly Come Dancing when asked whether he would be watching: "Probably not, no."
If all appears well away from tennis, the next days and weeks will tell us whether Murray really has something to worry about on court.
Two major upheavals in his career have occurred since that landmark victory at the All England Club: back surgery last September and a split with coach Ivan Lendl in March.
"I think the first step was to get back the confidence in his body," said Miles MacLagan, who coached Murray from 2007 to 2010.
"This is a world-class athlete who went through surgery and it took him a while, but the results are there that he hasn't beaten a top-10 player.
"When you're functioning at the highest level and pushing yourself day in, day out, you don't just have a couple of practices and it's there. It's something you build up to.
"The good signs are that he has played some good tennis, it's just mentally taking a little bit longer."
BBC tennis correspondent Russell Fuller
Murray is trying to put more emphasis on enjoyment in a bid to rediscover the winning touch. He said: "I play because I love tennis. I love being on a court, I love practising: that's why I went to Spain when I was 15 years old.
"When I came as a 15-year-old to play the US Open juniors, I went and sat on the Arthur Ashe court, I watched the women's final there right at the top of the stadium and I always wanted to play on these courts. When you talk to yourself about those things, and remind yourself about it, then that gives me the energy and the motivation to get on the court and train hard."
That much was clear when strong positions were squandered in recent weeks against Jo-Wilfried Tsonga and Roger Federer.
"Obviously I would have liked to have won those matches," said Murray. "I can't do anything about them now. You've got to look forward."
Now at nine in the world rankings - up from 10 last month, his lowest position since 2008 - and with his place at the season-ending ATP Finals in London far from secure, the bare facts about Murray's season could give cause for alarm.
The reality on court is that the Briton remains almost exactly where he has been for the last five years in most of the headline statistics.
He is right up alongside the very best on tour when returning serve - his strength - while on his own serve the figures are only marginally off the 12-month period when he won Olympic gold and two Grand Slam titles.
Andy Murray's game this year in numbers

Category

Murray in 2014 (rank)

Leader in 2014

Murray in 2013

Return games won

31% (3rd)

Nadal 36%

31%

Points won returning 1st serve

33% (6th)

Nadal 35%

34%

Points won returning 2nd serve

54% (4th)

Nadal 57%

55%

Points won returning 2nd serve

54% (4th)

Nadal 57%

55%

Break points converted

44% (9th)

Nadal 49%

44%

Service games won

82% (29th)

Isner 93%

85%

Points won on 1st serve

74% (22nd)

Karlovic 84%

75%

Points won on 2nd serve

51% (34th)

Federer 58%

52%

Break points saved

62% (30th)

Isner 75%

66%
Against Nick Kyrgios in Toronto, Murray gave one of his best-ever serving performances, while against John Isner in Cincinnati he spoke of hitting the ball "beautifully" after a hard-fought win.
But it was the fragility shown when leading 3-0 in the final set against Tsonga, and losing a double-break in the second set against Federer the following week, that left the lasting image.
"I have been playing well the last few weeks," said Murray. "I lost to guys who won the events, and had quite big opportunities in both those matches. I feel like I'm playing well.
"I think one of the most important things in sport is to not be too hard on yourself after matches, to be able to move on.
"You need to learn to be able to move forward and make sure it doesn't eat into your preparation time, or any mental energy that you might need going into a tournament like this."
Murray described earlier this summer how he had lost "the leader" of his team when discussing how difficult the split with Lendl had been, and it is Amelie Mauresmo who now occupies that role.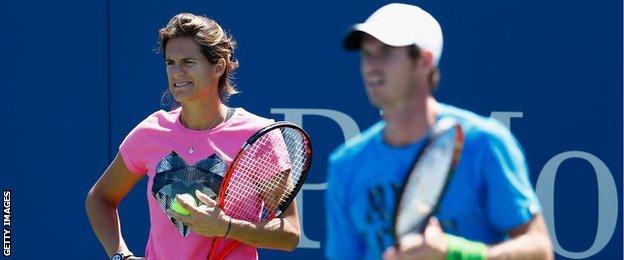 After a trial period - for both parties - over the grass-court season, a long-term deal has been agreed and the Frenchwoman is now charged with restoring the Murray 'A' game.
"It's the job that Amelie has to achieve with him," said her compatriot Patrick Mouratoglou, coach of Serena Williams.
"When he was working with Ivan Lendl, Ivan did a lot of new things in practice to push Andy to be able to keep the same intensity for two or three hours in practice.
"There was a reason why he could finally win his first and second Grand Slams while he was collaborating with Ivan.
"They clearly did the proper work in order for him to become better in the big matches, but I think Amelie will be able to do the same.
"They need time. It's very new and we have to leave them maybe six months and we will see the results of their work."